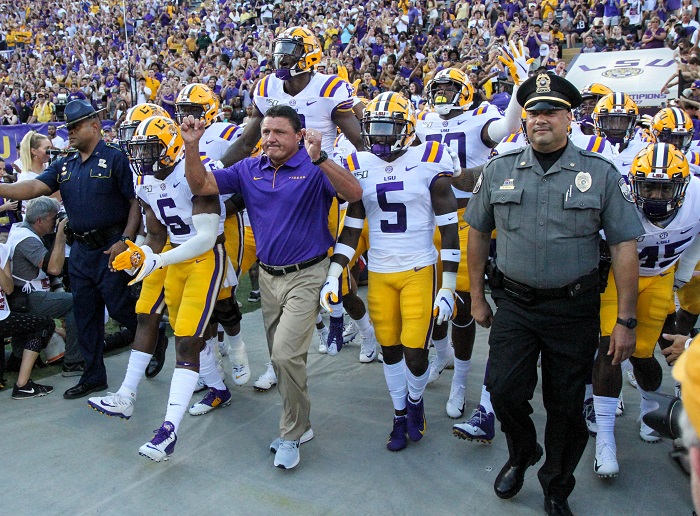 The 365 days-a-year red elephant in the room can no longer be ignored.
Like it ever was in the first place.
You know it's LSU-Alabama week when a 60-something year old respected Hammond businessman shows up at his doctor's office with his hair dyed purple eight days before Saturday's Game of the Century Part Deux in Tuscaloosa.
"You know this is still an open date week," the nurse said to the unabashed LSU fan.
"I know, I just want to make sure this works," Mr. Purple Reign replied of his hellacious hairdo.
Hopefully, his hair dye won't fade as much as LSU's hope did in its eight straight losses to Alabama dating back to Crimson Tide's 21-0 2011 BCS national championship game shutout of the Tigers.
It's a losing streak in which LSU has lost every way possible, but it all usually has played out the same. The Tigers' defense gives an heroic effort trying to keep the game close hoping LSU's predictable offense does something besides futilely sending its running backs crashing into Alabama's eight and nine-man fronts.
Eventually, Alabama wears down LSU's defense that is so tired it can't stop the run and can't sack the quarterback. The Tigers finally have to throw the ball on something other than first down and the Alabama pass rush tees off on LSU's quarterback du jour.
It's bad enough that Alabama has outscored LSU 193-73 in its current winning streak including 74-27 and 53-16 domination in the second and fourth quarters respectively. LSU has scored just one first quarter TD (back in 2014) in its last 11 games against Alabama.
The last three seasons under head coach Ed Orgeron with LSU going winless and being shutout twice, it's like Groundhog Day. Alabama has a dual purpose quarterback who beats you with his arm and legs and LSU's QB doesn't get adequate protection to provide a hint of a passing threat. Tigers' QBs Joe Burrow (last year) and Danny Etling (2016, 2017) have been sacked a combined 14 times.
But there's now a palpable feeling, from Baton Rouge to Tuscaloosa, that unbeaten LSU finally may possess all the physical pieces and mental toughness to vanquish the mighty unbeaten Crimson Tide. LSU is No. 1 and Alabama No. 2 in the Associated Press poll and those rankings are flipped in the coaches' poll voting.
LSU's optimism is not just based on its uber competitive computer chip quarterback Burrow operating an complex offensive scheme that will stick and jab for the first series or two before finding and throwing haymakers at a defense's glass chin.
Yes, Burrow and LSU's offense have been off-the-chain. It's crazy to grasp LSU is averaging 46.8 points and the Tigers have scored a combined 40 points in their last five losses to Alabama.
What has driven LSU to an 8-0 overall record and 4-0 SEC West mark is a gumbo of ingredients. There's also a defense and running game that has vastly improved from the first month of the season, as well as a mature game-by-game focus that is a reflection of Orgeron and the team's upperclassmen leadership.
"You've got to feel your team," Orgeron said a couple of days before the Tigers beat Auburn 23-20 last Saturday. "This team I feel because I've recruited every one of them. I know them. They know me. They know what to expect."
LSU has played Alabama too many times folding under the pressure of erasing the losing streak to the Tide. It's hard not to ignore that feeling when it's the year-round thorn of the Tigers' fan base.
This LSU team hasn't looked past any opponent and it hasn't looked back. It's not thinking about the consequences of beating Alabama or losing to the Crimson Tide. It doesn't care what happened last year in a 29-0 loss, in a 24-10 defeat in 2017 and getting blanked 10-0 in 2016.
"This team is a new team, we're not really focused on anything from the past few years," Tigers' linebacker Patrick Queen. "This team is really locked in. We've all got each other's backs."
That has been evident all season. When the Tigers' injury-riddled defense was trying to find itself early in the year, such as getting torched for 31 second-half points at Texas, LSU's offense answered almost every Longhorns' score with touchdowns to win a 45-38 shootout.
In LSU's last three games with wins over Florida, Mississippi State and Auburn, the Tigers' fully-healthy defense held the Gators, Bulldogs and Tigers scoreless for 25:53, 34:24 and 24:09 respectively while the Burrow-led offense clicked into gear with respective unanswered scoring streaks of 21, 27 and 13 points.
It's what championship-caliber teams do when they rise to the challenge.
"I expect our best game (against Alabama)," Orgeron said. "I told our team I do not believe we've played our best game yet in all three phases. I expect our offense to come out on fire and play its best game."
The LSU defense, whether star Tide quarterback Tua Tagovailoa plays or not after trying to instantly heal from an ankle injury sustained against Tennessee a couple of weeks ago, also has to raise its level.
LSU safety JaCoby Stevens, who was named SEC Defensive Player of the Week after the Mississippi State and Auburn wins, believes Tigers' defensive coordinator Dave Arnada will spring a few new things on Alabama.
"Coach Aranda has held back a lot, it's like he's playing cards," Stevens said. "He's laying stuff down on the table, but he has a whole deck of cards in his back pocket. When he lays them down, they're going to hit."