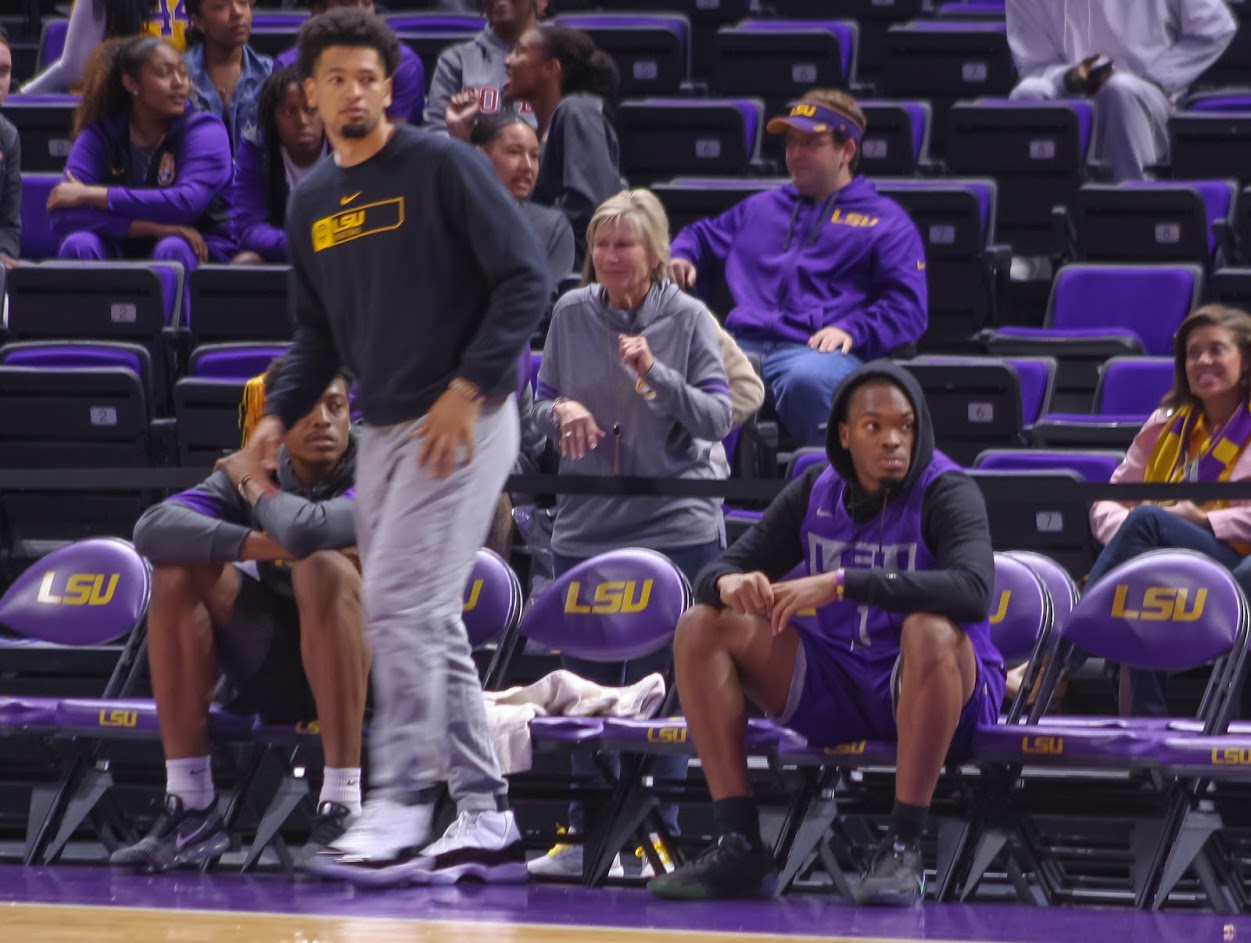 Editor's Note: The following is a story featured in Tiger Rag's upcoming Basketball Preview, set to hit stands next week. Be sure to pick one up for comprehensive coverage of the LSU basketball team entering the 2019-20 season.
Athletes like Tremont Waters don't grow on trees, and they can be virtually impossible to replace.
In his two years at LSU, the undersized point guard averaged 15.6 points, 5.9 assists and 2.5 steals per game, making him one of the most versatile players to ever suit up in a Tigers uniform.
It would be a vast understatement to use the cliché that he left big shoes to fill.
But luckily for the Tigers, they'll have two experienced guards with different but compatible leadership styles in their backcourt this season.
And the best part for LSU fans? They're both homegrown.
Skylar Mays — a high-IQ senior who had an opportunity to jump into the world of professional basketball last year — spent most of his high school career on LSU's campus playing for University Lab before transferring to Findlay Prep in Las Vegas for his senior season. It's the only year he's played basketball for a program outside the state of Louisiana.
Co-chairing the backcourt with Mays will be Javonte Smart, a Scotlandville Magnet grad and a three-time Louisiana Gatorade Player of the Year.
Head coach Will Wade has taken to calling the duo "The Bayou Backcourt" for their Baton Rouge roots, and it's a name he's pretty damn proud of himself.
The two have spent their lives representing Baton Rouge and the state of Louisiana, on and off the court. Now that will culminate in a year in which they are expected to help the Tigers reach new heights.
SKYLAR MAYS IS PLAYING for more than just the name on his back, or even just the "LSU" on the front of his jersey.
More than a year ago, the Tigers lost an athlete in a senseless manner as Wayde Sims was gunned down while trying to protect his friend during an altercation after an event on Southern University's campus.
The loss hit the entire team hard, but it was especially difficult for Mays, who grew up with Sims and played with him at U-High.
"It's crazy that it's been a year since then," Mays says. "All the things that happen in a year… each of us grow as individuals outside of basketball, and I believe it helped us develop the confidence that we have the ability to go through that kind of experience. Because it wasn't just something.
"But I'd say we came out very successful, and we did the right thing. Good things came from all of that."
To this day, you can regularly see Mays paying homage to his friend and teammate. At SEC Media Day during a photo shoot he put four fingers up on each hand to spell out "44," Sims' number on the basketball floor.
Mays serves as the Tigers' most experienced player returning to the Tigers' next season, and one of just two athletes who have been with the program longer than Wade himself.
He's seen some of the lowest lows LSU has ever seen — the Tigers went an abysmal 2-16 during his freshman season — and the highs that have come with Wade as head coach.
Mays finished his junior season averaged 13.4 points per game while playing as one of the most efficient players in the SEC. On top of that, he enters the season with a 3.98 GPA while studying Kinesiology with plans of attending med school upon graduating.
"He's such a great representative for the whole community," said his former high school basketball coach Joe Spencer. "Not only from an academic standpoint, but he's a great citizen, he's a great guy, he's a great friend. He cares for others. Pretty much the epitome of a student athlete."
His path to a degree was apparently nearly cut short, or at least temporarily interrupted, as he received better-than-expected reviews while working out with NBA teams during the NBA Draft process.
He didn't get an invite to the official NBA Draft Combine, but Wade said he had multiple teams offer to take him in the second round if he chose to forego his senior year.
"To work out with five different teams and get good enough feedback to where I had to make a tough decision, it only gives me confidence for this year and how I can improve on my game," Mays said.
As a result of Mays' decision to return, Wade will get a chance to see him finish his collegiate career three years after facing off against him as a foe.
"I still remember the day I played (Mays) when he was a freshman and I was at VCU," Wade said. "We've come full circle a little bit."
SMART HAD HIS OWN obstacles to overcome last season as he got swept up in the controversy surrounding Wade.
Shortly after suspending Wade, LSU made the decision to hold Smart out of LSU's regular-season finale against Vanderbilt in which the Tigers were attempting to clinch sole possession of the SEC Title.
The goal was to give the program — along with the NCAA — enough time to make sense of the allegations and interview members of Smarts' family to determine if any improper benefits had been offered or given to the then-freshman point guard.
He only missed one game before being reinstated in time to play in the SEC Tournament, where he showed immense maturity by taking the stage and talking to the media about the entire incident.
"It's a lot on your mind," Smart said to a media grilling him about the controversy. "My family was behind me. My coaches and my teammates, they told me stay in there, stick in there, just keep faith in God. Always keep faith in God. He gave me the chance to come out here and help my guys."
Even before the controversy, Smart was thrust into a role in which he had to outplay his age.
After Waters went down with injury, the starting point guard position went to Smart, who had to help lead the Tigers in a marquee matchup against then-No. 5 Tennessee.
He delivered.
Smart led the team in scoring against the Volunteers with 29 points in addition to five rebounds and a team-high five assists as he played 44 minutes in LSU's 82-80 overtime victory that, at the time, felt like a landmark moment of the Will Wade era.
If any game should give LSU and its fans confidence in the "Bayou Backcourt," it's that one. The duo combined for 52 points, eight rebounds and seven assists, and the duo regularly got to the line and shot 19-for-22 from the stripe.
Smart has almost a completely antithetical style of leadership than Mays.
Mays regularly serves as the team's mouthpiece in the media room and leads with a calm, stoic demeanor on the court.
Smart gets a bit shy when talking to the media, but there is nothing shy about him when he hits the floor.
He served as LSU's resident trash talk connoisseur last season, and he has a pension for getting in the head of opponents responsible for guarding him.
"It makes me play harder," Smart said during his freshman season. "That's how I grew up. I trash talk all day. That's how I make myself go and bring me energy."­
THE LAST TIME LSU had a bona fide Baton Rouge backcourt, it didn't turn out too poorly.
In the 2008-09 season, Marcus Thornton, Bo Spencer and Garrett Temple torched opposing teams with a combined 39.6 points per game as they helped lead the Tigers to a 27-8 overall record and an SEC regular-season championship with a 13-3 record in league play.
Mays and Smart have a lot to live up to in that respect, but they're likely up to the challenge, especially playing in a system that will work hard to give Smart lanes to slash through and Mays open shots on the perimeter.
With as much attention as football and baseball get in a town like Baton Rouge and a state like Louisiana, basketball tends to get lost in the shuffle. But Baton Rouge has a proud and long-lasting tradition of developing elite basketball players.
"The basketball culture in Baton Rouge has been really good for a long time," Spencer said. "… I think nationally, it's underrated. I think most people in the state of Louisiana understand how good basketball talent is understood, but I think nationally, the players coming out of our state are a bit underrated."
Maybe that's why Wade likes his Baton Rouge guards so much. A chip on the shoulder goes a long way with LSU's head coach, and it will likely fuel the duo of guards who will spend this season trying to impress NBA scouts while defending a conference title.
One thing is for sure, with Smart bringing the ball up the floor and Mays leading this team on and off the floor, LSU's backcourt — and Baton Rouge's reputation — are in good hands.