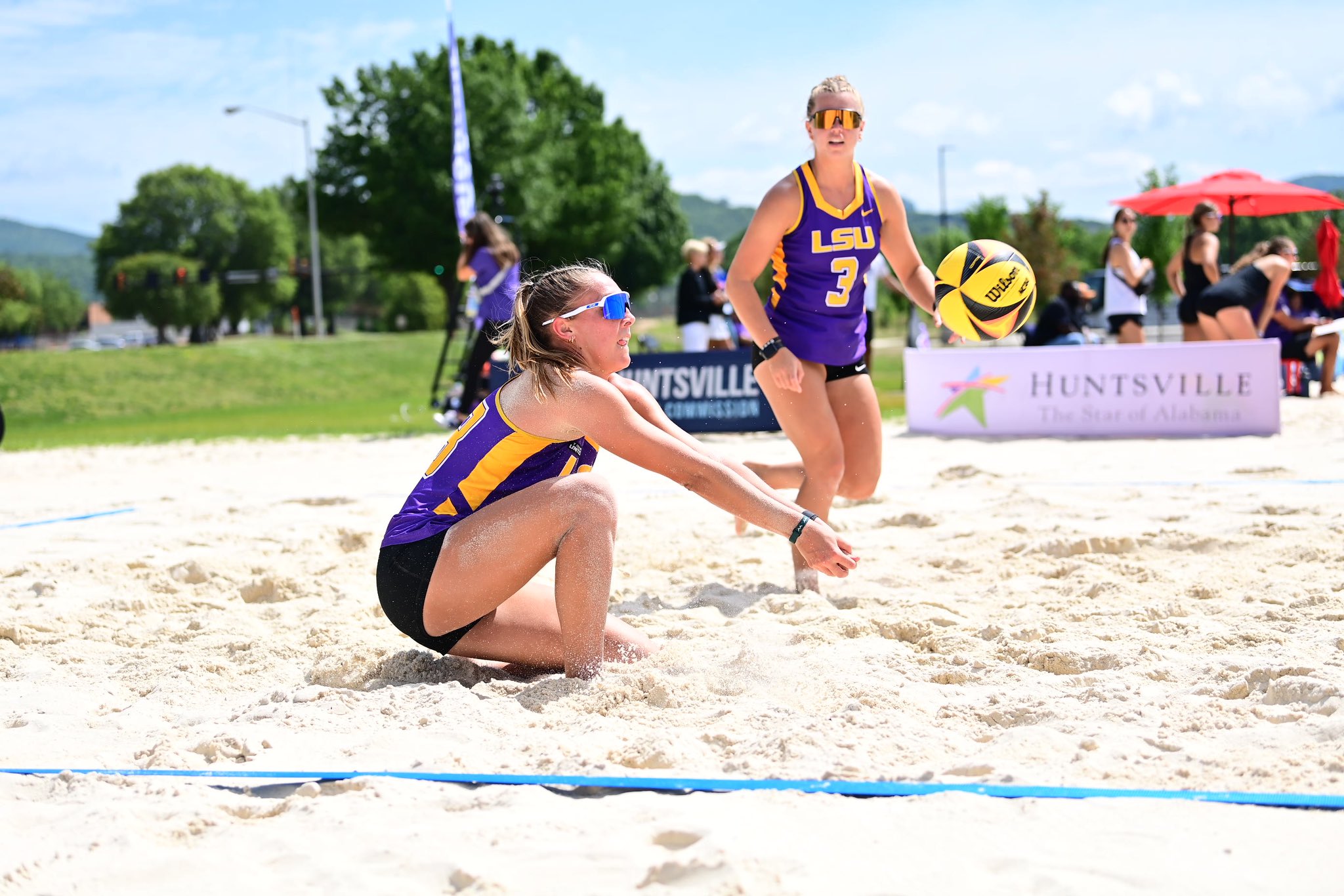 HUNTSVILLE, Ala. – The run by the LSU beach volleyball team in the CCSA Tournament ended in the semifinals Saturday with a 4-1 loss to TCU.
The sixth-ranked Sandy Tigs (26-12) will turn their attention to the NCAA Selection Show at 10 a.m. where they're expected to be one of the 64 teams in the field.
"Tomorrow we are looking forward to watching the selection show to see where we will be seeded for Nationals," LSU beach volleyball coach Russell Brock said.  "We need to recover from the battles of this tournament and get some fine-tuning practices in early in the week. Probably will spend a lot of time watching film and game planning for our matches in Gulf Shores as well. It will be a quick turnaround so a lot to do in a short amount of time."
LSU lost the first set on five courts and wound up losing in straight sets on Courts 3 and 5, while Courts 1, 2 and 4 were decided in three sets.
The lone win for the Sandy Tigs came on Court 2 with Grace Seits and Parker Bracket overcoming a 21-19 loss in the first set for a 21-16, 15-13 victory.
TCU 4, LSU 1
TCU Daniela Alvarez / Tania Moreno def. LSU Kylie DeBerg / Ellie Shank – 21-17, 13-21, 15-9
LSU Grace Seits / Parker Bracken def. TCU Anhelina Khimil / Kate Privett – 19-21, 21-16, 15-13
TCU Sutton MacTavish / Hailey Hamlett def. LSU Hannah Brister / Reilly Allred – 21-12, 21-18
TCU Maria Gonzalez / Ana Vergara def. LSU Ella Larkin / Lara Boos – 21-23, 21-18, 15-10
TCU Rochelle Scott / Hailey Brockett def. LSU Melia Lindner / Amber Haynes – 21-16, 21-15