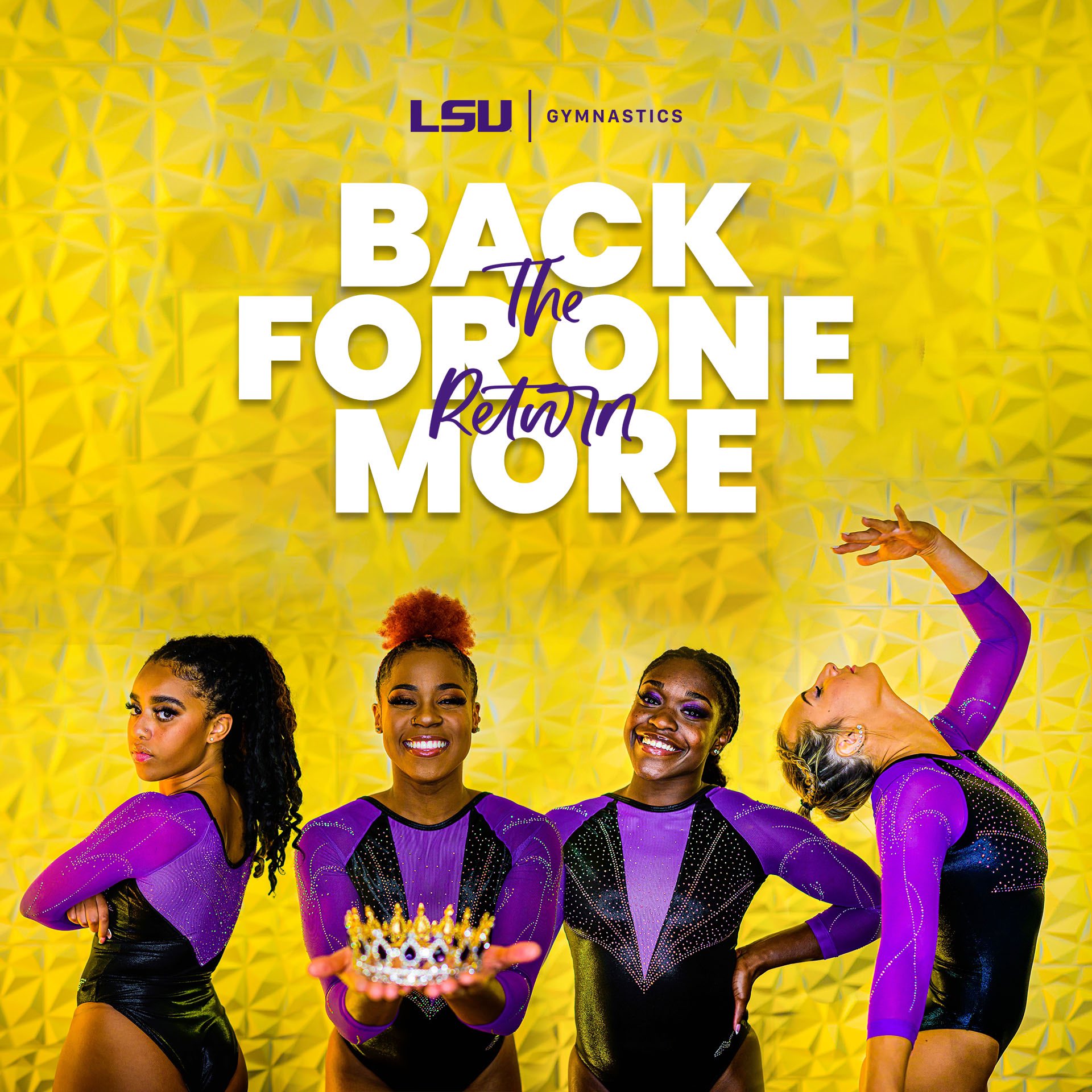 The LSU gymnastics coach Jay Clark announced the return of seniors Kiya Johnson, Kai Rivers, Alyona Shchennikova and Cammy Hall for the 2024 season.
Johnson, Rivers and Shchennikova will compete for their fifth year and return experienced routines for the Tigers which finished fourth in this past season's National Championships.
Hall enters her sixth year after transferring from Utah in 2023 and is set to make her debut in the PMAC in 2024. 
"Having these seniors back is another chance for them and for this team to achieve their ultimate goals. We have all learned a great deal this year about what it takes to be a championship program," Clark said. "Whether we face adversity or none at all, the same mindset must exist and I'm glad they want to be here at LSU for another year to exhibit that same climbing mindset. We are blessed to be at a place where our players don't want to leave and others want to be here."
Johnson, a nine-time All-American, suffered an Achilles injury in the second meet of the season that prevented her from competing in 2023. Despite her injury, she remained a vital piece as a leader and mentor in the team's journey to the national championship.
In her return to the competition floor, the Dallas native brings a wealth of experience to the LSU lineups. As one of the top all-around competitors in the nation, Johnson has been a huge part of the Tigers success over the last three years and owns 40 career wins across all four events and the all-around.
A key beam performer, Rivers will make her return to the lineup after rupturing her Achilles prior to the squad's podium competition at the Raising Cane's River Center in March. The Detroit, Michigan, native appeared on beam in nine competitions for the Tigers this year and posted season high's against Auburn and Florida with her scores of 9.900. After multiple injury setbacks in her career, Rivers continues to persevere and will return healthy next season.
A native of Evergreen, Colorado, Shchennikova is a strong all-around competitor for the Tigers as she was consistent week after week. This year, she appeared in the all-around in 11 meets and posted a career high 39.525 against Auburn. The senior posted season highs of 9.925 on vault, 9.875 on bars, 9.875 on beam and earned a new career high 9.975 on floor.
After transferring to LSU in the fall, Hall did not appear in competition this season due to a pre-season Achilles injury. The Gainesville, Virginia, native trains the vault and floor events and is set to make her PMAC debut next season. Prior to LSU, she spent four years at Utah, where she earned two individual titles on vault and owns a career high of 9.95 in the event.
LSU will not lose any routines from this season as they continue their march to a national championship title. The return of these veteran routines, combined with the routines of Haleigh Bryant, Aleah Finnegan, Elena Arenas and many others, puts the Tigers in a position for success in 2024.