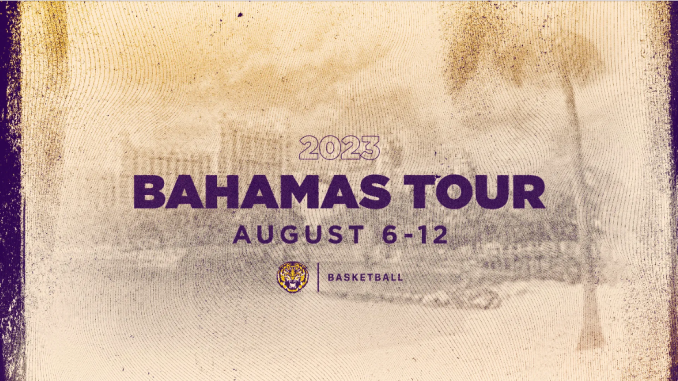 BATON ROUGE – The LSU men's basketball team will get ready for the upcoming 2023-24 season with a foreign tour to the Bahamas Aug. 6-12 at the Imperial Ballroom Arena of the Atlantis Hotel on Paradise Island.
College teams are permitted to make international trips every four years. Most recently, the Tigers traveled to Spain for four games in August 2019. The Tigers have also taken summer foreign tours to Australia, Canada and Italy on two occasions.
One of the benefits of the exhibition tour is that the NCAA allows for 10 days of full team practice before the Tigers face international competition that will not only give the coaching staff plenty of game film against outside competition, but also a chance to see different combinations of players in various game settings.
LSU's schedule as of now has the team playing the Bahamian National Team on Monday, Aug. 7; the Puerto Rican National Team on Aug. 8; and, an Argentinian professional team, Obras Basket, on Aug. 10.
The games will be played at the same site as the annual November Battle for Atlantis in which LSU played in Nov. 2016.
LSU will leave for the Bahamas on Aug. 6 and will return to Baton Rouge on Aug. 12.
The Tigers under second-year Coach Matt McMahon have some outstanding players joining the team including players fans will be familiar with from their high school days such as Jordan Wright (transfer from Vanderbilt) and Carlos Stewart (Santa Clara transfer) who both prepped at The Dunham School in Baton Rouge; Jalen Cook, who played the last two seasons at Tulane after his freshman year at LSU, hails from Walker, Louisiana; and, Hunter Dean (transfer from George Washington), who prepped at Lakeshore High School in Mandeville, Louisiana.
Also, the Tigers are being joined by Daimion Collins, who has played the last two seasons at the University of Kentucky, Will Baker, a transfer from Nevada, and Trace Young from Colorado State. All three of these transfers are from the state of Texas.
One of the two high school signees, Corey Chest, is also a Louisiana native, although he played last season for national high school champion Link Academy in Branson, Missouri. Chest is from New Orleans and played the first three years of his prep career at Eleanor McMain in New Orleans. LSU also signed high school standout Mike Williams from Baltimore, Maryland
Returning for the 2023-24 season will be Derek Fountain, Trae Hannibal, Jalen Reed, Tyrell Ward and Mwani Wilkinson who were key contributors during the 2022-23 season along with third-year squad member Adam Benhayoune.
Season ticket information for the 2023-24 season can be found online at LSUTix.net.