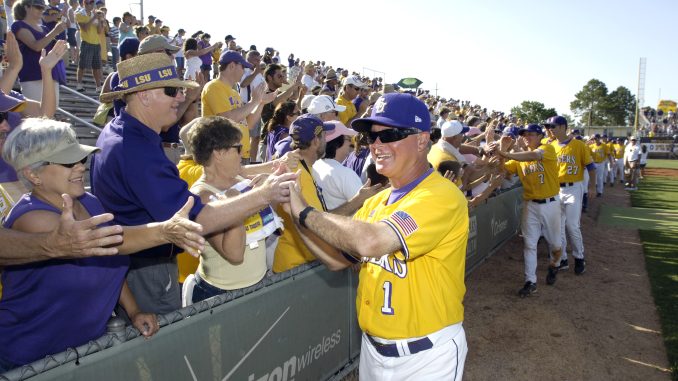 NATCHITOCHES – Five athletes and coaches with LSU ties were officially inducted Saturday into the Louisiana Sports Hall of Fame.
Veteran LSU baseball coach Paul Mainieri; two-time LSU track and field USA Olympian and world champion Walter Davis; All-American LSU pitcher and 14-year Major League Baseball veteran Paul Byrd; and, Shreveport native Wendell Davis, who shattered LSU football receiving records before heading to the NFL.
The LSU connections also include retired Baton Rouge-Parkview Baptist baseball coach M. L. Woodruff, who played his freshman season on the LSU baseball team with Mainieri.
Also inducted on Saturday were two-time Super Bowl MVP Eli Manning; four-time WNBA All-Star Alana Beard, New Orleans native Ron Washington, who managed the Texas Rangers to a pair of World Series appearance and Slidell native, Tulane and Chicago Bears running Matt Forte. Completing the class is world class weightlifter Walter Imahara from UL-Lafayette.
The Class of 2023 was enshrined at the Hall of Fame's home in Natchitoches to culminate the 64th Induction Celebration.  The Louisiana Sports Hall of Fame and Northwest Louisiana History Museum is operated by the Louisiana State Museum system in a partnership with the Louisiana Sports Writers Association.
A 40-member Louisiana Sports Writers Association committee selected the 2023 inductees. The panel considered 151 nominees from 28 different sport categories on a 36-page ballot.
The complete 12-person Class of 2023 increases the overall membership in the Hall of Fame to 480 men and women honored since its founding in 1958.
Mainieri retired after winning 1,505 games in 39 seasons at four stops as a college baseball coach, concluding with 641 at LSU highlighted by the 2009 College World Series championship. Mainieri had his most success at LSU and Notre Dame, where he won 69.3 percent and 71.4 percent of his games, respectively. A former player at LSU, then UNO, he was the winningest active coach in the NCAA ranks when he retired with an overall record of 1,505-775-8 for a winning percentage of 65.9 percent. The 1,505 wins put him seventh all-time among all NCAA Division I baseball coaches.
During 15 seasons at LSU, he was 641-283-3 before stepping away because of recurring neck issues. His 2009 team won the CWS as the Tigers topped Texas, two games to one, in the championship series. During his time at LSU, where he played as a freshman in 1976, Mainieri's teams won a CWS title, five NCAA super regionals, nine NCAA regionals, four Southeastern Conference regular-season titles, six SEC tournament titles and six SEC Western Division crowns. Mainieri coached 13 first-team All-Americans at LSU and as of September 2022, 25 Tigers have reached the major leagues with 88 players being selected in the MLB draft during his tenure from 2007-21. He was a four-time National Coach of the Year.
Walter Davis is a two-time Olympian in the horizontal jumps and a two-time World Games champion and four-time medalist. The Arnaudville native and Beau Chene High graduate had a short, but highly productive career at LSU from 2001-02 after transferring from Barton County (Kansas) Community College. In two seasons with the Tigers, he claimed six NCAA titles with victories in the indoor and outdoor triple jump in 2001 and '02, the outdoor long jump in 2002 and 4×100-meter relay in '02, helping LSU win two of its six men's national championships in the sport.
Davis also represented the U.S. at the World Indoor and Outdoor Championships eight times — winning indoor and outdoor gold medals, an indoor silver and an outdoor bronze.
Byrd was part of the National League team in the1999 All-Star Game after being one of LSU's most successful pitchers, starring on Skip Bertman's first College World Series-winning club in 1991. Byrd went on to a 14-year major league pitching career, compiling a 109-96 record with a 4.41 ERA for seven teams. A fourth-round draft pick by Cleveland in 1991, Byrd won at least 10 games six times in his 14 MLB seasons — going 17-11 in 2002 for a 100-loss Kansas City Royals team, 15-8 in 2007 with Cleveland and 15-11 in 1999 in his ASG year with the Phillies.
Byrd posted wins in the ALDS (Yankees) and ALCS (Red Sox) to help Cleveland reach the 2007 World Series, becoming one of only two pitchers to beat those storied clubs in the same postseason. At LSU, he remains in the top five in career pitching in wins (31, fifth) and strikeouts (319, fifth) in only three seasons (1989-91). The right-hander holds the school season record for victories with 17 in 1990, going 17-6 with a 3.84 ERA in 140.2 innings, including six complete games, while striking out 130 to earn Baseball America Second-Team All-America honors. In the Tigers' national championship season of 1991, he struck out 116 in 102.1 innings with an 8-3 record capped by a CWS semifinal win over Florida.
One of the most prolific wide receivers in LSU history, Wendell Davis was a two-time All-American in 1986 and '87 when he teamed up with Louisiana Sports Hall of Famer Tommy Hodson. Playing for the Tigers from 1984-87, the Shreveport-Fair Park product held most of the school's receiving marks until 2001 Biletnikoff Award winner Josh Reed came along. Among the marks Davis set were for receptions in a game (14), and he established single-season marks for catches (80), receiving yards (1,244), receiving TDs (11) and yards per game (113.1) in 1986 and also had the school record for career receiving yards (2,708). Davis still holds the school mark for career receptions (183).
A first-round draft pick (27th overall) of the Chicago Bears in 1987, his NFL career was cut short by a devastating injury when he tore the patellar tendon in both his knees on the notoriously-bad artificial turf at Philadelphia's Veterans Stadium just five games into the 1993 season. In the two seasons prior to the injury in 1991 and '92, Davis grabbed 115 passes for 1,679 yards and eight scores. For his 5½-year NFL career, he had 207 catches, 3,000 yards (14.5 yards per catch) and 14 TDs.
Woodruff became the head baseball coach, head basketball coach and assistant football coach in 1982 at Parkview Baptist in Baton Rouge, where he spent the remainder of his 30-year teaching and coaching career before retiring in 2010. Aside from two years, while he served as the school's full-time athletic director, Woodruff was the Eagles' head baseball coach for 27 seasons while Parkview's baseball program became one of the best in the state in all classes, winning 21 district titles and making 23 playoff appearances in his tenure.