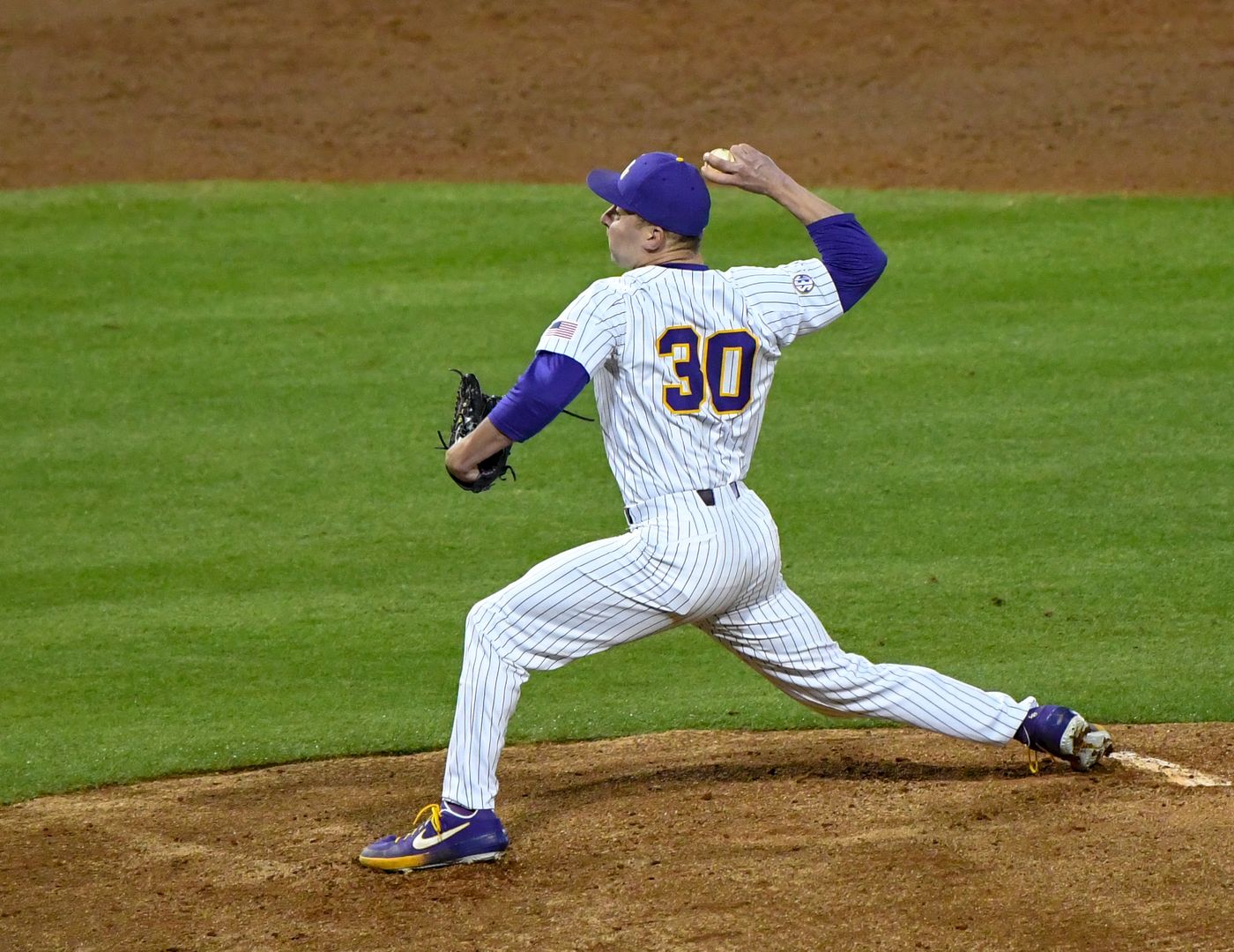 METAIRIE, La. — Even without a third of its starting lineup, LSU appeared in prime position to snap a recent rut of midweek misery once a three-run blast from Cade Beloso hit the foul pole at the Shrine on Airline.
Unfortunately for the Tigers, the real late game fireworks would come off the bats of their in-state foe.
Trent Vietmeier served up back-to-back home runs to Cajuns Orynn Viellon and Handsome Monica in the eighth inning to turn a 5-3 lead into a 6-5 defeat for LSU at the Wally Pontiff Jr. Classic in Metairie on Tuesday night.
"Bad pitches man," Vietmeier said. "It was just an awful outing by me personally. Missing locations is what's going to hurt the most. I don't know why I couldn't hit my spots tonight. No reason in the world really. It was one of those nights I guess."
The irony is that, on a night when LSU emptied its bullpen, it was one of its most reliable arms who faltered late. Vietmeier had allowed just three earned runs over his last 17.2 innings of work coming into Tuesday.
"I trust Trent Vietmeier," Beloso said. "I'd put him on the mound and nine times out of 10 he'd get the job done. Tonight happened to be the one where they hit him. So what? He's got to be ready for his next outing.
"I'd trust him in that situation again. No doubt."
With this latest setback LSU (24-14) has now lost four of its past five games and dropped three of its last six midweek contests. UL-Lafayette has now beaten LSU three times in a row dating back to last season.
The home runs provided the tying and go-ahead runs, but it wasn't what irked LSU coach Paul Mainieri about the defeat. He was more annoyed with the fact that LSU gifted its opponent three early runs, which kept the Cajuns well within striking distance.
Todd Peterson got the start and gave LSU a perfect first inning, but things took a decidedly sloppy turn from there.
Chase Costello issued three walks in the second inning, two of which came around to score. The Cajuns tacked on another run when former Tiger Brennan Breaux came home on a double steal that threw LSU for a loop.
"Trent Vietmeier has done a great job all year, and he at least made them earn it," Mainieri said. "I'm more disappointed with the early part of the game. We gave them three runs on walks to lead off innings. You just want your guys to throw the ball over the plate."
LSU's offense looked anemic in the early going, but the Tigers found life in the fourth inning. Antoine Duplantis began the rally with a walk and Daniel Cabrera singled up the middle. Two batters later Beloso went down and golfed his fifth home run of the season off the foul pole in right to tie the game.
Some sloppy play on the part of the Cajuns allowed LSU to pull in front one inning later as Smith reached on an error to lead off the inning. Giovanni DiGiacomo laid down a perfect bunt for a single and Cabrera smoked a single off the first baseman to load the bases with one out.
Brandt Broussard, up to fifth in the order due to the injuries, lifted a fly ball to deep left field for a go-ahead sacrifice fly. Beloso followed with a two-out single to right and DiGiacomo raced home for an insurance run.
A cavalcade of relievers held the lead into the eighth inning, but that's when UL-Lafayette exploded. Veillon launched the game-tying two-run homer off Vietmeier and Monica followed with the go-ahead blast.
"It happens man, that's baseball," Vietmeier said on the emotional swing. "Baseball is a weird sport. As good as you feel one day, the next you can be as down as it gets."
LSU will now return home to host Florida for a three-game series set to begin Thursday night at Alex Box Stadium. First pitch is set for 6 p.m.
Photo courtesy of LSU Sports Information