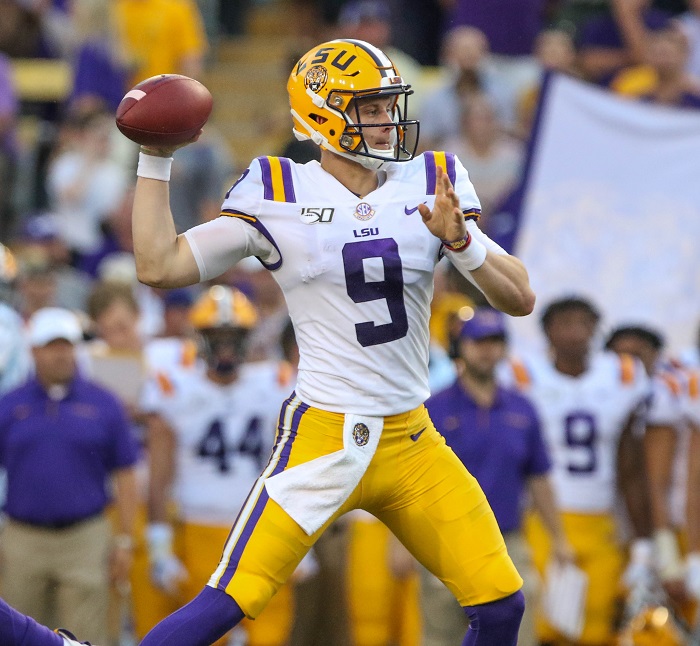 National and local media are hyperventilating so much over this new LSU offense, I expect them to start dropping like LSU defensive players did in Saturday's thrilling 45-38 victory at Texas.
Let's reel it in a little bit. LSU hasn't been running stone age offenses for its 126 years of football until now, although it's fun to make that hyperbolic charge. There have been several years that the Tigers threw it a lot more than they ran it.
Three times since 2001 LSU attempted more than 400 passes in a season. Two of those years the Tigers won BCS titles. So, please, stop with the "we've never seen this before" gyrations every time Joe Burrow heaves one. Charley Mac hasn't coached here in 40 years and has been dead for almost 18.
Les Miles' teams threw the ball a lot his first three seasons when he had competent quarterbacks, as he did at Oklahoma State before that. People want to believe Leonard Fournette played here for 10 years and carried 40 times a game. Didn't happen.
And that reminds me, shout out to Leonard after his tweet about how many yards he could have rushed for if LSU had used this offense when he was here: You came to LSU because they built the offense around your I-formation capabilities. And you ran for a boat load of yards anyway, top-five all-time in three seasons.
One more thing, Joe Burrow set the individual LSU record for passes attempted in a season last year with 379.
But I digress. What we are seeing now that is different isn't just throwing the ball every down but an updated style, a true spread. The reason it looks so good is because it's working. LSU's offense carried the team to victory at Texas like the defense used to.
Sure, those early goal-line stands were huge, but good defense these days means you get a couple of second half stops against unstoppable offenses. LSU's defense didn't stop Texas from scoring at all in the second half. Holding that Texas team to seven first-half points seems like a dream after that second half.
LSU fans will have to get used to wild scoring battles like this in key games, not so much against the overmatched foes. And again, it's not so much the offensive style but the personnel. Against a true Power 5 opponent, LSU boasted three receivers that could be the No. 1 guy at most programs. By the end of the season, we will be calling this the best receiving corps LSU has ever fielded, with apologies to Odell Beckham Jr., Jarvis Landry and company from 2013.
Something has come over the coaching staff, too. You have a defensive-minded head coach who has unleashed the best offensive minds he could find. That means with the game on the line, LSU is throwing the ball on third-and-17 while clinging to a six-point lead.
The 61-yard touchdown pass from Burrow to Justin Jefferson might go down as one of the most significant plays in LSU history if the season plays out the way fans would like. How many times did McClendon, or Bill Arnsparger, or Gerry DiNardo, or Les Miles, or even Nick Saban pick that moment to get ultra conservative and let the defense win it.
At least this time, Ed Orgeron, who was lampooned for years by LSU fans when he fell on his face in his first head coaching stint at Ole Miss, was smart enough to know there was nothing to make anyone believe defense could win this one with a stop.
Let the offense win it. They did.
For the time being, Orgeron should have shut up the last of faction who opposed his hire. Of course, if he continues losing to Alabama, you'll hear from them again real soon.
Give a hand to the LSU offensive line which has improved enough to allow Burrow to show what he's got. The improvement is remarkable. His pocket presence has soared from last year, mostly because he has a pocket. The third down play happened because he moved up and then to the left, all the while keeping his eyes downfield, and he found the receiver just before being knocked down.
If Clyde Edwards-Helaire hadn't dropped an easy swing pass on third down of LSU's first series in the second half, LSU might have matched Texas by scoring on every second-half possession.
Now that it appears questions are answered at quarterback and offensive line, let's hear it for Cade York. A true freshman hit all three field goal attempts in a tough environment I his home state. He did it as coolly as last year's phenomenon, Cole Tracy, and LSU gets this guy for four years.
LSU is looking like a team with a lot of the right ingredients.
Something else didn't look right. All those August practices in the sweltering Louisiana heat and humidity and it's LSU player after player falling out with cramps on a hot night but in Austin's "dry heat."
I don't remember seeing any Texas players cramping up and they did just as much futile chasing the ball and all out pass rushing as LSU. Plus, doesn't LSU have the up-to-date conditioning program where the players sit in cold storage after practice to recover? I hope one of the local media members asks about that this week, if they haven't all fallen out with their own hyperventilating.
Photo by Terrill Weil