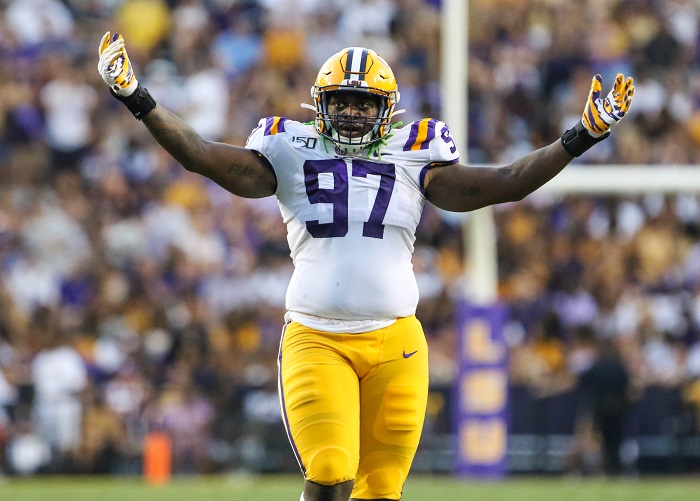 LSU's depth is going to be tested as three starters in the front seven sustained injuries during Saturday's 45-38 win at Texas.
Defensive ends Rashard Lawrence and Glen Logan won't practice this week and aren't expected to play against Northwestern State on Saturday night, Ed Orgeron announced Monday.
Outside linebacker K'Lavon Chaisson is also "questionable" for this week's game, Orgeron said. He's currently in a walking boot.
"You're not going to see Glen Logan or Rashard Lawrence," Orgeron said. "I don't know if any of them are going to be ready for the game. K'Lavon is questionable. He'll be in a boot. You'll see him in a boot today. But he could be available for the game. I need to find that out."
Breiden Fehoko and Neil Farrell are the next men up at defensive end. Freshmen Jarell Cherry and Nelson Jenkins are also in the mix, Orgeron said.
Justin Thomas should also see time as Orgeron praised what he brings from a pass rush perspective.
"Justin is our most athletic inside guy," Orgeron said. "Justin played very well. You'll see more of Justin Thomas, especially on third down. He has the quicks. He can make a guard miss up and under."
Speaking of pass rush, look for freshman Marcel Brooks to play more a role moving forward. Brooks made his collegiate debut against Texas and could find a home on LSU's green team pressure package.
"Marcel played very well," Orgeron said. "That hit he made on the quarterback showed his speed and his toughness. We're going to use him more in our green package, especially if K'Lavon can't play this week. We'll start him in our green package and let him rush. "
Photo by Jonathan Mailhes