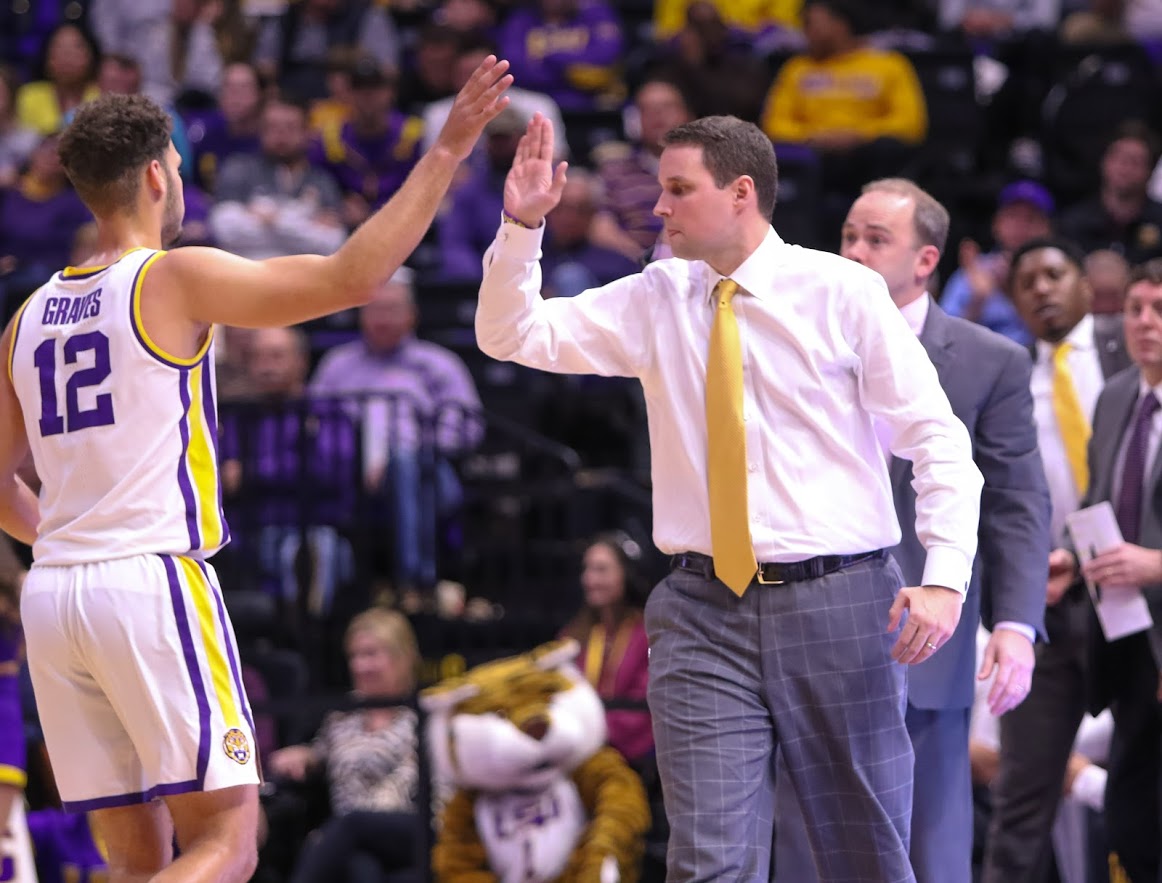 A year after a story line-saturated season in which it won a Southeastern Conference title and reached the Sweet 16, the LSU basketball team has completed its schedule for the 2019-20 season.
The Tigers will begin league play with a huge rematch against Tennessee on Saturday, Jan. 4 at 11 a.m. in Knoxville.
LSU defeated the then No. X Volunteers to take a lead in the SEC Championship race and lost just one game after to seal sole possession of the title in one of last year's marquee games in the Pete Maravich Assembly Center.
Kentucky will come to the PMAC on Tuesday, Feb. 18 at 8 p.m. in hopes of returning the favor LSU gave them last season with a buzzer-beating win in Rupp Arena last year, and the Tigers will travel to 2019 Final Four competitor Auburn on Saturday, Feb. 8.
The Tigers will get Florida twice once again this season. LSU and the Gators split their regular-season bouts in 2019 before Florida won the rubber match in the SEC Tournament in March.
LSU will retire the jersey of former Tiger Mahmoud Abdul-Rauf at halftime in the Tigers' penultimate home game against Texas A&M, scheduled for 11 a.m. on Feb. 29 in the PMAC.
As previously announced, LSU will travel to Texas on Jan. 25, right in the meat of the SEC schedule, to compete in the SEC-Big 12 Challenge.
The non-conference slate has been completed for a while now, but there are still some notable matchups that LSU fans should be excited about.
LSU will travel to Will Wade's old stomping grounds to take on his former employer VCU, and they will also play in the Staples Center in Los Angeles to take on USC on Dec. 21
As for the annual early-season tournament, the Tigers will travel to Montego Bay, Jamaica to compete in a field that includes Utah State, UMBC and Rhode Island, among others. Needless to say, LSU will be the favorite to come out of the tournament as champions.
Also, not to be forgotten, but prior tot he start of the season LSU will travel to Ruston to play Louisiana Tech in a charity exhibition to benefit the recovery efforts in the city and on campus after a tornado ravaged the area in April of this year.
LSU Men's Basketball 2019-20 Schedule
All Times Central; Times Subject To Change; Home Games in All CAPITAL LETTERS; * Denotes SEC Games
NOVEMBER
Friday, 8/BOWLING GREEN/7 p.m.
Wednesday, 13/at VCU/5 p.m. (ESPN2)
Saturday, 16/NICHOLLS/TBA
Tuesday, 19/MARYLAND BALTIMORE-COUNTY/7 p.m.
Jersey Mike's Jamaica Classic
Montego Bay, Jamaica – Montego Bay Convention Centre
Friday, 22/Utah State/TBA (CBSSN)
Sunday, 24/Rhode Island/TBA (CBSSN)
Friday, 29/MISSOURI STATE/ 7 p.m.
DECEMBER
Tuesday, 3/UNO/7 p.m.
Sunday, 8/NORTHWESTERN STATE/4 p.m.
Wednesday, 18/EAST TENNESSEE STATE/7 p.m.
Air Force Reserve Basketball Hall of Fame Classic
Los Angeles, California – Staples Center
Saturday, 21/Southern Cal/8 p.m.
Sunday, 29/LIBERTY/2 p.m.
JANUARY
*Saturday, 4/at Tennessee/11 a.m. (ESPN2/U)
*Wednesday, 8/ARKANSAS/8 p.m. (ESPN2/U)
*Saturday, 11/MISSISSIPPI STATE/7 p.m. (ESPN/2/U)
*Tuesday, 14/at Texas A&M/6 p.m. (SECN)
*Saturday, 18/at Ole Miss/7 p.m. (ESPN/2/U)
*Tuesday, 21/FLORIDA/6 p.m. (ESPN/2/U/SECN)
Saturday, 25/at Texas/TBA (ESPN Networks)
*Wednesday, 29/ALABAMA/6 p.m. (ESPN2/U)
FEBRUARY
*Saturday, 1/OLE MISS/11 a.m. (ESPN/2/U)
*Wednesday, 5/at Vanderbilt/8 p.m. (SECN)
*Saturday, 8/at Auburn/11 a.m. (ESPN/2/U)
*Tuesday, 11/MISSOURI/8 p.m. (SECN)
*Saturday, 15/at Alabama/3 p.m. (ESPN/2/U)
*Tuesday, 18/KENTUCKY/8 p.m. (ESPN/2/U)
*Saturday, 22/at South Carolina/7 p.m. (ESPN/2/U)
*Wednesday, 26/at Florida/8 p.m. (ESPN/2/U)
*Saturday, 29/TEXAS A&M/11 a.m. (ESPN/2/U)
MARCH
*Wednesday, 4/at Arkansas/6 p.m. (SECN)
*Saturday, 7/GEORGIA/1 p.m. (ESPN/2/U)
Weds.-Sat., 11-15/SEC Tourn., Nashville)/TBA (SECN/ESPN)