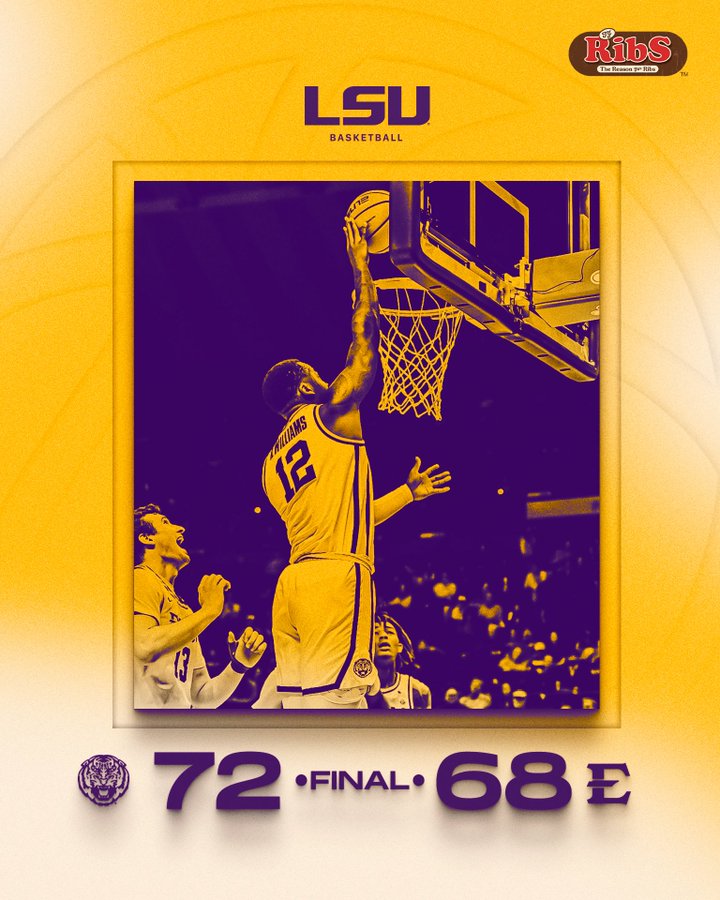 It was a different game. Different opponent. But a lot of the same scenario.
LSU jumped out to a decent-sized lead in the first half, but not as much as it could have been, then had to hang on for its dear life.
Same song. Different verse. But a win's a win and you've got to take them where you can.
But now the real season begins for LSU.
KJ Williams poured in 28 points and grabbed 12 rebounds to lead LSU and the Tigers barely held on to defeat an inferior opponent, this time East Tennessee State, 72-68, on Wednesday night in the Pete Maravich Assembly Center.
It was the fourth double-double of the year for Williams, LSU's leading scorer this season. Derek Fountain added 11 points for the Tigers.
LSU guard Trae Hannibal, a 69% free throw shooter, hit two clutch free throws for a 72-68 lead with seven seconds left.
LSU (11-1) opens Southeastern Conference play next Wednesday against No. 11 Arkansas at 8 p.m. in the PMAC.
East Tennessee State (4-9) trailed at halftime, 37-24, but outscored LSU, 44-35, in the second half. Untimely turnovers and a backcourt scoring malaise almost cost the Tigers.
"Barely, barely. But we're thankful for it, and golly disappointed that we didn't come out with a better response in the second half," LSU coach Matt McMahon said. "We've been in that situation multiple times here, and really challenged our guys there to try and make sure we came out (on top.)"
Hannibal's three-point play with 13:38 left gave LSU a 51-38 lead before ETSU started whittling away at the deficit. The Buccaneers outscored Tigers 28-17 over the next 12 minutes and got within 68-66 on Josh Taylor's dunk with 1:48 remaining.
Williams and ETSU's Jordan King traded layups. King's layup came with 54 seconds left and LSU led, 70-68. Fountain fouled King on the made basket but missed free throw.
On LSU's ensuing possession, Taylor blocked Justice Hill's layup attempt with 25 seconds left. Out of an ETSU timeout, King missed a shot attempt with 15 seconds to go which Hannibal rebounded and after a foul, made the two foul shots with seven seconds to go for the game's final points.
ETSU, which never led the entire game, trailed LSU by 14 points on two different occasions in the first half, and once in the second half with 18:04 left in the game, began whittling away and managing to trim LSU's lead to two points twice in the last two minutes of the game.
"Very thankful to get the win," McMahon said. "I was thrilled with the improvement we made on the defensive end of the floor in the first half, unfortunately we threw it out the window in the second. I thought we could've had a bigger lead at the half if we had better ball security. Some of the unforced turnovers really hurt us because when we did get a shot, we were really efficient there.
"Nonetheless, I think everyone's seen a lot of these scores across the country here going into the Christmas break. Obviously, it was not a thing of beauty but we're thankful to get the win and wish everybody here in Baton Rouge and across the state of Louisiana 'Merry Christmas and Happy Holidays' and look forward to getting back Christmas Day and getting back to work."
McMahon said he thought the differences between the two halves for LSU came down to two things, primarily: his team's pressure defense was not effective in the second half and the Tigers' shooting in the second half was ineffective, hindering their transition defense.
"In the first half, I thought our ball pressure bothered them and we were able to make them very uncomfortable running their half-court offense. In the second half, I didn't see it that same way," McMahon said. "I thought they were able to beat us off of triple penetration and hurt us there. Secondly, I think, we didn't shoot the ball as well in the second half and we let that hurt our transition defense and they hurt us there some.
"Three, I thought we took a step backward where we had been so good on the defensive glass a lot the last two and a half games, I thought our guards were leaking out and they were able to get some of those long rebounds and second opportunities to get back into the game and clearly to stay into the game into the final buzzer."