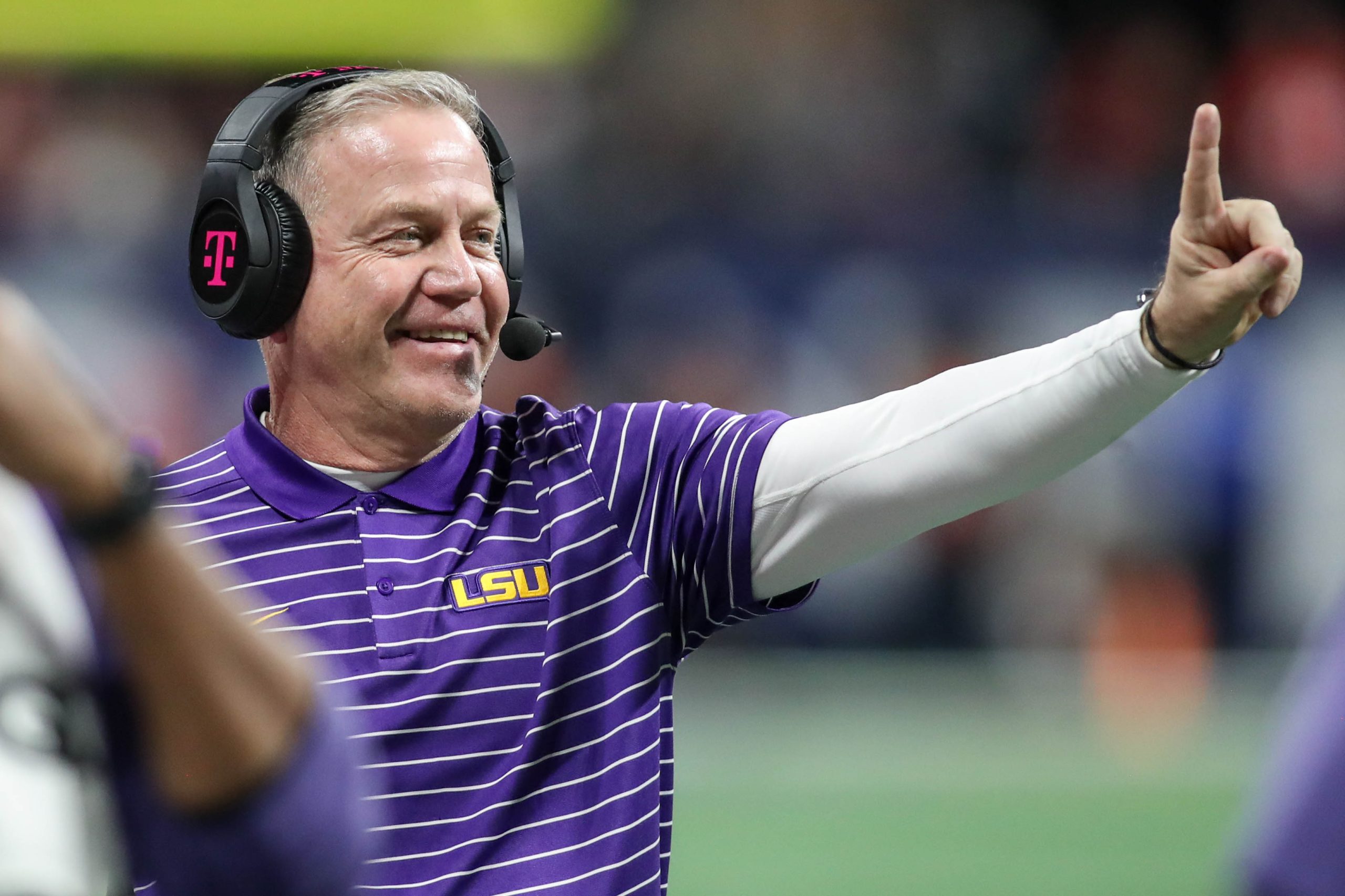 LSU football coach Brian Kelly has his first full recruiting class well within the nation's Top 10 with room to grow.
A year after taking over three weeks before his first signing class, Kelly showed off his recruiting acumen over the course of his first season and signed 25 high school players Wednesday on the first day of the NCAA's early signing period.
"We're super excited about and I know personally, I've gotten the chance to spend a lot of time with each one of them," Kelly said during a news conference. "And again, as I said earlier, and have said consistently since I've taken the job, we've got to pull our base and 10 of them are from the state of Louisiana. They're also part of a very talented group of players from this state. I think eight of them are top 15 players here in the state of Louisiana. And we stayed in an SEC footprint for the most part with 21 of the 25 signees."
LSU, who will have 15 players enrolling in January, has garnered glowing remarks from 247Sports and On3Sports with the nation's sixth-rated recruiting class, while Rivals.com ranks the Tigers seventh.
They can further enhance its class ranking depending on the decision of five-star cornerback Desmond Ricks of IMG Academy. He will choose between the Tigers, Alabama and Georgia during a news conference Thursday at 4:30 p.m.
Kelly established a foundation for his second class with 10 in-state players with four of from the Baton Rouge metro area. That included On3Sports composite five-star wide receiver Shelton Sampson Jr. of Catholic High, four-star quarterback Rickie Collins of Woodlawn, four-star safety Kylin Jackson of Zachary and four-star running back Kaleb Jackson of Liberty Magnet.
The breakdown for LSU's class is 14 players on offense and 11 on defense with the possibility of one more on defense should Ricks choose the Tigers.
Kelly plans to address the program's gains in the NCAA transfer portal Friday where the Tigers have four reported commitments. He said the program's biggest needs remain on the defensive line and secondary.
"I think you'll see defensive line, defensive backfield as the particular areas that we still need to address as we move forward," he said.
The two biggest position groups that were filled on the first day were wide receiver and offensive line with four signees each.
Sampson's part of that wide receiver group that included four-star prospects Jalen Brown of Miami, Florida, four-star Kyle Parker of Lucas, Texas and four-star Khai Prean of St. James.
"I'm kind of a Louisiana kid, my parents are from there," Parker said after his signing ceremony. "I grew up an LSU fan since I was a young kid. Me getting an offer was just a blessing. I went on the (official) visit, it was a great visit overall. I felt it was the best opportunity for me to go and succeed there and potentially get to the next level would be my goal."
Kelly anchored his new offensive line haul around five-star offensive tackle Zalance Heard of Neville High in Monroe and four-star offensive lineman Tyree Adams of St. Augustine High in New Orleans. They're joined by four-star offensive lineman DJ Chester of McDonough, Georgia and three-star guard/center Paul Mubenga of Buford, Georgia.
Led by their respective state's top players – four-star defensive end Jaxon Howard of Minneapolis, Minnesota and five-star edge rusher Da'Shawn Womack of Baltimore, Maryland – LSU secured two of the nation's top players on the defensive line. The Tigers were also able to build depth at cornerback with three signees, highlighted by five-star prospect Javien Toviano of Arlington, Texas.
With Kylin Jackson leading the way, LSU signed three safeties with four-star prospects Ryan Yaites of Denton, Texas and Michael Daughtery of Loganville, Georgia.
Collins is expected to be the lone high school quarterback in the class and Kaleb Jackson is part of an all-Louisiana backfield that also features the state's career rushing leader in four-star Trey Holly of Union Parish.
"I can come to LSU right now if you want me to. I'm ready to play," Holly said in a Tweet to Kelly.
LSU encountered some give-and-take on signing day with committed players and lost out to a division rival on another uncommitted player.
The Tigers, who have one scholarship tight end on their roster, improved that number with three signees on signing day with the addition of former Vanderbilt commitment Ka'Morreun Pimpton of Ft. Worth, Texas-North Crowley. The 6-6, 220-pounder, who joined Mac Markway and Jackson McGohan in the class, is the nation's sixth-rated tight end by On3Sports after catching 85 passes for 1,326 yards and 21 touchdowns during his career.
"I don't know that I've had somebody with his raw athletic ability," Kelly said of Pimpton. "And certainly, there's work to be done as it relates to the physicality of the position and whether he's going to be an in-line. We want to develop our tight ends as complete tight ends where they can do everything.
"We want him to be able to get in there and be part of a blocking scheme as well," Kelly added. "So, he's committed to that and that's the one thing that we talk about in developing tight ends. My background and (LSU offensive coordinator) coach (Mike) Denbrock is incredible and the number of tight ends that he's developed. We wanted that for him (Pimpton) and that resonated with him. And then obviously, the other skills that he brings, you just can't teach right. His catch radius, his ability to win in one-on-one matchups is going to be exciting."
LSU did lose out on the services of cornerback Daylen Austin of Long Beach, California who opted for Oregon after being committed to the Tigers since May 16. They were also edged out by Mississippi State, for the services of four-star safety Isaac Smith of Fulton, Mississippi-Itawamba Agricultural.
"We're looking for a pretty good balance on offense and defense, which I think we've gotten," Kelly said. "And certainly, you're always looking for players to impact immediately."