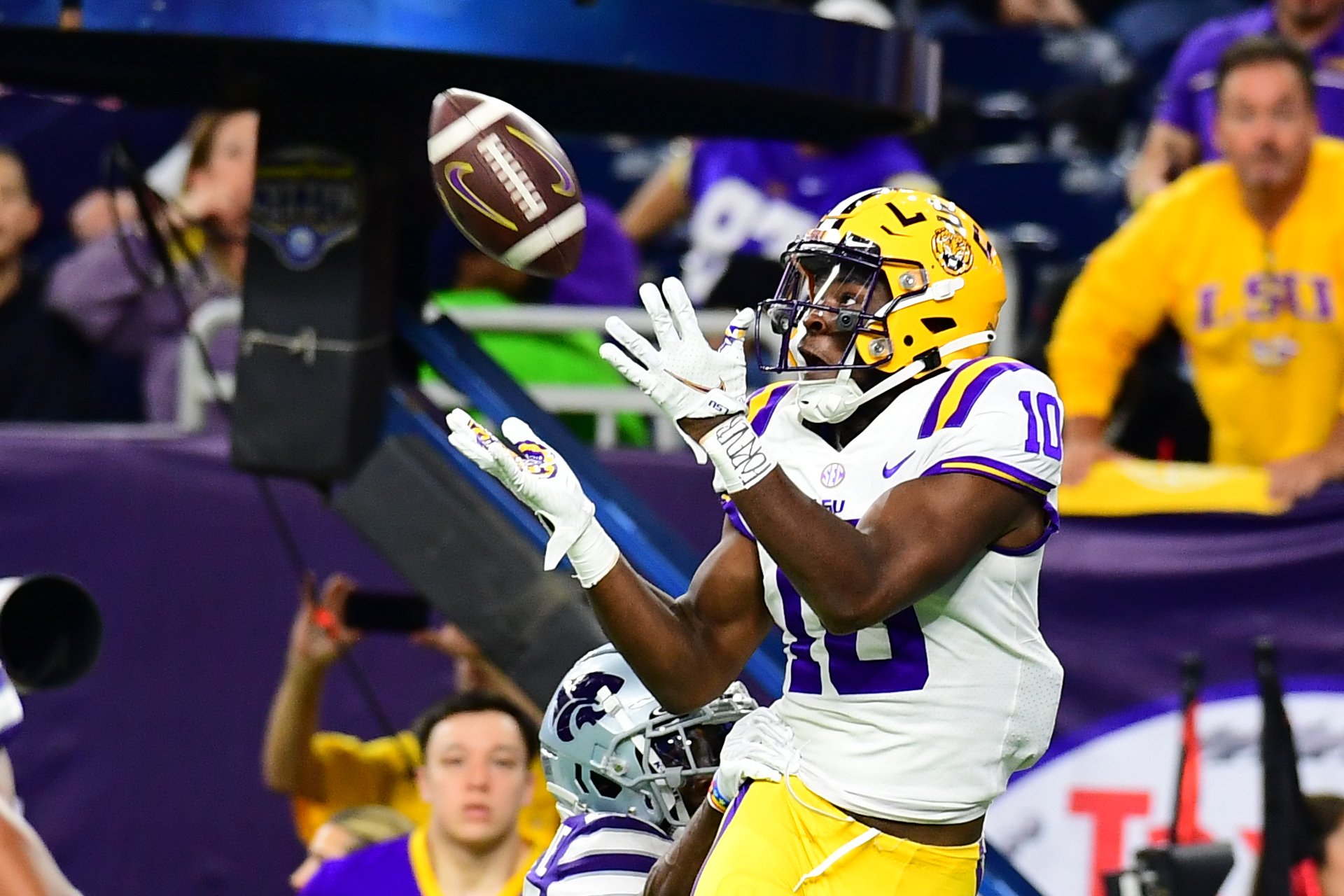 The remnants of LSU's 2021 football season won't fade away soon enough.
A severely outmanned Tigers team, trying to play a postseason game with only 38 scholarship players, proved no match for Kansas State in a 42-20 setback in Tuesday's TaxAct Texas Bowl at NRG Stadium in Houston.
LSU (6-7) suffered its first losing season since 1999.
The Tigers, who were coached by interim head coach Brad Davis, fell behind 21-0 and after scoring near the end of the first half, allowed another stretch of 21 unanswered points in the second half.
Because LSU didn't have any scholarship quarterbacks available senior wide receiver Jontre' Kirklin, who hadn't thrown a pass since his senior year in 2016 at Lutcher, got the start and wound up 7 of 11 passing for 138 yards and three touchdowns. He also carried 11 times for 61 yards.
Kirklin capped his college career with an 81-yard TD pass to freshman wide receiver Chris Hilton Jr. for his first career score on the game's final play.
Kansas State (8-5) relied on the passing of fifth-year senior quarterback Skylar Thompson, who made his 40th career start, and the running of senior Deuce Vaughn to build a commanding 42-7 advantage with 10:15 left.
Thompson completed 21 of 28 passes for 259 and 3 TDs, while Vaughn rushed 21 times for 146 yards and three scores. The Wildcats outgained the Tigers 442 to 308, including 198 to 97 in the opening half.
Kansas State scored on six of eight possessions, including three of four in the second half.
With LSU missing seven of its top 10 tacklers, the Tigers allowed a program-high in points scored in a bowl game, surpassing the previous high of 35 which Texas scored in a 35-20 win in the 2003 Cotton Bowl.
LSU safeties Todd Harris Jr. and Jay Ward highlighted the Tigers' defensive effort with nine tackles apiece and three pass break-ups.
Vaughn scored on second-half runs of 18 and 1 yards, the second score coming after the second interception of the game by Kirklin who was picked off by KSU's Ross Elder on an underthrown pass.
Vaughn accounted for his fifth TD of the game on a 2-yard pass from Thompson on the first play of the fourth quarter for a 35-7 lead.
After failing to gain a first down or cross midfield for the first 22 minutes of the game LSU cut into a 21-0 deficit, finishing off its first drive on a 22-yard TD pass from Kirklin to Jaray Jenkins with 20 seconds left before halftime with placekicker Preston Stafford adding the extra point.
The Tigers' scoring drive covered 75 yards in 13 plays and consumed 6:41 off the clock. Their initial first down came at the 5:30 mark on Josh Williams' 5-yard run and the series crossed into Wildcats' territory for the first time on Kirklin's 13-yard keeper.
Kirklin, who bounced a 15-yard keeper to the outside to KSU's 18, capped the drive on second-and-14 with a pass into the end zone that found Jenkins, the hero in his team's 27-24 upset of Texas A&M on Nov. 27.
K-State completely controlled the game until LSU's first scoring drive. The Wildcats put together back-to-back scoring drives of 11 and 18 plays, covering 75 and 71 yards, respectively, that resulted in Thompson's 25-yard TD pass to Malik Knowles and Vaughn's 2-yard TD run for a 14-0 lead.
The Wildcats also converted the Tigers' first mistake when Kirklin was intercepted on a pass thrown under pressure by Russ Yeast and the combination of Thompson-to-Knowles connected on a 5-yard TD pass to make it 21-0 with 7:01 showing before halftime.