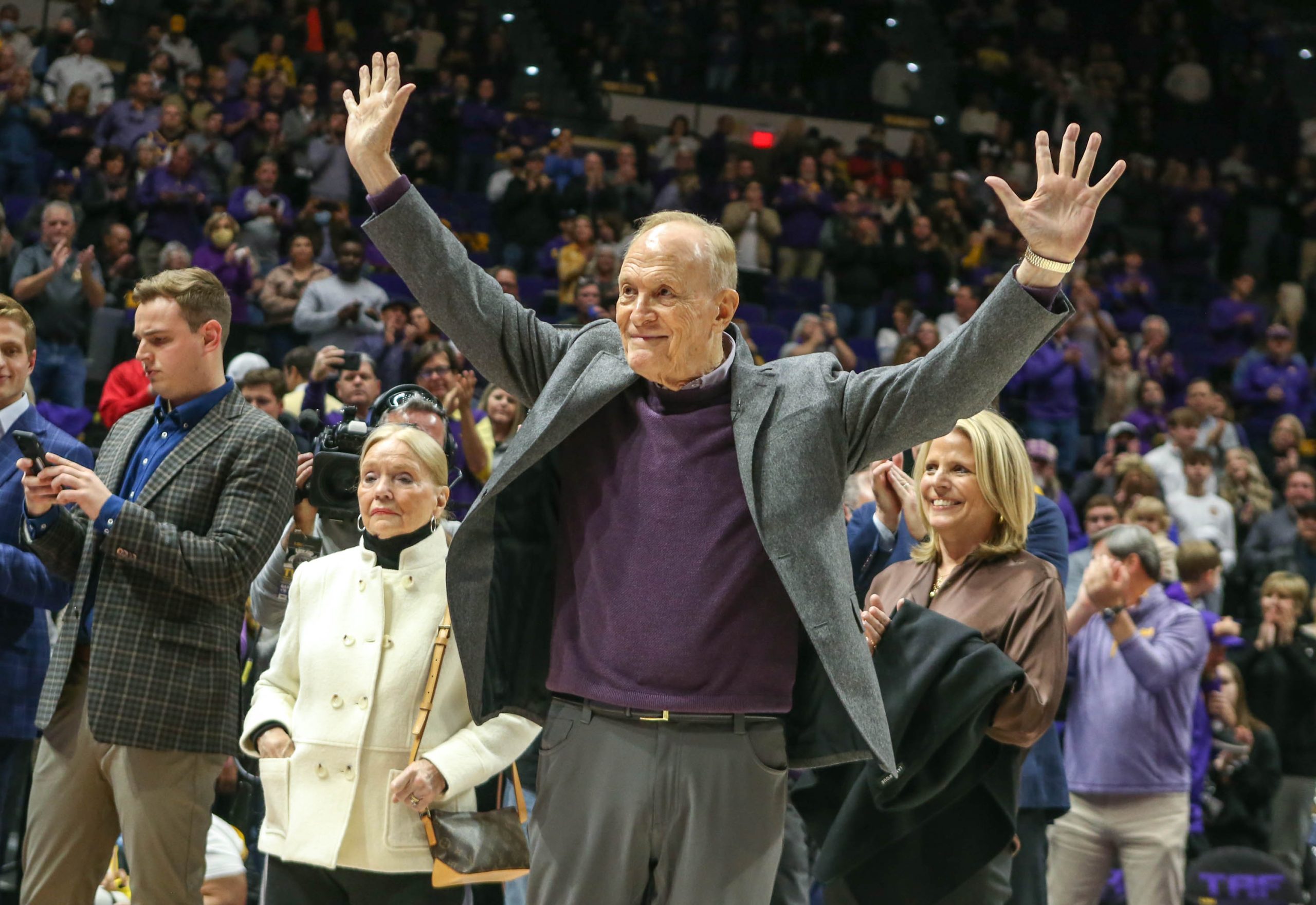 Dale Brown stood at center court inside the Pete Maravich Assembly Center, the epicenter of so many highs and lows in his coaching career, surrounded by the players, coaches, family and friends that made it possible.
Brown, LSU's all-time winningest men's basketball coach, reminded the crowd of 11,808 that this circle of faces were why his name is now scribbled across the hardwood.
Dale Brown Court.
"My name would not be in any bathroom in this building, but it's on the court and this is the answer," Brown said. "The old thing that the best potential is 'we' over 'me.' Here's the perfect example,"
LSU dedicated Dale Brown Court on Jan. 4 prior to its 65-60 win over Kentucky. Brown sat courtside and spoke at halftime.
Every so often a coach comes along that changes everything. These hires are infrequent at best. It takes the perfect bend of environment, skill and fit to usher latency into revival.
Brown was one of those coaches. And in other ways, he wasn't.
The resume isn't debatable. LSU went 448-301 in Brown's 25 seasons, won four SEC championships, appeared in 13 NCAA Tournaments and made the Final Four in 1981 and 1986. Brown was a four-time SEC Coach of The Year. His 238 wins in SEC play are second only to Kentucky's Adolph Rupp.
No coach since has come close to Brown's 15 consecutive postseason appearances from 1979-93.
Brown was an unknown when LSU hired in in 1972, a career assistant from Washington State who had been a star athlete at tiny Minot State University in North Dakota.
He inherited a team that included Collis Temple Jr., LSU's first Black basketball player and a member of the Louisiana Board of Supervisors. A staunch defender of Brown, Temple presented him with a plaque during the court dedication.
"When they asked me for references, I said who do I go to the janitor," Brown said. "I had no references."
For all Brown's accomplishments, factions within the LSU establishment refused to give the coach his due. The battle to name the PMAC court after Brown began a decade ago, fought in theaters both private and public.
In September, the Louisiana Board of Supervisors approved a measure to name the court for Brown. The vote passed 12-3 during an often combative two-hour meeting.
Tiger Rag publisher Jim Engster spoke to the board on Brown's behalf.
"Dale Brown was a person not afraid to rock the boat and rock it in a good way," said Engster, who is also the owner and president of the Louisiana Radio Network.
"In the 1990s, he formed a foundation to enable his players to go back to school. He is an ambassador all over the world. He is a man with a remarkable record of achievement."
In the days before NIL and the transfer portal, Brown championed player agency when such advocacy was taboo. He was the first basketball coach at LSU to put an all Black starting lineup on the floor.
Later on, Brown paid for countless former Tigers to return to LSU and finish their degrees. On their birthdays, they could always expect a handwritten card from Brown.
The nickname "Daddy Dale," which Brown's rivals used to knock him, was a term of endearment in the locker room.
"I told the administration when I got the job that I was going to recruit human beings first and basketball players second," Brown said. "That means you may have an all Black team, you may have an all White team, an all foreign team or you may have a combination of all.
Not one person said, 'This is the wrong guy.' You can look out here and see them all."
Brown wasn't without detractors. His relationship with former LSU athletic director Bob Brodhead was contentious at best. It was Brodhead's own struggles with the university's power structure that brought Brown's biggest enemy to Baton Rouge.
In 1983, the NCAA began a two-year investigation of LSU football. No violations were found, but soon Brown's program was called into question.
Brown famously called the NCAA "gestapo bastards" during one of their run-ins. He chastised the organization for caring more about enforcing rules than the welfare of the athletes it's supposed to serve.
LSU lost two scholarships in 1986 after nine minor violations were found. Only three years later, Brown would assemble his most talented team to campus with Shaquille O'Neal, Mahmoud Abdul-Raouf and Stanley Roberts.
O'Neal grew up a military brat and met Brown at a basketball camp in Germany. After mistaking him for a solider, Brown was giddy to find out that the 13-year old O'Neal was an aspiring basketball prospect and not in the Army.
"Dale Brown sent me a letter every week," O'Neal said. "I lived in West Germany and I would have to walk like half a mile to get the mail in the winter and the snow and I'd always see a letter from LSU."
"He believed in me when I didn't even believe in myself."
The NCAA got the last laugh, placing LSU on probation after Brown retired in 1997. Lester Earl, who played 11 games in 1996-97 before transferring to Kansas, admitted to investigators that he accepted money from then-LSU assistant coach Johnny Jones.
No evidence was found to implicate Brown or Jones, but the NCAA discovered that Earl had received $5,000 from former LSU booster Redfield Bryan.
Earl later apologized to Brown and Jones in a letter published in the Baton Rouge-Advocate, claiming the NCAA pressured him into false statements by threatening his eligibility.
The Louisiana Board of Supervisors watched a video of Earl explaining how the NCAA coerced him to lie prior to voting to name the court for Brown.
Several of Brown's competitors have received similar honors, including Duke's Mike Krzyzewski, Louisville's Denny Crum, Georgia Tech's Bobby Cremins, and Arkansas' Nolan Richardson.
Brown belongs. Whether the remnants of LSU's old guard want to admit it or not.