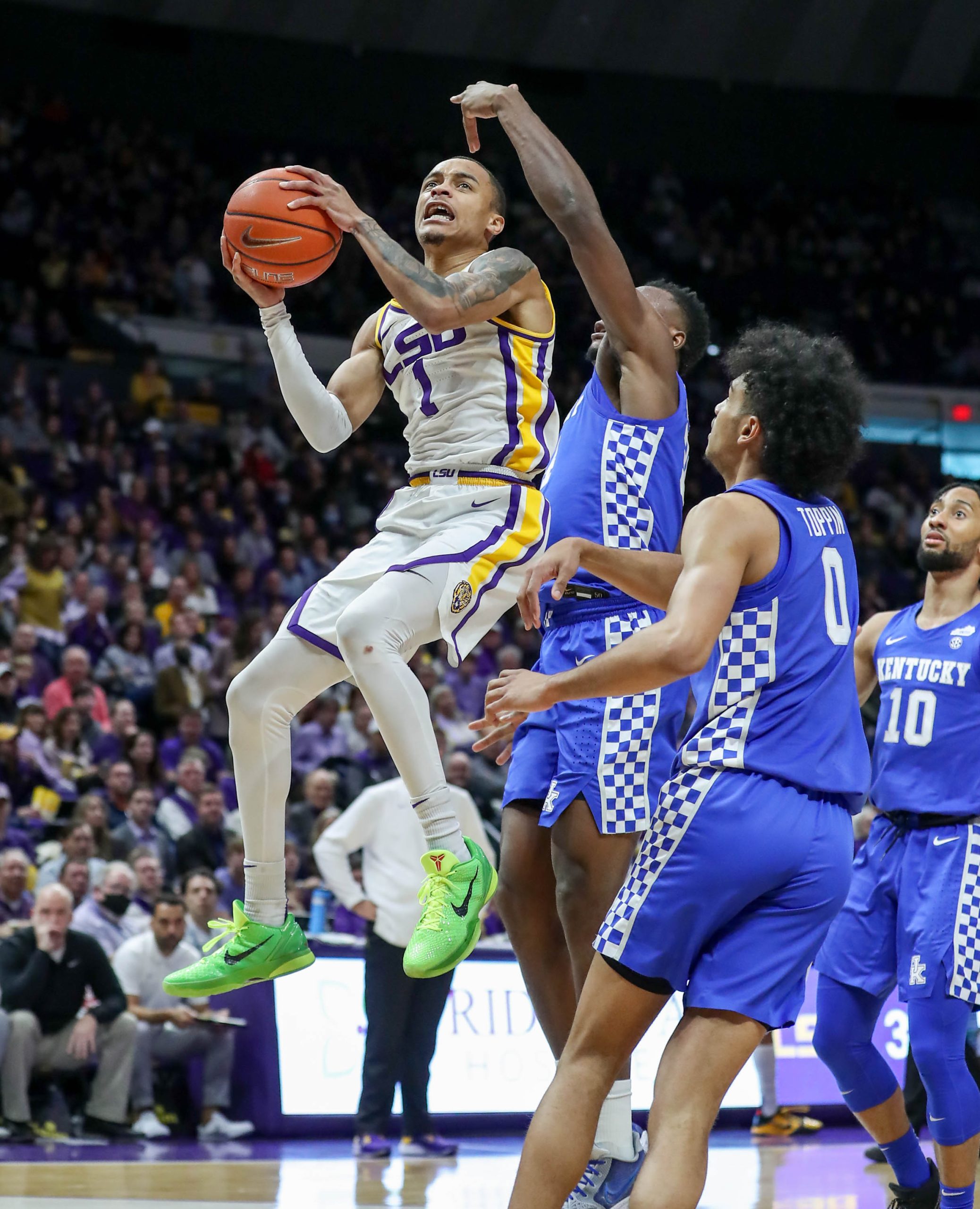 A returned to form was in order on a memorial night inside the Pete Maravich Assembly Center.
For stretches at least.
While "Daddy Dale" sat courtside, No. 21 LSU (13-1, 1-1 SEC) held on for a 65-60 win over 16th-ranked Kentucky (11-3, 1-1) on Tuesday. The Tigers lost three turnovers in the final two minutes and clung to a one-point lead. 
Xavier Pinson closed out the victory with an assist to Tari Eason and his own layup in the final 13 seconds.
"Every individual on this team has a different type of grit to them," Pinson said. "We just try and bring it all together and use it as one, so I feel like we came together at the right time."
LSU dedicated Dale Brown Court prior to tipoff. Brown, the winningest men's basketball coach in school history, spoke at halftime.
Trailing 50-41, Darius Days and Eric Gaines hit back-to-back 3-pointers with 13:06 to go. LSU stalled Kentucky's hot hand from the arc with a 20-2 run that extended to the 2:25 mark.
The Wildcats started the second half 6-of-8 from the 3-point line.
"I thought about changing to some our junk defenses when they hit all those 3's," LSU coach Will Wade said. "We just had to settle in and be a little more aggressive in our man. They changed their screening angles so we just picked it up in our man.
Eason was LSU's top scorer with 13 points. Pinson had 11 points and Brandon Murray, who did not play in the loss at No. 9 Auburn, scored 10 points. Darius Days picked up two fouls in the first half and finished with nine points.
Davion Mintz led Kentucky with 16 points. Jacob Toppin scored 14 points and Kellan Grady had 13 points. TyTy Washington did not score and left the game in the second half. The Wildcats started the second half on a 17-4 run.
"Brandon Murray is a warrior and obviously having him back helped us tremendously on both ends," Wade said. "We had a bunch of guys kind of step up and collectively we found a way to take out enough points to get it done."
LSU can move to 2-1 in SEC play with a victory over No. 18 Tennessee at the PMAC on Saturday at 5 p.m.
"Let's be clear, this wasn't any different type of game for us," Pinson said. "It was a bounce back for ourselves after the Auburn loss."
Despite sputtering through stretches, LSU closed with seven points in the final two minutes of the first half. A breakaway dunk from Pinson punctuated a 35-30 lead at the break.
Toppin carried Kentucky with 13 points and four rebounds in the first half.
Days was held scoreless through the first 15 minutes. He hit a 3 at the 6:06 mark as LSU made one last push before halftime.
Eason and Murray led the Tigers with six points each at intermission. Pinson, Reid and Fudge each had five points.
Kentucky paced LSU three times in the first half, taking its last lead on a Ware dunk with 7:48 to go.