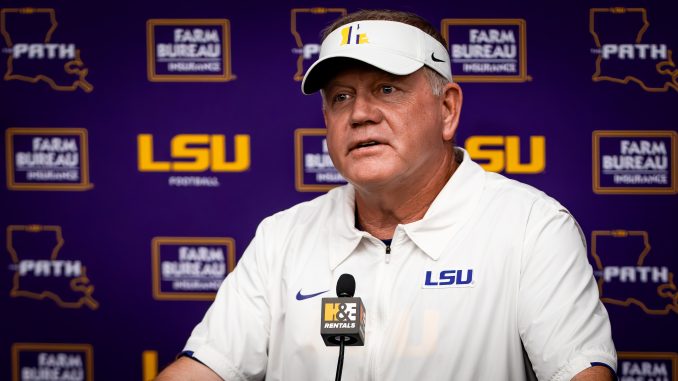 With LSU holding two veteran running backs out of the rotation true freshman Kaleb Jackson made his bid to crack the Tigers deep running back position.
Jackson bounced a third-and-two running play outside to complete an 18-yard touchdown run and turned a screen pass from Garrett Nussmeier into a 75-yard touchdown to highlight LSU's first scrimmage of the fall season Saturday in Tiger Stadium.
Second-year coach Brian Kelly, who did not conduct a postgame interview session, put his team through a 43-play scrimmage after 17 periods of practice totaling nearly two hours in 95+degree temperatures.
The team's leading returning rusher among running backs, Josh Williams, and Notre Dame transfer Logan Diggs and Armoni Goodwin, were all dressed in uniform and went through team drills but did not take part in scrimmage action.
Jackson, who missed all but one game of his senior year with an ankle injury, was certainly the beneficiary of a less crowded running back position. Operating with the second team, he took a handoff from Nussmeier on a play designed to go between the center and guard but widened out to play to not only get the first down, but also score with second effort.
Jackson returned with the second unit and following an incomplete pass and penalty for false start, he came out of the backfield to grab Nussmeier's screen attempt. He broke out of a tackle and sped down the sideline untouched and scored from 75 yards away.
First team quarterback Jayden Daniels went 6 of 11 for 68 yards with an 8-yard TD pass to Noah Cain in the middle of the field. Nussmeier completed 5 of 8 passes for 113 yards with an interception and TD, while third team QB Rickie Collins was 3 of 7 for 36 yards. He threw an interception and suffered three sacks.
Tight end Mason Taylor and freshman wide receiver Khai Prean each had three catches to lead all receivers. Taylor wound up with 35 yards and Prean 25 with Malik Nabers getting two receptions for 17 yards.
Jackson had two carries for 26 yards and one reception for 75 yards, combining for two touchdowns. Cain added three carries for 16 yards and Tre Bradford three attempts for 11 yards.
Southeastern Louisiana cornerback transfer Zy Alexander forced and recovered Taylor's fumble on the first possession between the first team offensive and defensive units.
Daniels led the first team on a 14-play scoring drive that culminated with his eight-yard TD pass to Cain on third-and goal. He also kept twice for 22 yards and connected on a 9-yard pass to Nabers on third-and-seven.
HEARD ALL ABOUT IT: True freshman LANCE HEARD of Neville, who played with the second team at right tackle, also took snaps with the first team on the 14-play scoring drive that forced sophomore EMERY JONES JR. inside to right guard in place of Miles Frazier. The first team offensive line also had WILL CAMPBELL at left tackle, GARRETT DELLINGER and Frazier at guards and CHARLES TURNER III at center.
TURNOVERS: In addition to Alexander's fumble recovery, safeties ANDRE SAM and WELTON SPOTSVILLE both recorded interceptions. Sam also recorded a pass breakup.
OUCH: Junior cornerback SAGE RYAN was forced to leave action later in the scrimmage when he suffered an apparent left shoulder injury trying to tackle Taylor following a reception. Ryan remained on the field for several minutes before leaving under his own power.
HARRIS BACK: Texas A&M transfer cornerback DENVER HARRIS was dressed in uniform and participated in the scrimmage with LSU's third team defense and kickoff coverage. Kelly announced earlier in the week Harris had stepped away from the team to deal with "personal matters" but could come back to the team.
BUMPS AND BRUISES: Defensive tackle MAASON SMITH was dressed in uniform but didn't take part in the scrimmage. … Freshman tight end KA'MORRUM PIMPTON did not participate while fellow freshman tight end MAC MARKWAY and defensive end DA'SHAWN WOMACK were in uniform but riding an exercise bike along with wide receiver LANDON IBIETA.
PUTTING A FOOT INTO IT: Sophomores DAMIAN RAMOS and NATHAN DIBERT alternated kicking field goals with Dibert going with the No. 1 kickoff coverage unit followed by Ramos. Ramos was good on a 47-yard effort during the team's practice and Dibert pushed his 47-yard effort wide to the right. … Fifth-year senior Jay Bramblett continues to be the team's leader at punter with sophomore Peyton Todd second team.
GOOD HANDS PEOPLE: Alabama transfer AARON ANDERSON led a group of punt and kickoff returners along with GREGORY CLAYTON JR., JAVEN NICHOLAS and JALEN BROWN.