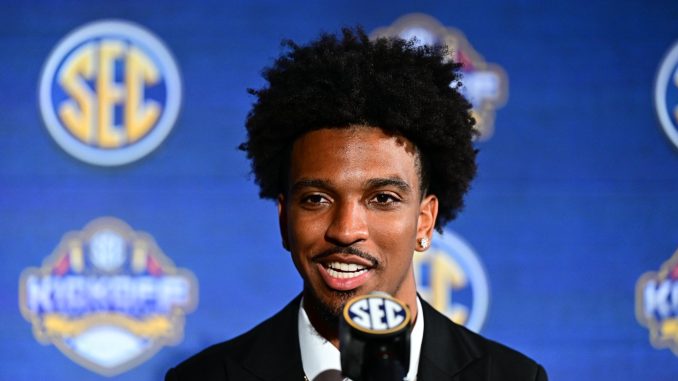 Watching LSU football practice during preseason (don't call it fall) camp was a test of endurance for media, trying simply to stand without wilting in triple digit heat.
It's sometimes hard to focus with a toxic brew of sunscreen and sweat dripping into your eyes and wondering if that unrecognizable smell is your skin cooking.
And yet, as the Tigers continued their preparations with their first week in full pads, blinded or not, it was easy to see quarterback Jayden Daniels might be prepping for a special season. His situation has drawn comparisons from multiple observers as a parallel to that of Joe Burrow, who had a very good first season preceding a monumental one.
Daniels is the key for LSU to take a step up from a 10-4 record that was a big surprise to something in the neighborhood of a national championship, and so far, it looks like he's on the right path.
Recently to this writing, Daniels had a very good day in the portion of practice open to media. In 11 on 11 drills, he showed advancements in accuracy, decision making, patience and leadership. It's not that he was ever sorely lacking in any of those last year when he passed for 2,913 yards and 17 touchdowns while rushing for 885 yards and 11 more scores. But coaches are hoping he'll transition to one who takes more chances with his throws and maybe scrambles a little less.
Daniels threw only three interceptions in 388 pass attempts, and you can never say that's a bad statistic. But the matter came up last year that it's OK to take a few more picks while taking a few more chances farther downfield.
The fact that Daniels was the team's leading rusher says more about all the injuries running backs suffered to an already-thin group. That's not going to be a problem with eight scholarship backs this year, although two (Armoni Goodwin and John Emery Jr. appear out of Sunday's opener with Florida State game). I wouldn't be surprised if one or two of those guys transfers before camp is over. With another year running the ball like he did in 2022, Daniels could threaten Herb Tyler's record for rushing touchdowns by a quarterback (23).
I would expect in both of those areas LSU fans will see a change. That's what Daniels has been working on diligently during the past off season and the reason he returned for a final season, like Burrow. He knew he wasn't ready to be an NFL quarterback and another year would help him improve his draft position. He improved his body and went to camps in search of that big payoff season.
Daniels' improvement also would make LSU a threat to return to the College Football Playoff with nearly the same cast around him. The LSU defense has some questions to answer before that happens, but the offense looks ready to rock.
"I feel like that's what we need to do is to take the offense to the next level," said Daniels, who was no heavier than 180 pounds when he arrived at LSU and now sports 210 pounds on his 6-foot-4 frame. "I feel like we can have a top offense in the country going out there, and we have the guys. We have the talent out there, guys that are special, to really go out there and make those plays.
"This summer we've just been working hard at it, working hard at our timing. Even when we do our player-led practices and stuff like that, you know, we're giving guys opportunities to go make plays. That's the biggest thing that I can say is that we could take that leap to make the offense more explosive."
LSU has to be better. The Tigers won't sneak up on anyone, Daniels especially. Opposing defensive coordinators aren't going to take him for granted and will design game plans around counteracting everything he did well last year.
The LSU receiving corps, led by Malik Nabers, Brian Thomas Jr. and an emerging Chris Hilton Jr. look talented enough. Daniels' improvement will have to be in trusting them to make the plays when he lets it fly. Think back to 2019, those LSU receivers Ja'Marr Chase, Justin Jefferson and Terrace Marshall made play after play on balls thrown in their vicinity.
The decision to run, too, will have to be curtailed. Instead of thinking he'd better scoot when the first receiver is covered, he looked better at checking down to a few others. His running ability will still be used and needed. It will simply slide down the priority list.
Daniels was showing the ability to transform his game last year as the season went on under a coaching staff still learning about its players. He was a little shaky early, especially in the season opening loss to Florida State, but slowly tightened his grip.
"From my first game to the bowl game, I would just say being comfortable within the system," he said of his biggest adjustment. "First game, first everything. First game with a new team, new coaches, so you didn't really know what to expect or where to go.
"Fast-forward to the bowl game, you can see how much more comfortable everybody was with each other, how much more comfortable the coaches were with the players and the players were with each other as a team and also with the coaches."
Everybody is more familiar. As much as Daniels has improved individually, the team around him and the coaching staff handling him will be much better than last season. National media likes LSU's chances in getting to the playoff with Alabama rebuilding and Georgia moving on to another quarterback while trying to become the first team to win three consecutive national titles.
It doesn't take 20/20 vision to see Daniels will be better, or even if your eyes are burning with sweat and sunscreen, and our skin is a crispy golden brown.