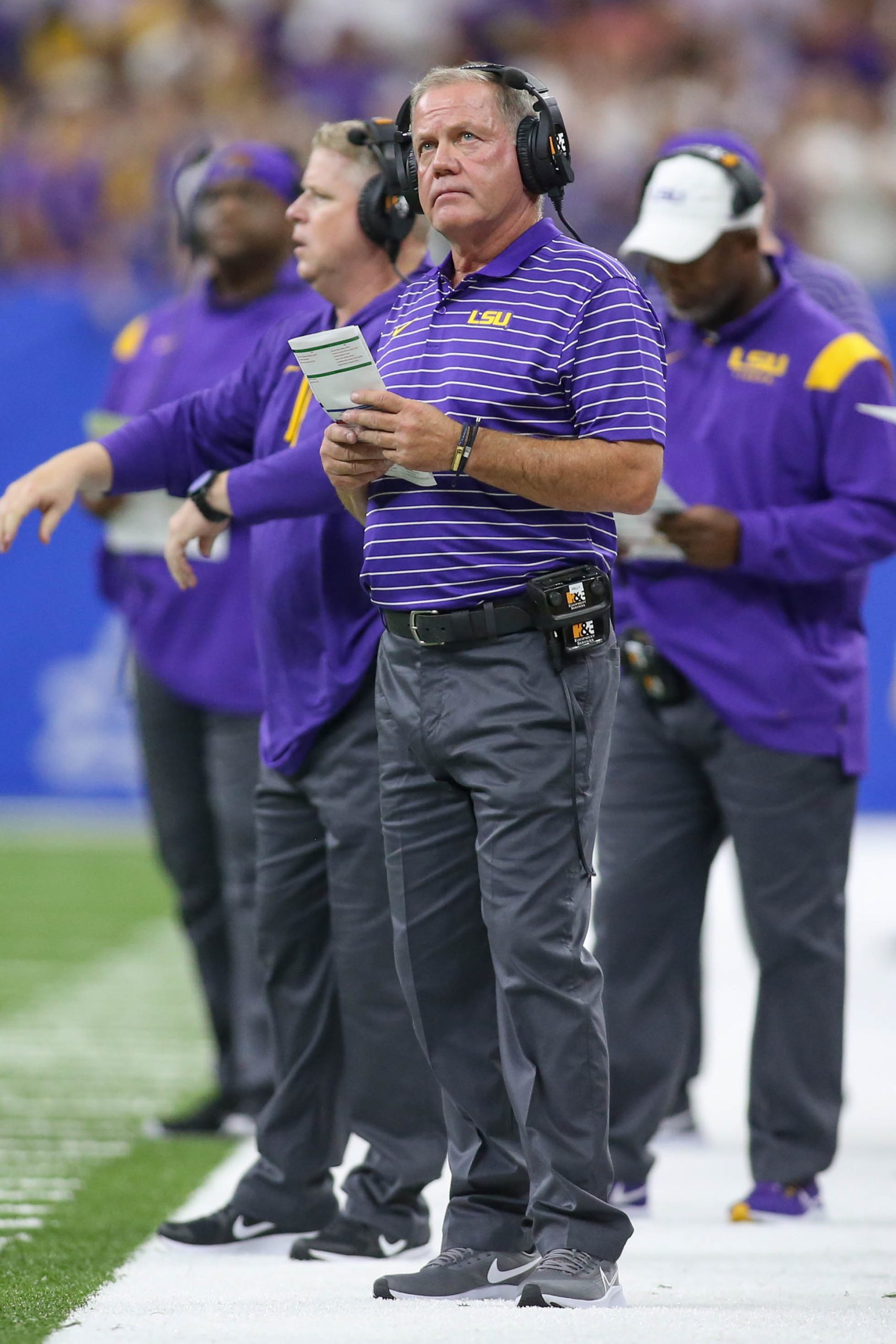 The saddest person on the globe when LSU dropped its 24-23 debut of the Brian Kelly Era to Florida State was not the coach, it was the athletic director who hired him.

Scott Woodward invested more than $100 million to coax his soon to be 61-year-old coach to a 10-year contract. Counting payments to assistant coaches and buyouts for Ed Orgeron and staff, the price tag for the current coaching carousel is more than $150 million dollars.

Kelly is not vulnerable for the immediate future because it would require over $50 million for LSU to say good-bye to him. The Ole War Skule is resembling a vending machine for millionaire coaches in an array of sports. At some point, the mother ship of football has to be righted or the tension of deficit spending and dismal seasons will elicit an earthquake on campus to make 1999 feel like a love tap.

When the curtain fell on the last century, LSU had slogged through eight losing seasons in 11 years in its power sport. To label Nick Saban as a game changer is the under-estimation of the 21st Century.
From 1989-99, LSU was a putrid 58-65-1 in football with an SEC record of 33-51-1. From Saban's first game on Sept. 2, 2000 to the final gun at the Superdome on Jan. 13, 2020, LSU was 202-59 overall and 113-47 in the conference. Those 20 years produced three national titles and five SEC titles. The Golden Age has come and gone with an 11-13 record since Joe Burrow's $100 dollar handshake with Odell Beckham Jr.

Curley Hallman was earning $235,000 a year when Joe Dean canned him amid a 4-7 campaign in '94 and Gerry DiNardo was in the same range when he departed with a 3-8 campaign in '99. Brian Kelly reaches the annual pay for Hallman and DiNardo in fewer than 50 hours. His
compensation is consistent with the market for top-flight counterparts, but unlike Saban, Miles and Orgeron, Kelly has yet to receive a ring for national supremacy.

When Saban arrived in TigerTown, he was 48 years old with 43 career wins. Miles was 43 with 28 career victories and Orgeron was 55 with 16 lifetime triumphs when he replaced Miles in 2016. LSU made them legends as each captured NCAA championships within four years. Kelly arrived in Baton Rouge with 263 official wins, 185 more than his three predecessors combined. Kelly's legacy is dependent on how he fares with the Tigers, but his livelihood is not.

Matthew 19:24 says that "it is easier for a camel to go through the eye of a needle than for a rich man to enter the kingdom of God." LSU fans are about to find out whether it is easier for LSU to win a national title with a hungry coach than with a well-nourished one.

On paper, Kelly remains a solid hire for Woodward, who deftly snared Jimbo Fisher to guide gridiron fortunes at Texas A&M. Woodward gravitates to coaches with impressive track records as his hire of Kim Mulkey to pilot the women's basketball program shows. Mulkey appears to have her team on the brink of greatness, but at a cost. Her program lost an estimated $5 million in her maiden voyage on the bench. Every expendable dollar invested in another program is one less buck for football, which pays the freight for the entire athletic operation.

Judging coaches is an inexact process. Woodward has done well, but Joe Dean is an example of the treacherous nature of securing the right person at the right time. Dean's first choice after dismissing Mike Archer was Hallman, who was 16-28 with four losing seasons. The same fellow also hired Saban, who was 48-16 with two SEC titles and one national crown in four seasons.

At first blush, Hallman was as good a hire as Saban. He arrived in Baton Rouge with 23 wins in three years at Southern Miss where his teams upset Florida State, Alabama, Auburn and Mississippi State. He had served as the de facto defensive coordinator for the Clemson championship team of 1981, beating Nebraska 22-15 in the Orange Bowl as Hallman's defense stymied Cornhuskers' Mike Rozier and Roger Craig. At 44, he looked like he could be the LSU leader for a generation.

It was legendary Dallas Cowboys' scout Gil Brandt who enticed Dean to settle on the candidate from Hattiesburg: "Hire Curley Hallman and never look back." Hallman recruited well, left his cupboard full and allowed DiNardo to have immediate success in 1995. The Hallman rosters featured Pro Football Hall of Famers Kevin Mawae and Alan Faneca as well as Todd Kinchen, Eddie Kennison, Marcus Price, Gabe Northern, David LaFleur, Anthony Marshall and Tory James.

The line between success and failure is thin. Saban was nearly dismissed at Michigan State in 1998 when his third team stumbled to a 6-6 record, losing its opener to Colorado State 23-16, game two to Oregon 48-14 and the finale to Penn State 51-28. A year later, Saban won nine of 11 games and became the highest paid coach in America when Dean hired him and Chancellor Mark Emmert blessed a five-year, $6 million dollar deal.

Woodward was a top aide to Emmert and has surpassed his mentor by approving a contract for Kelly that has provided him more compensation in nine months than Saban received in five years at LSU.

Scott, who earns around $1.5 million yearly, should be requesting a new deal himself. The person who must sign off on any new contract for Woodward is LSU president Bill Tate, who at $775,000 per year earns less than LSU offensive line coach Brad Davis. It would make sense if no university employee received more than the leader of the university, but dollars are flowing more furiously than the currents of the Mississippi River when it comes to zeroes on checks for those at the highest rank in LSU's athletic complex.

Woodward is positioned to get his just reward if Kelly rebounds with a strong rookie season. If not, Woodward and Tate will be judged harshly for the lavish agreement they provided to lure Kelly from Notre Dame, and Woodward will wait before rising to the pinnacle of pay for college athletic directors.

Woodward's robust hires of Mulkey, Matt McMahon and Jay Johnson are afterthoughts to the main event. The LSU ship rises and falls with the waves of Tiger football. Kelly had one bad season at Notre Dame, going 4-8 in 2016. He responded by producing a stellar 54-9 record from 2017-21. LSU fans should not lose faith after a single one-point loss to an inferior opponent. And Kelly must steer his boat past the opening night adjustment at the Superdome.

Otherwise, turbulent waters await the new captain, who is assigned to make LSU football a mighty vessel once again.