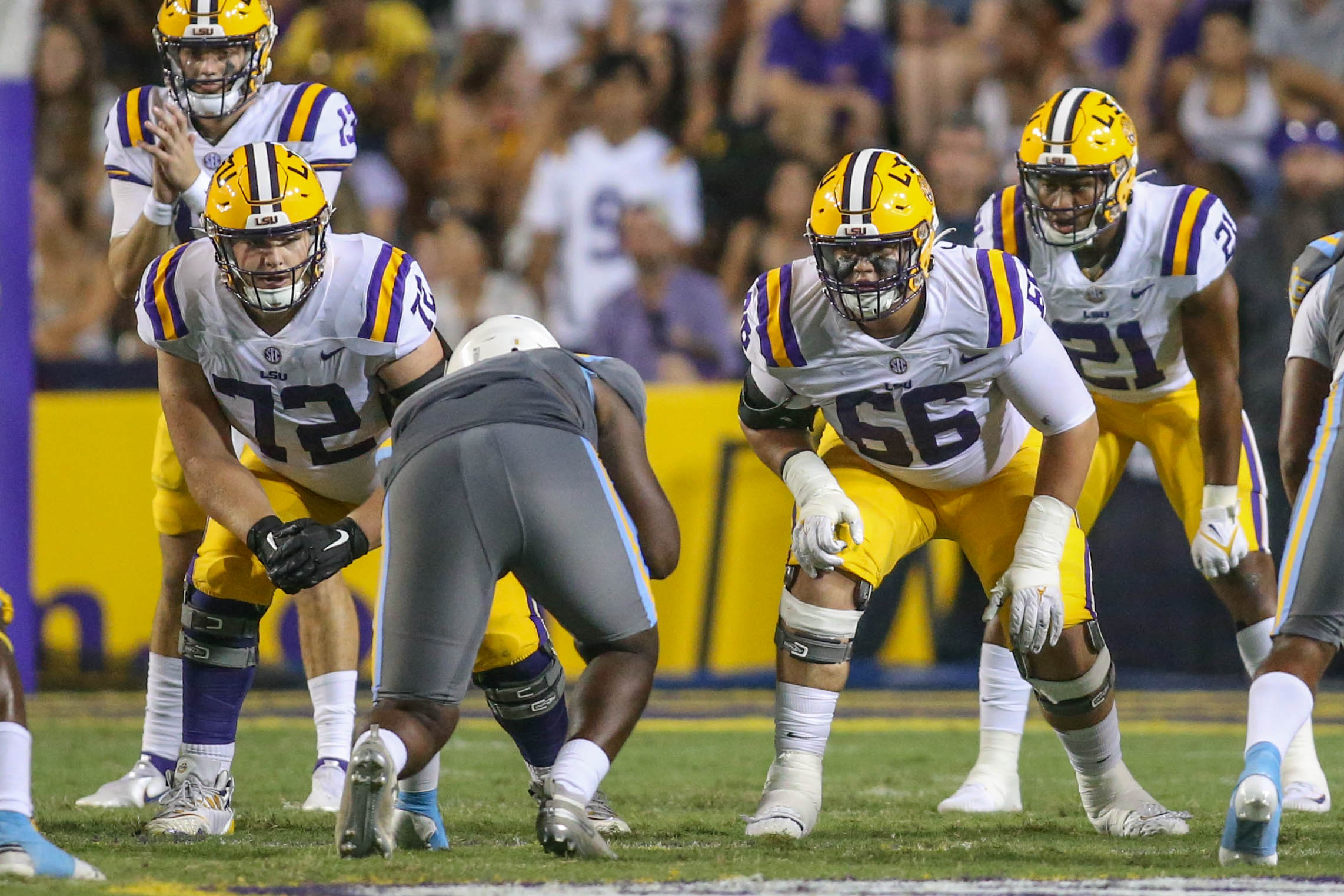 The interception return for a touchdown and blocked punt would have been enough to earn LSU senior linebacker Micah Baskerville high praise in his team's 65-17 victory Saturday over Southern University.
But his coach went a step farther.
"He got the game ball tonight," LSU football coach Brian Kelly said. "You know, we give a game ball out and very easily could have given it to somebody on offense with all the production. We felt that, you know, Mike is production.
"What he does on special teams," Kelly added. "What he does on third down, he's outstanding and in pass coverage. He really adds a dimension to our defense that's really important. And he's so the selflessness. We wanted to reward that with the with the game ball."
Baskerville, who missed spring practice because of academics, told reporters after Saturday's game he expected to miss the first two games of the 2022 season because he was "originally" suspended. He said he received clearance to play on Thursday before the season opener against Florida State and has subsequently registered a tackle in each game before his career highlight at the 7:07 mark of the first quarter in the Southern game.
Baskerville dropped into coverage and picked off a tipped ball by Desmond Little near the sideline, bringing back his first career interception 29 yards for a touchdown and 28-0 advantage.
Learning experience provides results
A week after failing to get preseason All-America wide receiver Kayshon Boutte a reception until there was 5:33 remaining in the game, LSU waited until the very first offensive play against Southern to get the native of New Iberia into the flow offensively.
Boutte caught a 5-yard pass from starting quarterback Jayden Daniels the play following Sage Ryan's recovery of the opening kickoff. Boutte wound up with four catches for 37 yards in the team's record-breaking first quarter in which LSU led 37-0.
Boutte also added a 31-yard gain on an end around on the Tigers' third scoring drive that led to a 21-0 lead at the 7:16 mark of the opening quarter. He wound up with five catches for 42 yards on five targets in just over a quarter of action.
"It was a concerted effort," Kelly admitted. "We felt it was important to get him in a good rhythm early on. I think what we learned in the first game as coaches is that he's going to get a lot of off coverage and double zone. We just need to get the ball out to him quickly and let him make some plays and it opens up the offense in other areas.
"If they're going to play double zone and play soft to him, let's just get the ball in his hands," Kelly added. "He's tough to bring down as it is. That's where we could have done a better job last week. We felt let's get the ball to him, even if they're short, quick routes he's going to make some things happen."
Offensive line shuffle
LSU announced one new starter on the offensive line and had two existing starters swap positions for a total of three players in starting in new positions.
The result was the Tigers ran the ball 36 times for 230 yards and five touchdowns in their romp over Southern. Armoni Goodwin led the way with 12 carries for 85 yards and a pair of touchdowns in the second half.
LSU began in the middle with Charles Turner, who started at center in the spring, taking over at center which moved center Garrett Dellinger to left guard. The move pushed left guard Miles Turner to right tackle and presented a unit that also started with Will Campbell at left tackle and Anthony Bradford at right guard.
They allowed one sack when Daniels was in the game at quarterback.
"We felt like with Turner gives us really good communication," Kelly said. "In fact, he overcommunicated a couple of times. He was trying to get some calls in and we're trying to run a play. Those are things we can work through. He's really sharp and we gained a lot of communication there. I felt like we needed a bigger body on the outside. Although Cam Wire played (right tackle) as well, we feel Miles gives us a stouter tackle and Dellinger's big and physical inside. He gives us that presence that we still want inside with him and Bradford at the guard position. The more we looked at it, we felt that was the best matchup."
New punt returner
A week after starting punt returner Malik Nabers muffed a pair of punts against Florida State, Kelly opted to give Nabers the evening off in favor of junior transfer Gregory Clayton of Texas-San Antonio.
Clayton, a product of Lutcher High and relative of former LSU All-American Jarvis Landry of the New Orleans Saints, was able to secure a fair catch on his first opportunity and returned his second attempt 18 yards.
"He had been back there all camp and as we looked at the data and the numbers, he was as effective in terms of fielding punts," Kelly said of Clayton. "We looked at all the data and felt we were going to give Malik a breather and we may go back to him next week. But Greg was in line to be the next guy up. This is this is just a matter of the next guy up getting the opportunity."
Embracing a bigger role
With senior Ali Gaye out for the first half against Southern because of an ejection in the Florida State game due to targeting, sophomore Sai'vion Jones of St. James took advantage of his first career start at defensive end.
Jones, who had three tackles in 11 games in 2021, turned in a career-high six tackles and was credited with a half sack and pass breakup against Southern. His tackle total tied for second on the team with Desmond Little, who started in place of injured BJ Ojulari, and was just behind freshman linebacker Harold Perkins Jr's seven tackles.
"In the spring we thought he was probably our most consistent performer," Kelly said. "As you get into camp, he's battling with Ali Gaye and BJ Ojulari for reps. He gets relegated to the second team. But we were really confident that he could go out there and play at a high level for us. We still feel like even if he's pushed into a starting position, he's really sound fundamentally and you're going to get really consistent play out of him."