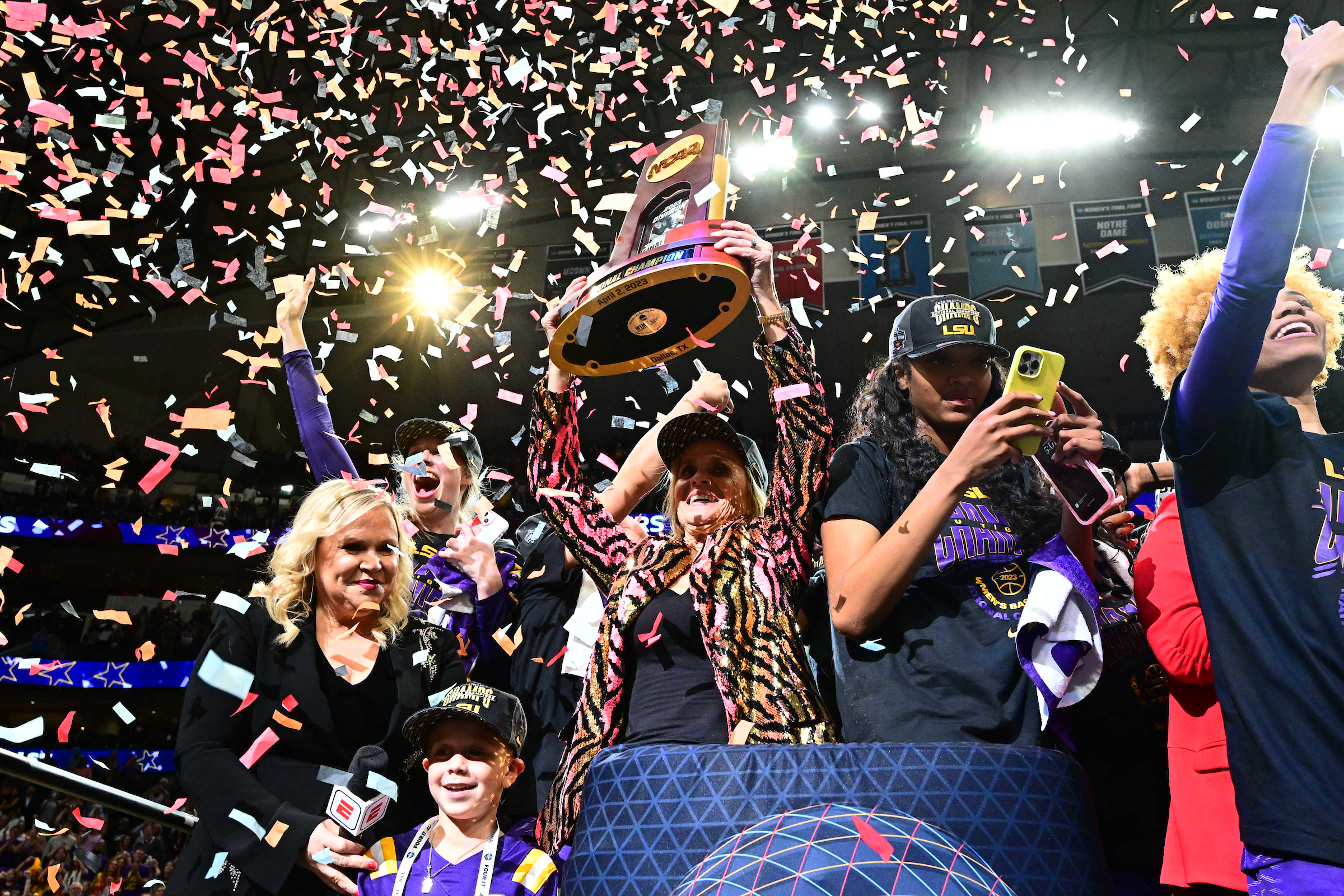 Frank Sinatra died 25 years ago next month, and for millions of admirers who cherish his catalogue of classic songs, the Voice lives. The lad from Hoboken, New Jersey was ranked as the singer of the
20th Century by the BBC and legions of fans from three generations adored him until his last words on May 14, 1998. In his prime, Sinatra fans donned buttons that read, "It's Sinatra's World, We Just Live in It."
The hottest act on the LSU campus this year has a 60-year-old legend from Louisiana Tech as its maestro. Kim Mulkey might be elected governor if she entered the Oct. 14 primary. She is savoring more than 15 minutes of fame. This is the start of 15 years of adulation for the sleek guard who bypassed LSU on her road to six national championships as a player and assistant at Tech and head coach at Baylor.
The chosen one has emerged as the golden child of TigerTown after capturing the NCAA National title in year two as women's basketball coach. "She has that secret sauce," gushed LSU Board Member Collis Temple Jr. after LSU blasted Iowa 102-85 to win the crown at Dallas. At LSU, it is Kim's world. We just live in it.
LSU President Bill Tate bows to his star employee while Athletic Director Scott Woodward reaps the harvest of his wisdom with a $500,000 bonus after his best hire won it all in Big D. Woodward, who is affectionately called "Frat Boy" by Mulkey, permitted her to absorb a $6 million deficit in her first season and allowed his stylish coach to lavishly renovate her office to perpetuate the regal image of the Queen Bee of Basketball.
The gal from Tangipahoa Parish will never encounter a peacock with more flair. Mulkey is saturated with charisma and boasts the most impressive shoe collection the world has witnessed this side of the Philippines. We haven't seen this kind of runway show since Imelda Marcos was walking tall 48 years ago at the "Thrilla in Manila."
The LSU women eclipsed a 46-year-old school record held by the team coached by the unflamboyant Jinks Coleman. The Lady Tigers led by Australians Julie Gross and Marie Jackson advanced to the AIAW championship game in 1977 and lost to Lusia Harris and Delta State. Lusia, who died last year at 66, is the only woman to be drafted in the NBA. Harris recorded 23 points and 16 rebounds to lead Delta State
past LSU 68-55 for a third consecutive national title in '77.
Mulkey is now mentioned in the same breath by sports historians as Harry Rabenhorst, who coached the 1935 LSU men's team to the national title with Sparky Wade as his star contributor. Queen Kim is poised to dominate the game in the next decade and destined to surpass the number of titles accumulated by Geno Auriemma of Connecticut. He holds the record for most national championships with 11.
Mulkey should break his mark in 2031 as she channels her inner Jim Croce with a
slight change to his signature offering. A song she knows by heart.
And you don't tug on superman's cape.
You don't spit into the wind.
You don't pull the mask off that old lone ranger.
And you don't mess around with Kim.
It is an ideal moment to begin construction on campus for a new arena for basketball with the ideal location at the Parker Coliseum where Pete Maravich and Bob Pettit made the Cow Palace a source of folklore.
LSU should call Kim's Palace the Kimberly Duane Mulkey Coliseum. There are 500 billion stars in the Milky Way Galaxy.
Just one in the Mulkey Way Galaxy.
JOE DEAN GONE, NOT FORGOTTEN
LSU legend Skip Bertman recently told Tiger Rag Editor Todd Horne that his predecessor lacked vision and was not liked by his successor, who happens to be the most successful major sport coach LSU has known. Bertman's achievements reign above the rest and he has been immortalized with his name on the field at Alex Box Stadium and a street named in his honor.
Joe Dean, who was a two-time All SEC player for the Tigers, served 14 years as athletic director at his alma mater and there is no recognition of him on campus. Dean will be gone 10 years on November 17, but his legacy should not be dismissed so casually.
In the movie, "Air" which brilliantly depicts the significance of Michael Jordan's association with Nike, it is noted that Converse controlled 54% of the shoe market before Jordan. The reason for the dominance is that Dean had signed Magic Johnson, Larry Bird and Julius Erving to deals with his company before Nike flourished with the ascension of Air Jordan and acquired Converse after Dean departed.
When Dean retired as Vice President of Converse, he was just 56 years old. He not only took a pay cut to return to the Ole War Skule, Dean surrendered his identity as the color analyst for SEC basketball. For more than 20 years, fans across the South imitated his patented inflection. In addition to "String Music," Dean provided memorable phrases such as "Stufferino in Lexington, KY" and "Tickling the Twine."
In 2007, Dean was named the 18th most influential person in the history of the SEC by the Birmingham News and the seventh most memorable voice in the league's history.
As athletic director, Dean is properly blamed for hiring Curley Hallman as football coach in 1990, but he is given no kudos for hiring Nick Saban to close the decade. Make no mistake, it was Dean who secured Saban, not Mark Emmert who acted as a cheerleader for the move and sagely approved the biggest contract in the history of the SEC for a coach who was a 48-year-old journeyman at the time.
Under Dean, Bertman won five national titles on the diamond while the men's and women's track teams accounted for 22 championships under Pat Henry. Dean's total of 27 national crowns set the SEC record for excellence by an athletic director.
Dean supported Doug Moreau to be his successor as athletic director, and Emmert decided to go with Bertman, who did a credible job. It is safe to say that Dean and Bertman underestimated each other.
It is time to bury past polarizations and recognize a good man who arrived in Baton Rouge from New Albany, Indiana in 1948 and never looked back until he left the Earth at age 83.
The only credible argument about Dean's vision was that he was a terrible driver. On Feb. 6, 1987, he crashed his vehicle in the LSU Lakes and almost drowned when his car's electronic system failed. Dean fortunately kicked out a window and escaped with a dampened suit and diminished pride.
And LSU reaped the rewards of a man who loved his university like few others. Dean's opening address as AD to the Baton Rouge Rotary Club in 1987 included a robust salute to the football coach he inherited, Mike Archer, and the basketball coach he helped hire as a leader of the selection committee in 1972.
"Dale Brown is Pavarotti. He is Baryshnikov. He is Nureyev," bellowed Dean in his distinctive style as his words cascaded through the hall at Boudreaux's on Government Street. In a short sentence, he revealed he was a man of the world who had interests beyond the games people play, and he had a soulmate in his basketball coach.
Sadly, both remarkable people have been dissed by the place they treasured and opted to stay in lieu of more lucrative opportunities in more exotic locations.