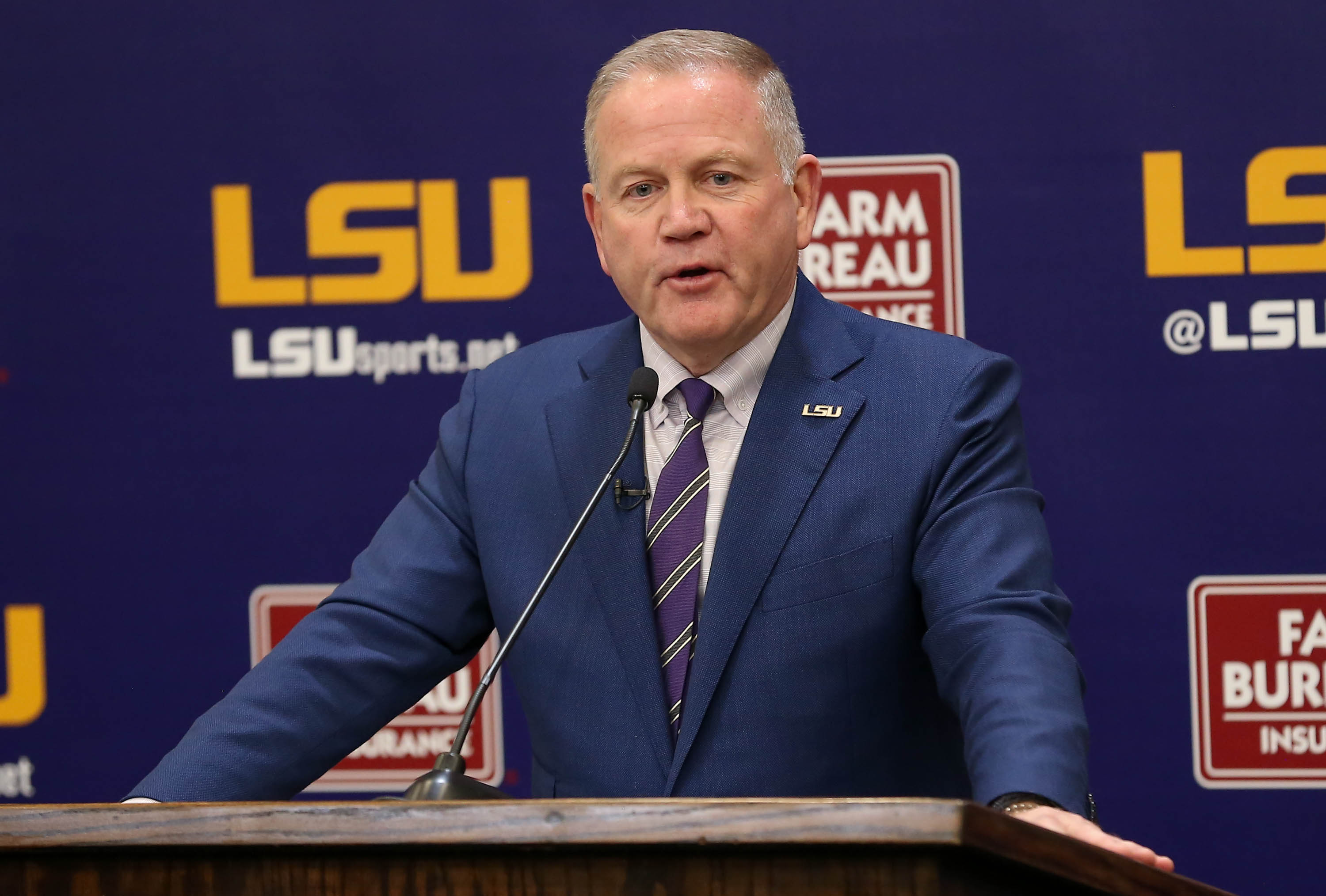 When Brian Kelly was born in October of 1961, a fellow Massachusetts Catholic was John F. Kennedy, President of the United States. This may explain why Kelly, at 22, was a driver for Democratic presidential candidate Gary Hart in 1984.
Hart's route to the White House was derailed three years later when somebody else escorted the Colorado Democrat to Bimini for an ill-fated trip on the Monkey Business with a companion named Donna Rice, an attractive blonde who was not Mrs. Hart. As Hart's political fortunes crashed, Kelly's coaching career has blossomed. He will reign as the highest paid coach in college history if his Tigers win a national championship.

The last three LSU football coaches (Nick Saban, Les Miles and Ed Orgeron) were champions of the world before their fifth season in TigerTown. Kelly must follow suit or he will be vilified as overpaid and outclassed.
The new man in TigerTown has a record that indicates he is up to the job and the expectations that go with his stratospheric compensation of a minimum $95 million over 10 years. Kelly also has the security of a 90-percent buyout that will make him a rich retiree if LSU cuts him loose at any time before his 70th birthday.

It's an open secret that 38-year-old Lincoln Riley opted for USC over LSU as he departed his program at Oklahoma. This should not deter Kelly. As the profound sage Willie Nelson once mused, "Ninety-five percent of married couples don't marry their first choice. That's what makes the juke box play."

Kelly has been employed by only six schools in 39 seasons as a coach. The 60-year-old lifer of the nomadic fraternity is no job hopper. Kelly was a linebacker in his college days at Assumption University in Worcester, Massachusetts. He started his coaching career there with four years of service from 1983-1986.

From there, Kelly moved at 25 to Grand Valley State in Allendale, Michigan. Seventeen seasons later, Kelly left the small school at 42 after logging four seasons as an assistant and 13 years as head coach. His record was
118-35-2.

His next stop was three-year run as head coach at Central Michigan in the town of Mount Pleasant, population 25,000. Kelly's Chippewa tenure produced a 19-16 mark, good enough to get him to Cincinnati as head coach in 2006 at 45.

With the Bearcats, Kelly was 34-6 in three seasons, leading to his ascension to Notre Dame in 2010. His 12 seasons with the Fighting Irish included 113 wins on the field and ranks Kelly second to only Knute Rockne in number of seasons as head coach at ND.

When Kelly abruptly bolted the shadow of the Golden Dome to lead the Purple and Gold, many were stunned that a coach with all of his wits would bolt the celebrated citadel at South Bend for the stifling humidity of Louisiana and the intense heat that comes with extravagant demands in Baton Rouge.

Kelly was coaxed South with more than 100 million monetary incentives, but the veteran strategist surmised that Death Valley is a better venue for ultimate glory in his final lap than staying put and competing with the ghosts of Rockne, Leahy and Parseghian.

"I want to be under the bright lights," Kelly gushed at his opening press conference. "I want to be on the Broadway stage."

For a Notre Dame leader to discount the national lure of the Irish is a curious move. He abandons a university with 11 claimed national titles for LSU with four crowns. It is notable the last time Notre Dame won it all was in 1988 when the U.S. president was Ronald Reagan and college rosters were not dominated by a super majority of Black athletes.

Kelly is keenly aware the SEC is the gold standard for college football. And the league was king in the year of his birth. In 1961, Bear Bryant won his first national championship with an 11-0 record at Alabama. The Crimson Tide benefited from LSU's opening loss to Rice in '61 as the Tigers of Paul Dietzel closed at 10-1 and finished third in the country. In the same year, John Vaught at Ole Miss was ranked No. 5 in the land.

Sixty years later, the SEC is where it was when Kelly was born and the rosters were all White. Dietzel was 37 in 1961 and poised to lead the Tigers back to the promised land of 1958 many more times. "Tall Paul" opted to return to West Point a few days after LSU's win over Colorado in the Orange Bowl. It took 4 1/2 decades to return to the pinnacle.

Kelly aims to rule the gridiron galaxy, a requirement to appease the madding crowd. He must make the football equivalent of a lunar landing in 45 months, not 45 years. For those of us of Kelly's vintage, we understand life evolves with an array of uncertainties and complexities.
Kelly is willing to wage his legacy on a moonshot at LSU.
The risk is immense, but the potential reward is supreme for this solid fellow born in a decade of murderous departures of prominent national icons, the Vietnam War and riots in major American cities.
The late Atlanta writer Lewis Grizzard put the last 60 years in perspective
before he died too soon at 47 in 1994.
"I slept real well in 1962, Grizzard wrote. "But the next year, somebody shot the president. I was changing classes in high school when the principal announced it on the public address system. Soon after, I saw the alleged assassin shot dead on live television.
"Then the Beatles came.
"Then all hell broke loose…"
Brian Kelly is earning almost a million bucks a month through the compensation package his agent Trace Armstrong negotiated with LSU athletic director Scott Woodward.
Kelly will receive more in a day than Dale Bown earned in a year during his first seven years as Tiger basketball coach.
Brown has revealed his salary at LSU from 1972-97, including radio and television income and shoe contracts.

Here we go:

YEAR DALE BROWN LSU COMPENSATION
1972-73 – $22.400
1973-74 – $22,400
1974-75 – $22,400
1975-76 – $23,800
1976-77 – $23,800
1977-78 – $24,800
1978-79 – $26,900
1979-80 – $37,200
1980-81 – $46,000
1981-82 – $50,000
1982-83 – $50,000
1983-84 – $50,000
1984-85 – $50,000
1985-86 – $65,000
1986-87 – $65,000
1987-88 – $65,000
1988-89 – $135,000
1989-90 – $135,000
1990-91 – $135,000
1991-92 – $135,000
1992-93 – $143,000
1993-94 – $168,000
1994-95 – $171,520
1995-96 – $175,181
1996-97 – $175,181
Total: – $2,017,582