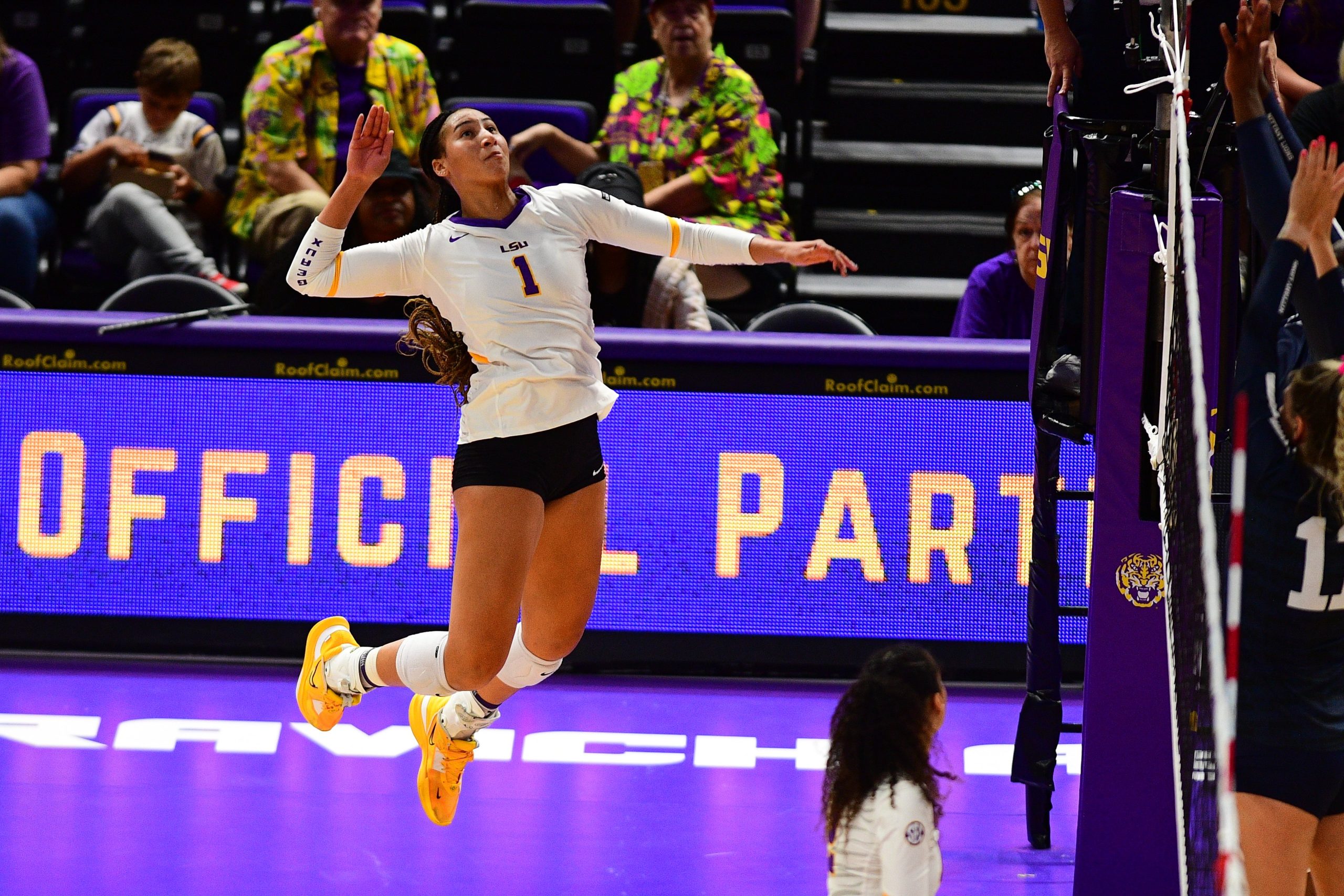 LSU honored the outstanding academic and athletic accomplishments of its student-athletes at the Maravich Assembly Center with the annual Mikey Award Show.
The Mikey Awards, hosted by former LSU standout and ESPN personality Ryan Clark, handed numerous academic and athletic honors to student-athletes in what was a star-studded event.
Among the highlights was the presentation of the Eye of the Tiger Award, which was given to Samarah Hill of the volleyball team. Hill overcame two season-ending injuries to return to the court as a senior where she played an instrumental role in LSU's advancing to the NCAA Tournament in coach Tonya Johnson's first year as head coach in 2022.
Other highlights of the evening included Jill Bohnet (volleyball) and Jackson Martingayle (cross country/track) being awarded the TAF Female and Male Scholar-Athlete of the Year.
Bohnet, LSU's female nominee for the prestigious SEC McWhorter Award, is a mechanical engineering major and is an LSU President's Alumni Scholar, an LSU Distinguished Communicator, and a three-time member of LSU's Student-Athlete Advisory Committee. She's also been named to the SEC Academic Honor Roll as well as being a member of the SEC Community Service Team.
Martingayle is a four-time member of the SEC Academic Honor Roll and has served LSU as a member of the student-athlete advisory committee as well as being a member of LSU Athletics' Committee for Diversity, Equity and Inclusion.
Martingayle has twice been named to the LSU Dean's List and he's been on the President's Honor Roll for four semesters during his career. A natural resource ecology and management major, Martingayle is a three-time recipient of the SEC Male Runner of the Week award and he's a two-time qualifier for the NCAA Division I Cross Country Regional Meet.
The TAF Female Athlete of the Year went to swimming's Maggie MacNeil, the winner of the 50-free at this year's NCAA Championships. MacNeil, an Olympian, earned SEC Swimmer of the Year honors after claiming three individual first place finishes at the league meet as well as being part of LSU's conference champion 200 and 400-yard free relay team.
Baseball's Dylan Crews was named the TAF Male Athlete of the Year. Crews, considered the best player in college baseball, leads the nation in batting average (.496) to go along with 11 home runs, 12 doubles, and 44 RBI.
Crews was a consensus All-America last year as well as earning SEC Co-Player of the Year honors.
The gymnastics team earned the Tiger Cup, which is presented to the LSU team that has the highest total achievement in the areas of academics, community service and competition. The gymnastics team reached the Four on the Floor, had a combined grade point average of 3.4275 for the spring and fall semesters in 2022 and 143 hours of community service.
2022-23 MIKEY AWARD WINNERS
Female Rookie of the Year: Flau'jae Johnson (women's basketball)
Male Rookie of the Year: Harold Perkins (football)
Female Sports Play of the Year: Angel Reese blocking shot with shoe in one hand
Male Sports Play of the Year: Mason Taylor 2-point reception in overtime to beat Alabama
Female Leadership Award: Jill Bohnet (volleyball)
Male Leadership Award: Sean Burrell (track and field)
Female Record-Breaking Performance: Haleigh Bryant (gymnastics)
Male Record-Breaking Performance: Jayden Daniels (football)
Female Team Highest GPA: Women's tennis
Male Team Highest GPA: Men's tennis
TAF Female Scholar-Athlete of the Year: Jill Bohnet (volleyball)
TAF Male Scholar-Athlete of the Year: Jackson Martingayle (cross country/track and field)
TAF Female Athlete of the Year: Maggie MacNeil (swimming and diving)
TAF Male Athlete of the Year: Dylan Crews (baseball)
Tiger Cup: Gymnastics team
Most Community Service Hours, Highest Team GPA, Four of the Floor national finish
Eye of the Tiger Award: Samarah Hill (volleyball)