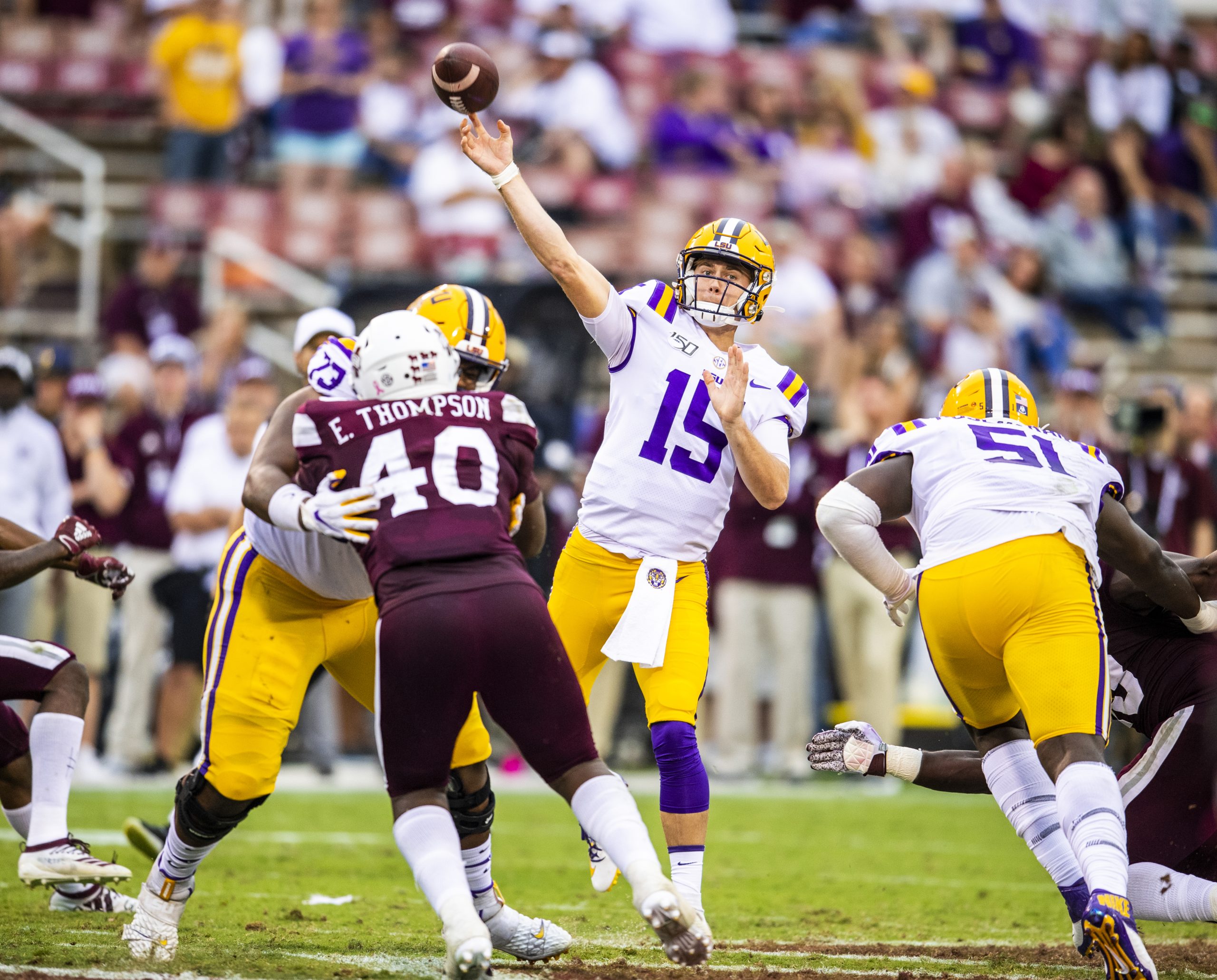 LSU head football coach Ed Orgeron confirmed Monday at his weekly media conference that injured fifth-year quarterback Myles Brennan has entered the transfer portal.
"He just came to meet with me and he was teary-eyed," Orgeron said of Brennan, who has been sidelined all season with a broken left arm. "He thought he needed to find a place that he felt he could go play for one year and start. It was a tough decision. He and his family made it.
"I told him, `Listen, hold your head high. You gave all you can to LSU. You graduated from LSU.' I wish him the best. Myles wants to play pro ball, I hope he gets that shot."
Brennan, who has been at LSU since 2017, waited to become the Tigers' starter and succeeded 2019 Heisman Trophy winner Joe Burrow.
His only LSU starts were the first three games of 2020 when he became the first Tigers' QB to throw for 300 yards or more in first three starts. He completed 79-of-131 passes for 1,112 yards and 11 TDs before sustaining a season-ending torn abdomen in game three vs. Missouri.
"I've gotta give it to Miles and his family," Orgeron said. "They remained patient. He waited his turn. He played very good last year at the beginning. He was very accurate, he made the right throws, he's got a strong arm. I thought he was going to have a great year. Unfortunately, he got hurt. And unfortunately he got hurt again this year."
Brennan had a solid spring and was set to compete with sophomore Max Johnson for the starting job in preseason camp in August. But just before practice started, Brennan broke his left arm carrying fishing gear down steps from the fishing camp to a boat when his flip-flop got caught on a board. He fell down a flight of steps, landing on his left arm.
There was talk as the season progressed that a target date for Brennan's return would be this Saturday against Alabama. But the comeback never materialized.
"I didn't expect him to play," Orgeron said. "I knew his rehab was taking a bit longer. He had some other things he had to work on, he had a knee that was a little hurt. There are some things he needs to fix up and get healthy."
For LSU career, Brennan completed 121-of-201 passes for 1,712 yards, 13 TDs and six interceptions.
Here's Orgeron on other subjects:
On reflecting on LSU's 2019 win at Alabama
"I was thinking about how times have changed. Last time we're going over there, I was sitting on my porch (his football office patio) and I knew if we win that game we have a chance (to win the national championship. We had to go through Alabama. That was a big victory for us.
"Things are different now. It's still LSU-Alabama. My job is to get these guys to play as hard as they can. We're going to be prepared."
On if college football changed because of COVID-19
"There's a big shift. I feel a big shift. It's different from when I started. You've got to change with the times and the guys that are successful do that. It's ongoing, it's changing every day. NIL, transfer portal, guys opting out.
On if COVID-19 stopped LSU's momentum heading into the 2020 season
"I'm not going to make excuses, but it was different. We had one of the best teams in football and then we got locked up for what almost seemed a year. I'd like to be able to go out and recruit and do the things we wanted to do. But I can't say it made than much of a difference on what's happening now."
On LSU's running backs
"We have to run the football (vs. Alabama), we have t=o be very solid in the run game. Ty Davis-(Price), we get (Tae) Bradford back, Armani Goodwin is going to be back. Corey Kiner is going to be back. We need all four of them to play and we need to rotate them to keep the fresh. We have to be 50-50 (on offense). We can't get one dimensional."
On self-scouting his own team
"We're too predictable about (offensive formations), too predictable on first downs. We're very, very predictable on defense. We need to have more of a variety (defensively) on first down. We give them the same looks over and over again. There's no much surprise.
"This part of the season, you can't put a lot of new stuff in. We've put in a couple of wrinkles to make it tough.
"The biggest part for us on defense is adjusting. We have not been in the right adjustments. We have not been in the right positions according to some formations.
"So, we had adjustment period all last week, an adjustment period all this week. We've been doing it, but we're really honing in on being in the right place at the right time."
On the vibe in the LSU locker room
"Very good, very good. These guys are anxious to play. It LSU-Alabama. Throw all the records out. That's enough said. They're going to be ready to go. I'm going to be ready to go. Tremendous challenge. Lot of respect for this football team. But we comin.'"