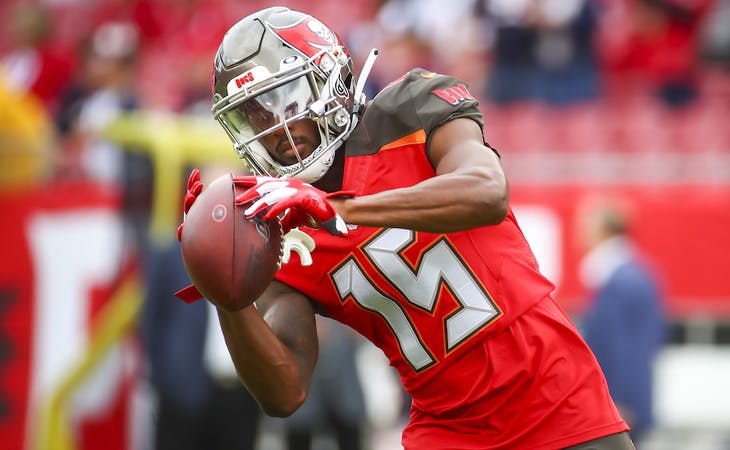 Cyril Grayson, son of a pastor, just believed.
As one of the best relay runners in LSU track and field program history who was a four-time NCAA champion and seven-time All-American between the indoor and outdoor seasons from 2013-16, he always believed his destiny wasn't winning a gold medal.
He thought he could become an NFL football player, though he hadn't played football since his high school days in 2011 at Archbishop Rummel in Metairie where he was a lightly recruited defensive back.
Once he started running track for LSU, he twice tried to also join the football team, first as a freshman. But there was an NCAA rule stating athletes who sign scholarships to play "minor sports" (golf, track, etc.) cannot move up to also play major sports (football, baseball, etc.) until their junior years.
He attempted to join the 2016 football team but was told there were no scholarships for him.
In January 2017, he attended a general tryout for the Canadian Football League and drew no interest.
Yet three months later at LSU's Pro Day in April, Grayson ran the 40-yard dash in 4.3 seconds and the Seattle Seahawks immediately signed him.
For five seasons, he has chased his dream.
His career has been a revolving door, being signed to practice squads and waived 11 times by seven teams (Seattle 3, Indianapolis 1, Houston 1, Chicago 1, Dallas Cowboys 1, New Orleans 1, Tampa Bay 3).
Sunday night at the Caesars Superdome, 6.7 miles from Grayson's old high school, Grayson, a wide receiver for Tampa Bay, caught the first touchdown pass of his pro career (and second NFL catch ever) from the greatest quarterback in NFL history.
Bucs' quarterback Tom Brady lofted a 50-yard TD pass to a wide-open Grayson with 5:16 left to play for a 27-26 lead over the New Orleans Saints. It could have been the game-winning TD but the Saints rallied for a 36-27 win.
"Cyril did a great job, got in there, got behind the defense, made the catch and made a great play," Brady said.
Sunday was the second consecutive game that Grayson was moved up from the practice squad to the active roster, coinciding with the contests missed by wide receiver Antonio Brown due to an ankle injury.
A week ago, Grayson played 13 snaps on offense in Tampa Bay's win over Chicago, though he was not targeted in the passing game.
Grayson now played in seven games for the Buccaneers over the past three seasons. Prior to Sunday, his only pro reception was a 3-yard catch in 2019 vs. Atlanta.
Here's a look at how former LSU players performed in the NFL's Week 8:
Thursday night
Green Bay Packers 24, Arizona Cardinals 21
Cardinals: DT Rashard Lawrence (inactive list)
Sunday afternoon
New York Jets 34, Cincinnati Bengals 31
Bengals: QB Joe Burrow 21 of 34 for 259 yards, 3 TDs, 1 interception and 1 carry minus 1 yard; WR Ja'Marr Chase 3 catches foe 32 yards, 1 TD; DT Tyler Shelvin (inactive list); TE Thad Moss (practice squad injured).
Tennessee Titans 34, Indianapolis Colts 31 (OT)
Titans: ST Tory Carter 1 tackle (1 solo); WR Racey McMath (injured reserve); CB Kristian Fulton (injured reserve).
Los Angeles Rams 38, Houston Texans 22
Rams: OT Andrew Whitworth injured reserve.
Pittsburgh Steelers 15, Cleveland Browns 10
Steelers: OG Trai Turner started for an offensive line that gave up 0 sacks and helped produce 370 yards total offense including 255 passing and 115 rushing.
Browns: CB Greedy Williams 5 tackles (5 solo), 1 PBU; WR Odell Beckham Jr. 1 catch for 6 yards; S Grant Delpit 5 tackles (4 solo); WR Jarvis Landry 5 catches for 65 yards; LB Jacob Phillips (injured reserve).
Philadelphia Eagles 44, Detroit Lions 6
Eagles: LB JaCoby Stevens (practice squad).
Lions: DE Michael Brockers 3 tackles (1 solo).
San Francisco 49ers 33, Chicago Bears 22
49ers: DL Arden Key 1 QB hit.
Carolina Panthers 19 Atlanta Falcons 13
Panthers: CB Donte' Jackson 2 tackles (2 solo), 1 PBU; WR Terrace Marshall Jr. no stats; DT Frank Herron (reserve squad suspended by NFL commissioner); TE Stephen Sullivan (practice squad).
Falcons: LB Deion Jones 14 tackles (10 solo); WR Russell Gage no stats.
Buffalo Bills 26, Miami Dolphins 11
Dolphins: LB Duke Riley 5 tackles (3 solo); LS Blake Ferguson snapped for 5 punts, 1 of 2 field goals, 0 of 0 extra points.
Bills: LB Tre'Davious White 2 tackles (2 solo), 2 PBU; LS Reid Ferguson snapped for 4 punts, 2 of 2 field goals and 2 of 2 extra points.
New England Patriots 27, Los Angeles Chargers 24
Patriots: DT Davon Godchaux no stats; CB Jalen Mills 3 tackles (2 solo), 1 PBU; DE Tashawn Bower (practice squad).
Chargers: DT Breiden Fehoko (practice squad).
Seattle Seahawks 31, Jacksonville Jaguars 7
Jaguars: DE/LB K'Lavon Chaisson 2 tackles (0 solo); WR DJ Chark Jr. fractured his left ankle and is out for the season; OT Badara Traore (practice squad injured).
Seahawks: S Jamal Adams 10 tackles (5 solo); OG Damien Lewis started for an offensive line that gave up 3 sacks and helped produce 229 yards total offense including 160 passing and 69 rushing; DT Al Woods 2 tackles, 1 PBU; C Ethan Pocic no stats; QB Danny Etling (practice squad).
Denver Broncos 17, Washington 10
Broncos: C Lloyd Cushenberry Jr. started for an offensive line that allowed 4 sacks and helped produce 273 yards total offense including 190 passing and 83 rushing; CB Kary Vincent Jr. (inactive list).
Washington: OT Saahdiq Charles no stats.
New Orleans Saints 36, Tampa Bay Bucs 27
Bucs: LB Devin White 10 tackles (6 solo) 1 QB hit; RB Leonard Fournette 26 yards rushing on 8 carries, 3 catches for 17 yards, 0 of 1 passing for 0 yards; ILB Kevin Minter no stats; WR Cyril Grayson 1 catch for 50 yards, 1 TD; CB Rashard Robinson (practice squad).
Saints: OLB Kwon Alexander 5 tackles (3 solo), 2 TFL, 1 sack, 1 QB hit; C William Clapp practice squad.
Sunday night
Dallas Cowboys 20, Minnesota Vikings 16
Cowboys: LB Jabril Cox no stats; OT La'el Collins no stats.
Vikings: WR Justin Jefferson 2 catches for 21 yards, 0 for 1 passing for 0 yards; DE Danielle Hunter 5 tackles (3 solo); CB Patrick Peterson no stats.
Monday night
Kansas City Chiefs 20, New York Giants 17
Chiefs: RB Darrel Williams 49 yards rushing on 13 carries, six catches for 61 yards; S Tyrann Mathieu 5 tackles (1 solo); RB Clyde Edwards-Helaire (injured reserve).
Teams with byes
Baltimore Ravens, Las Vegas Raiders