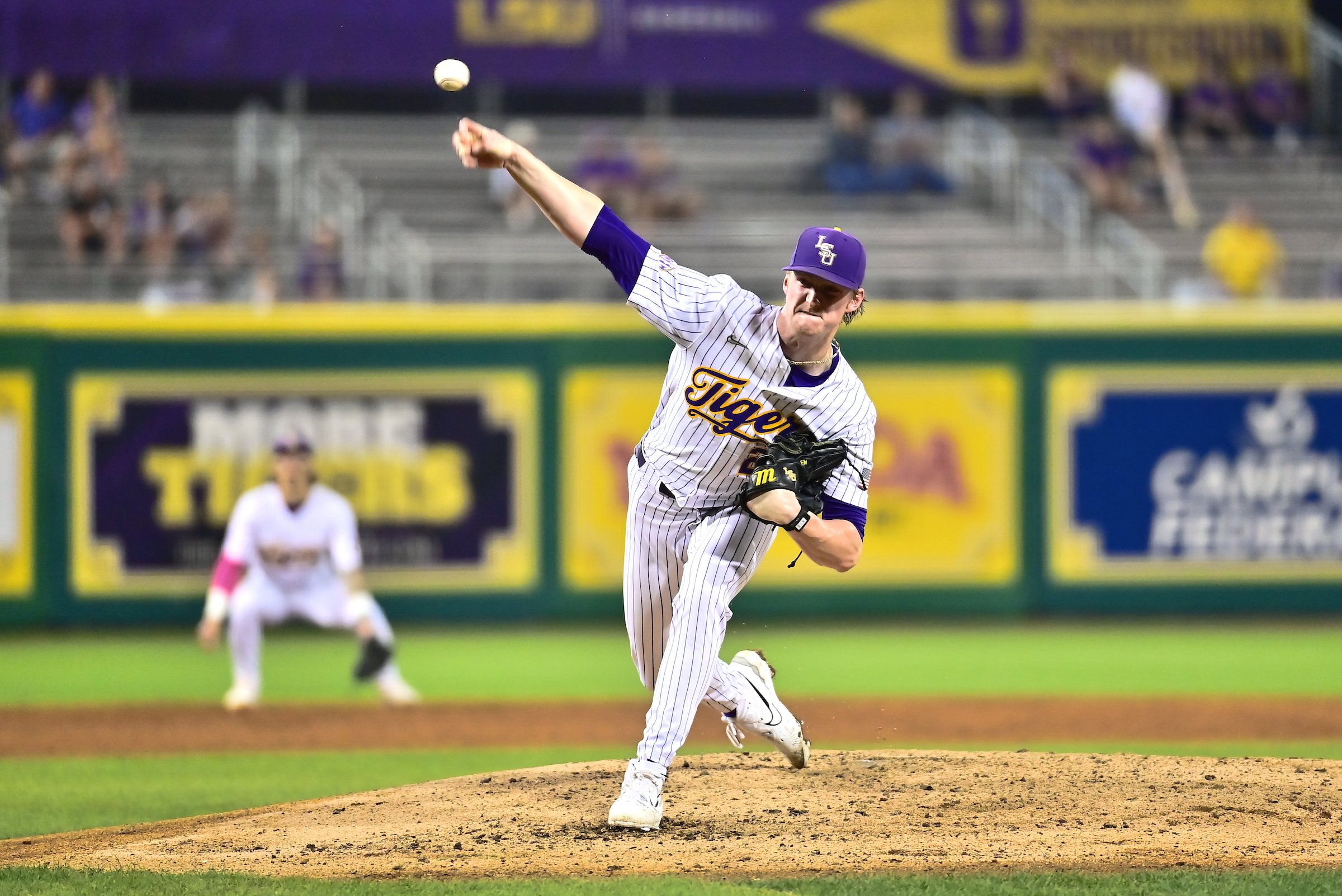 LSU sophomore right-hander Thatcher Hurd on Monday was named SEC Co-Pitcher of the Week, and freshman first baseman Jared Jones received SEC Co-Freshman of the Week recognition from the league office.
Hurd, a product of Manhattan Beach, Calif., posted two wins in two starts last week, working a total of 11 scoreless innings with three walks and 18 strikeouts. He allowed just four hits and limited opponents to a .111 batting average in his two outings.
Hurd defeated Butler on Monday night, firing six shutout innings with three hits, one walk and 11 strikeouts, just one strikeout shy of his career high. He then posted a win over Samford on Sunday, working five scoreless innings and limiting the Bulldogs to one hit with two walks and seven strikeouts.
Hurd pitched 3.2 perfect innings versus Samford before allowing a batter to reach base. He lowered his cumulative ERA to 2.04, and he has 25 strikeouts in 17.2 innings this season.
Jones, a native of Marietta, Ga., batted .600 (6-for-10) for LSU last week with four homers, 11 RBI and five runs. He homered four times in four consecutive plate appearances over the course of the Tigers' games versus Samford on Friday and Saturday.
In Friday's game, Jones launched a pair of two-run homers in his final two plate appearances, and in Saturday's game, he unloaded two three-run dingers in his first two plate appearances. Jones added an RBI single in Sunday's win over Samford, as the Tigers completed a three-game sweep.
Jones is batting .356 on the year with a team-high six homers, and he is second on the club with 21 RBI.