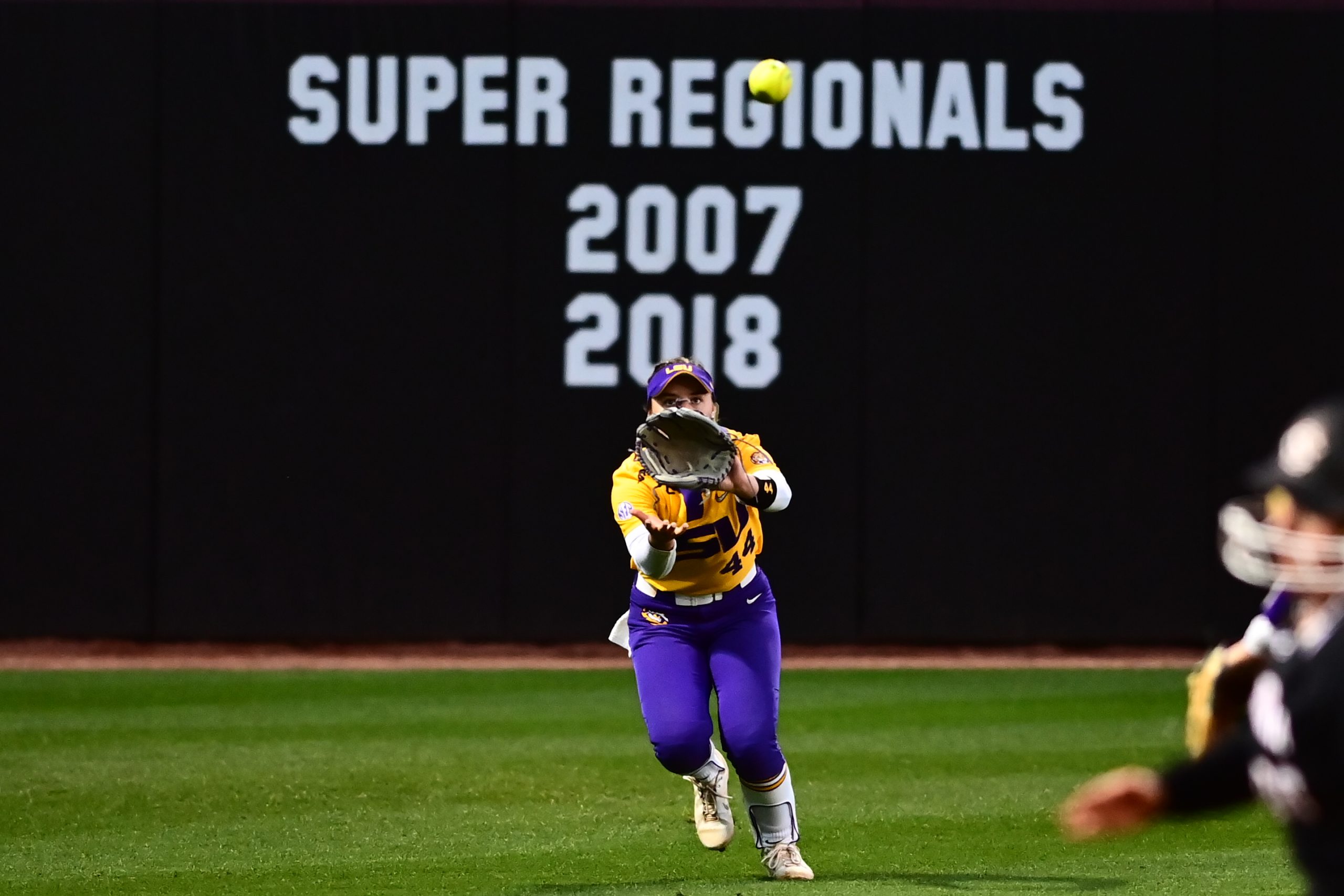 From the bottom of LSU's batting order McKenzie Redoutey produced the game's biggest hit that didn't leave the infield.
With the No. 14 Tigers looking to increase their two-run lead, Redoutey dropped a soft liner between two converging South Carolina infielders to drive in two more runs and help cement a 5-1 victory in the second game of Monday's Southeastern Conference doubleheader.
LSU (22-2, 2-1 in SEC) bounced back from having its eight-game winning streak stopped in the opener, 4-2, at Carolina's Softball Stadium. The Tigers won Friday's opener 9-1 on Friday to take their first SEC series of the season.
"We have a goal of trying to win all the conference series," LSU softball coach Beth Torina said. "This is a step in the right direction. Obviously, we let game two get away from us in some sports, but they had a pitcher who threw a good game against us so they definitely get the credit for that."
Graduate pitcher Ali Kilponen (8-0) threw her seventh complete game of the season, allowing four hits and a run. She walked three and struck out nine.
"Ali did a great job of giving us a chance," Torina said. "I thought she really controlled their offense and was able to keep them off balance. She did a really good job of setting the tone for our entire team."
LSU led 2-1 through three innings when Redoutey (2-for-3, RBI), doubled in a run over the head of a leaping second baseman and into right field in the second and Taylor Pleasants scoring on a wild pitch in the third.
LSU extended its lead in the seventh with three runs against, atoning for its performance against relief pitcher Donnie Goborne who was dominant in a first-game win. Goborne (1 IP, 2 hits, 3 R, 3 ER, 2 BBs, 2 Ks) was the fifth of six pitchers utilized by the Gamecocks.
Georgia Clark (2-3) drove in a run with a sacrifice fly to center and Redoutey, batting ninth in the order, drove in pinch-runner Madlyn Giglio and Danieca Coffey with an infield hit that fell in between USC shortstop Brooke Blankenship and third baseman Zoe Laneaux.
South Carolina 4, LSU 2: The Tigers stranded nine runners on base, including leaving the bases loaded in the second and fifth innings.
Goborne (5-0) fired five innings of effective relief that included a season-high 10 strikeouts. She relieved started Bailey Betonbaugh and allowed four hits and one run and walked five.
LSU led 1-0 on Karli Petty's run-scoring single down the right-field line to score Clark. The Tigers threatened to add to their lead against Goborne in her first inning in the third, loading the bases with one out but Clark struck out and Raeleen Gutierrez flied out to left.


Freshman starter Sydney Berzon (7-1) encountered a tough fourth inning and suffered her first loss of the season.
South Carolina scored all four its runs in the inning when Laneaux gave her team a 2-1 lead on a two-run double to left center and Marissa Gonzalez added a two-run homer on a full-count pitch to left-center field.
It was the second homer Berzon, who allowed four runs on five hits over five innings, allowed this season. Sophomore Raelin Chaffin pitched scoreless relief in her two innings that included a walk.
LSU, which was outhit 7-6, loaded the bases in the fifth with two outs but Gutierrez grounded out to end the inning. The Tigers got a run back in the sixth on Ali Newland's two-out double that scored Giglio from first base, but she was left stranded when Coffey flied out to left.