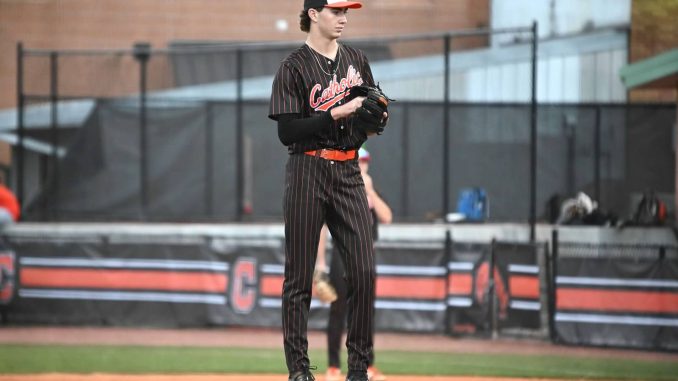 Since rescinding his commitment to Mississippi State on Aug. 7, Catholic High pitcher William Schmidt said he's literally heard from every school in the country.
The 6-foot-4, 185-pound right-hander with a 95-miles-per-hour fastball and devasting curveball narrowed his focus to three schools – LSU, Ole Miss and Texas A&M – with a pretty good idea of how things would ultimately play out.
Schmidt made it official Thursday, announcing his decision to attend LSU where he's grown up attending both football and baseball games. He recently committed to LSU baseball coach Jay Johnson and plans to sign with the Tigers on Nov. 8.
"He's straight forward and won't candy-coat anything," Schmidt said of Johnson, who led LSU to its seventh national championship in his second season. "When he wants you, he lets you know. When I knew it was time to make the decision, I was actually in person with him. You saw a smile on each other's faces. It was awesome. It was fun."

Schmidt joins Catholic High teammate, right-handed pitcher Grant Breaux in LSU's Class of 2024, and brings the Tigers commitment total to 23, a group that will rival some of the nation's best.
Schmidt, ranked No. 15 overall by Perfect Game, becomes the fifth member of LSU's heralded recruiting class ranked in Perfect Game's top 20.
"Everybody that plays college baseball, their dream is to go pro," Schmidt said. "If you want to go pro, you want to face the best competition and the only way to better yourself in college is the SEC. It's definitely the place I wanted to be. LSU has a big recruiting class. Everybody is very good, and it will be hard to stand out, but I want to put myself through that challenge. I feel like I can overcome all of that."
Schmidt decided to take a step back from his original commitment to Mississippi State where he pledged more than a year ago. Instead of wearing the Bulldogs' maroon and white and calling Dudy Noble Field home, he'll be wearing purple and gold with the visiting Tigers.
"Tons of respect for Mississippi State," he said. "Nothing with the coaches or the baseball program, but the school just wasn't for me. Over the last 1 ½ months, I probably talked to every school in the country and LSU was going to be at the top of my list. I made a list of my top three and met with my parents to decide what I was going to do. I was going to stay home and go to LSU. I've lived here for 18 years. It's all I've ever known, and I wouldn't want to wear any colors other than purple and gold."
Schmidt was part of Catholic's Division I select state championship team and 36-3 record in 2022. He was 5-1-1 this past season with a 0.94 ERA, 62 strikeouts in 52 innings and helped the Bears to the state semifinals.
He's the state's top-rated overall prospect in '24 according to Prep Baseball Report and nation's No. 2 right-handed pitching prospect.
Schmidt, a Class 5A first team All-State selection, was also chosen to the Dick's Sporting Good All-American team, took part in the Baseball Factory All-America game in Arlington, Texas and participated in the Perfect Game All-American Classic – a gathering of the nation's top 50 players in Phoenix.
Moreover, he was one of 40 invitees to attend training camp for Team USA's U18 national team but ultimately wasn't named to the final roster.
"That was the most exciting thing," Schmidt said of his whirlwind summer in which he remembers sleeping in his own bed three times. "Not everybody gets to make that team. Although I didn't make it, I feel like I still enjoyed it. I met a lot of people and learned a lot of knowledge and tips when it comes to baseball, and I use it to my advantage now."
LSU's current stature is reminiscent of what Schmidt witnessed during his formative years when the Tigers were considered the nation's premier baseball program.
Once his senior season is complete next spring, though, he'll gauge his value entering the Major League Baseball Draft and decide whether to attend LSU or sign professionally.
"I'm entering the program probably at the only time you would want to be entering it on the upslope," Schmidt said. "It's cool. It's awesome. It just so happens the No. 1 team in the country is in my backyard and I got to grow up watching them play. I went to a lot of games to see them and what they're really about. It was fun."
LSU baseball Class of 2024 commitments
Cade Arambide, C, 6-3, 210, Tomball, Texas-Tomball
Danny Arambula, 3B, 6-0, 180, Yucaipa, CA-Yucaipa
Grant Breaux, RHP, 6-1, 175, Baton Rouge-Catholic
Max Charles, OF, 6-1, 195, Phoenix, Az.-IMG Academy
Matthew Champion, INF/RHP, 6-0, 175, Laguna Nigel, CA-JSerra
Cam Caminiti, LHP, 6-2, 205, Scottsdale, AZ-Saguaro
Ryan Costello, 1B, 6-3, 190, Howell, N.J.-Ranney
Derek Curiel, OF, 6-2, 175, West Covina, CA-Lutheran
Owen Galt, SS, 5-9, 155, Lake Charles-Barbe
Stunner Gonzales, RHP, 6-7, 200, Carlsbad, CA-La Costa Canyon
Connor Griffin, OF, 6-4, 210, Florence, MS-Jackson Prep
Casen Evans, SS, 6-2, 180, Houston, Texas-St. Pius
Kale Fountain, 3B, 6-5, 225, Lincoln, NE-Norris
David Hogg II, SS, 6-2, 180, Grand Prairie, Texas-Mansfield
Brady Kehlenbrink, LHP, 6-2, 205, Ballwin, MO-Parkway South
Noah Malone, OF, 6-1, 215, Glendora, CA-South Hills
Josh Pearson, OF, 6-0, 205, West Monroe-West Monroe
Tanner Reaves, INF, 6-0, 170, Bonham, TX-Blinn Community College
Maverick Rizy, RHP, 6-9, 225, Fiskdale, MA-Worcester Academy
Michael Ryan, SS, 6-0, 185, Luling-Archbishop Rummel
William Schmidt, RHP, 6-4, 185, Baton Rouge-Catholic
Landon Victorian, RHP, 6-3, 185, Lake Charles-Barbe
Connor Ware, LHP, 6-4, 185, Madison, MS-Pearl River College