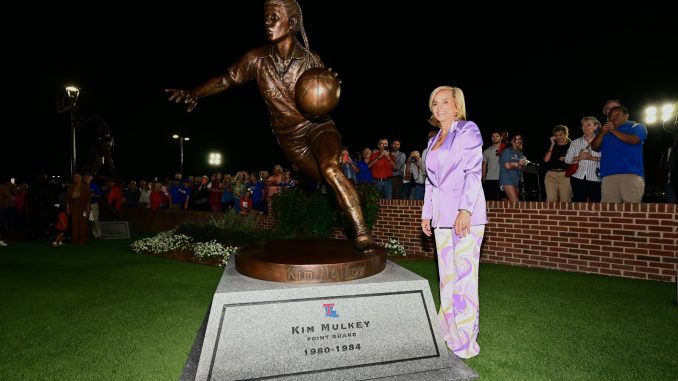 RUSTON – Five months after leading LSU to its first women's basketball national championship, and the fourth of her coaching career, Kim Mulkey was honored Wednesday by her alma mater with a statue for her contributions as a player and coach.
Mulkey, who guided the Lady Tigers to a 34-2 record and 102-85 win over Iowa in the national title game, joined five other greats at Louisiana Tech where the school unveiled statues at the Sarah and A.L. Williams Champions Plaza. The school also paid tribute to Terry Bradshaw, Fred Dean and Willie Roaf – all former football standouts that excelled in the NFL – along with former NBA great Karl Malone and WNBA standout Teresa Weatherspoon.
Mulkey led the La. Tech to a record of 130-6 (.956 winning percentage) during her playing career, two national titles and four Final Fours from 1980-84. The 5-foot-4 playmaker, known a terrific floor general and French braids, also led the Lady Techsters to their first two national championships (AIAW 1981 and NCAA 1982) and was a part of the USA's Gold medal-winning team at both the 1984 Olympics and the 1983 Pan American Games.
She is the only person in college basketball history – men's or women's – to win national championships as a head coach, assistant coach and a player, and is also the only head coach to win national championships at two institutions.
During her tenure in Ruston as both a player and coach, Mulkey was part of 11 Final Four squads and three national championship teams. She has either played or coached in the national championship game on nine occasions.
Mulkey played in and won the inaugural NCAA Women's Basketball Championship in 1982.
Mulkey enjoyed a 15-year career with the Lady Techsters as an assistant coach and helped the program produce a 430-68 record (.864 winning percentage) and advanced to seven Final Fours and won the 1998 national title.
Mulkey began her head coaching career at Baylor where she spent 21 seasons. She led the Lady Bears to a record of 632-104 (.859 winning percentage) with four Final Fours and three national championships before coming to LSU where she's 60-8 in two seasons.
The native of Tickfaw is inducted into nine Hall of Fames, that include both the Women's Basketball Hall of Fame and Naismith Hall of Fame.