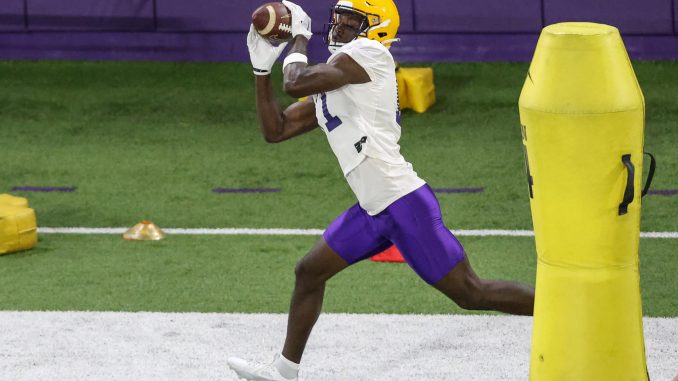 LSU senior running back Noah Cain acknowledged there was a certain sting associated with last season's opening 24-23 loss to Florida State.
A year later, and a similar result, a greater sense of pall prevailed.
LSU brought the nation's No. 5 ranking and greater sense of optimism into last Sunday's opener until No. 8 Florida State sprinted away from the Tigers in the second half with a dominating 31-0 run en route to a 45-24 victory at Camping World Stadium.
"Last year's game stung bad, but this one stung even worse," Cain said. "We know how we prepared, the type of team we have, and we didn't get to show that on full display. It definitely stung a little more this year. We still have a great team. We can still do the things we want to do this year. We have the pieces to make a run at this thing. It's going to come down to hitting the reset button every week and performing at the highest level possible when the lights come on."
Cain said the team, which dropped this week to No. 14 in the national polls, hit the reset button on Tuesday in an effort to begin preparations for its home opener Saturday against Grambling State (0-1) at 6:30 p.m.
The game will be streamed on ESPN+ and carried live in the Baton Rouge area over 98.1-FM.
"We're just moving forward, it's a long season," Cain said. "We have a lot of great teams ahead of us. We have to understand we can still be the championship team we want to be but every week's a new week. Every opportunity's a new opportunity. We can't get too high on ourselves or too low and stay level-headed through the good and bad."
With a team that featured 22 players seeing their first collegiate action, including 11 true freshman, second-year LSU Brian Kelly believed it was unfair to compare this year's team to his first group of Tigers that went 10-4 and won the SEC Western Division and Citrus Bowl in 2022.
Kelly did not absolve his team's performance and effort, though, something he vowed would improve this week.

"This is about a full team coming together and delivering their best when their best is needed," Kelly said. "I didn't have them delivering their best when their best was needed. That's where we need to get to. I promised LSU fans that we would play this game the right way and that's not the right way to play LSU football."
Fifth-year senior quarterback Jayden Daniels is one of the team's four captains this year whose leadership role was put to the test this week. That began in practice with the expectation of carrying over a renewed energy into the game where the Tigers are a prohibitive favorite against their FCS opponent from the Southwestern Athletic Conference.
"I felt like we took the right step in our approach to practice," Daniels said. "Everybody's not dwelling on what happened on Sunday. We're moving on to the next game. We just want to go 1-0 this week."
Both Kelly and Daniels agree that LSU's ability to bounce back from last year's season-opening loss to Florida State and win 10 games shouldn't be considered a template for this season.
A team's makeup changes from year to year and because of its past failures the '22 team displayed a certain hunger that became prevalent in several come-from-behind victories, Kelly said.
This year's team still has to prove its mettle, something Kelly believes has to start with a different mentality and greater competitive edge.
"It's not just about talent," he said. "It's the ability to put talent and certainly the right way of thinking and what they believe. That belief was misguided and that falls on my shoulders in terms of messaging, in terms of how we get our players to understand this game is very difficult. It's hard to win, especially when you're playing a top 10 opponent. You have to play with a sense of urgency and emotional control. And finally, you have to play with an attention to detail and focus.
"Some guys played with it and others didn't," he said of having a competitive edge. "But it's not good enough if we don't all have that competitive edge. It's doubling down on playing with a sense of urgency. Having the emotional control, so it doesn't spill out into 10 penalties like Florida State. We probably had too much emotional control."
LSU generated 293 of its 460 total yards in the first half and led Florida State, 17-14, at halftime on Damian Ramos' 36-yard field goal.
Kelly lamented his team's inability to score touchdowns after twice getting inside of FSU's 20-yard line, including six plays from the Seminoles' 4 which resulted in no points.
"In those crucial situations we've got to be better. There's no doubt," Kelly said. "There's improvement from the head coach to our manager that has to be made from Week 1 to Week 2."
FSU imposed its will in the second half, in particular in the final 15 minutes of the game, turning a three-point deficit into a commanding 45-17 lead before a 75-yard TD from Daniels to Brian Thomas Jr. with 1:15 remaining.
"I feel we're the team that we thought we were," said Daniels, who accounted for an LSU-high 411 total yards and 347 yards passing in the season opener. "We went out there and didn't finish it and that starts with me. I know what those guys are about. This was eye-opening for us.
"We can't go out there and just kind of get through it and make mistakes and get away with it against a good opponent like that," Daniels added. "They capitalized on our mistakes. We can't function like that if we want to accomplish our goals."