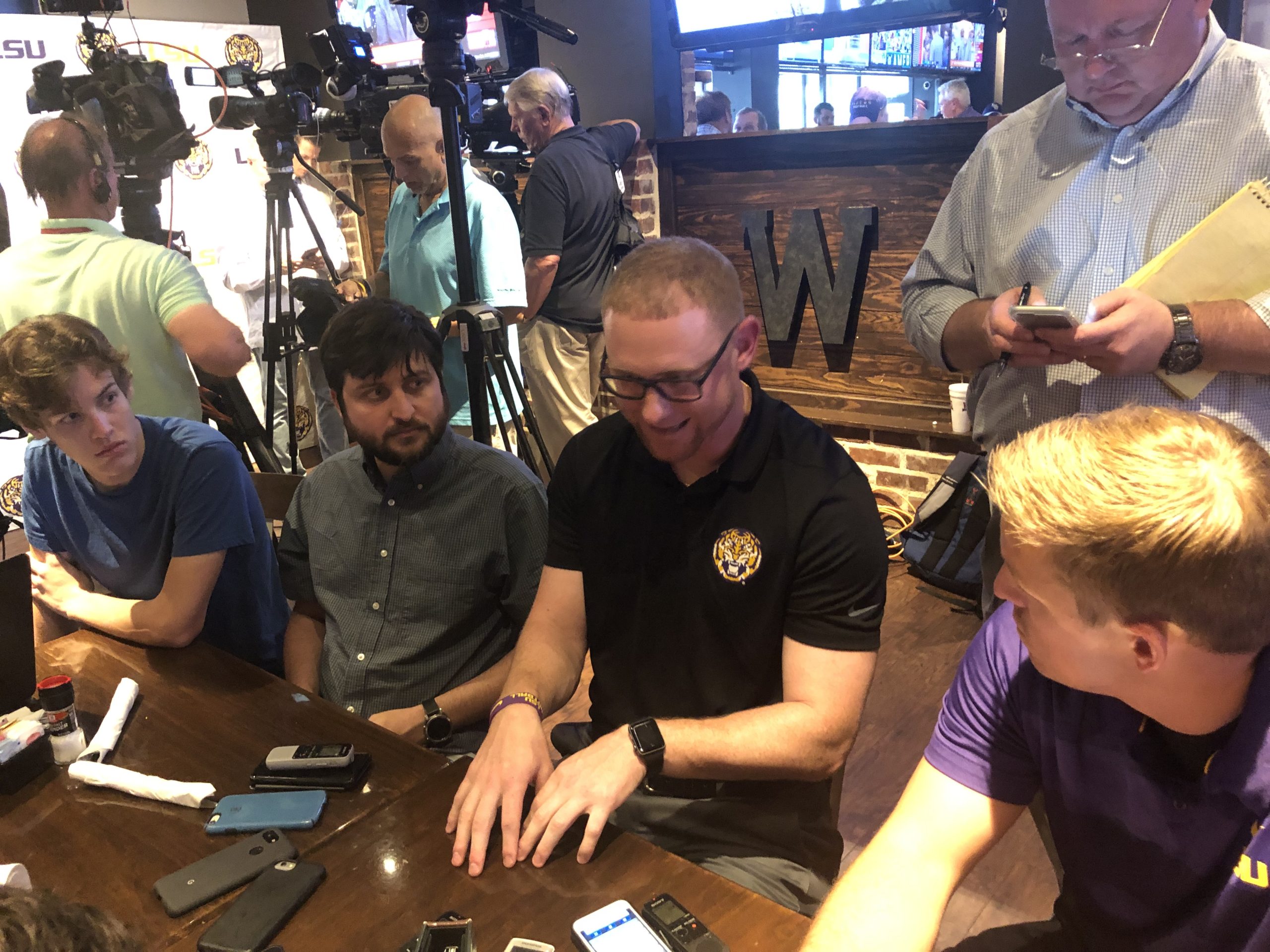 NEW ORLEANS – First-year LSU passing game coordinator Joe Brady might have been the first Tigers' assistant ever in which LSU's fan base would willingly start a GoFundMe account to make sure he stayed put.
No need for that now.
Brady, who emerged as the hottest coaching commodity in college football in 2019, has signed a three-year contract extension, according to a Sports Illustrated report. The full contract will not be executed until later.
His new salary is expected to more than double his current annual paycheck of $410,000. The contract doesn't allow Brady to be hired as a college assistant elsewhere but does give him the freedom to entertain college head coaching positions or NFL jobs.
The former New Orleans Saints' offensive assistant infused LSU's offense with the Saints' passing game concepts along with run-pass-option schemes that transformed the Tigers into the best single-season offense in SEC history.
It also produced a Heisman Trophy winner (quarterback Joe Burrow) and Biletnikoff Award winner (receiver Ja'Marr Chase) and helped Brady become the first first-year assistant ever to win the Broyles Award as college football's top assistant.
"Joe Brady evolved me, he really did," LSU offensive coordinator Steve Ensminger said at Saturday's CFP national championship game media day.
Brady was hired last January and signed a three-year deal that paid him $410,000 in 2019 (the eighth lowest salary among the 10 LSU assistants) with raises to $425,000 in 2020 and $450,000 in 2021.
NFL and college teams are hot and heavy on Brady's trail, but LSU coach Ed Orgeron said the school had been working on a new contract for Brady.
"In football, you can never tell what's going to happen," Orgeron said. "But I feel confident that Joe's going to be with us at LSU. I feel good about where we are. We just about got everything wrapped up. Not completely finalized yet, but we're very close."
Brady was asked after LSU's SEC championship game win over Georgia on Dec. 7 if his future was at LSU.
"Absolutely," he replied. "I think it's the culture of here of whatever we can do for everybody else to have success, whatever we can do to win, that's what we do."