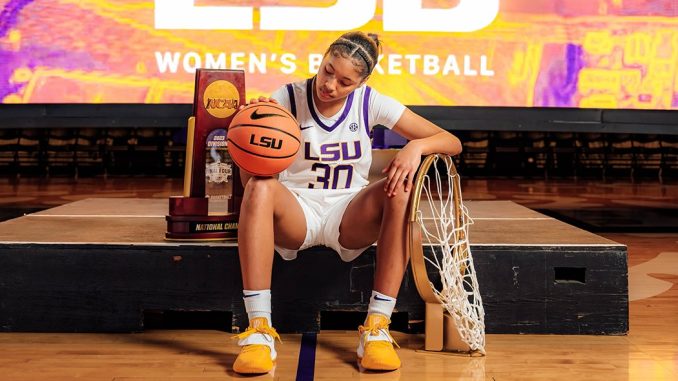 During a recruiting trip several years ago while she was still coaching at Baylor, Kim Mulkey firsts laid eyes on point guard Jada Richard of Lafayette Christian.
It turned out to be quite an eye-opener for Mulkey who was already aware of the talent of Class of 2023 phenom Mikaylah Williams of Parkway High in Bossier, whom she later signed her second class with the Tigers.
Mulkey left that AAU game impressed with the lesser-known Richard, the top-rated player in Louisiana for 2024.
"And it just I just felt, 'I like this kid'," Mulkey said Wednesday. "She's the best player in the state. And you don't ever ignore the state. You don't ever ignore the regional area. And we're very fortunate that she wanted to be here. A point guard can score for them. You know she it's a natural position for her at point guard."
The 5-foot-6 Richard, a four-star prospect and nation's No. 97 rated player by ESPN, signed with defending national champion LSU on the first day of the NCAA's early signing period. She's led Lafayette Christian Academy to three straight state championships and was named last year's Most Outstanding Player in the Division II select state title game with 32 points, six rebounds, five assists and five steals.
The Lady Knights were 29-1 last season.
"Jada's scoring ability from the perimeter and mid-range is outstanding, but what's equally impressive is her knack for creating opportunities for others," Mulkey said. "She's a selfless player with a high basketball IQ. I have no doubt she will continue to excel and elevate the play of her teammates. I'm excited that Jada is staying home to be a Tiger."
Richard, who has already scored 2,021 career points, was the District 4-4A MVP coach Errol Rogers in 2022-23. She averaged 28.2 points, five assists, four steals and five rebounds.
"She'll probably play point guard in college," Rogers said. "But she'll be able to be a scoring point guard. She's not a person who just likes to score. She's a person that likes to play defense and pass the ball. Whatever Kim needs her to so, she'll do it."
While Richard, who committed to LSU four days after they won the national championship, is the Tigers' first signee in the Class of 2024, Mulkey expects to sign additional high school players before they look to the transfer portal for help.
"Well, we'd like to sign probably three more in the early signing period," Mulkey said. "But that doesn't mean in the late signing period if we don't get three, that we won't sign four or five. We'll go the transfer portal and do what we always do."