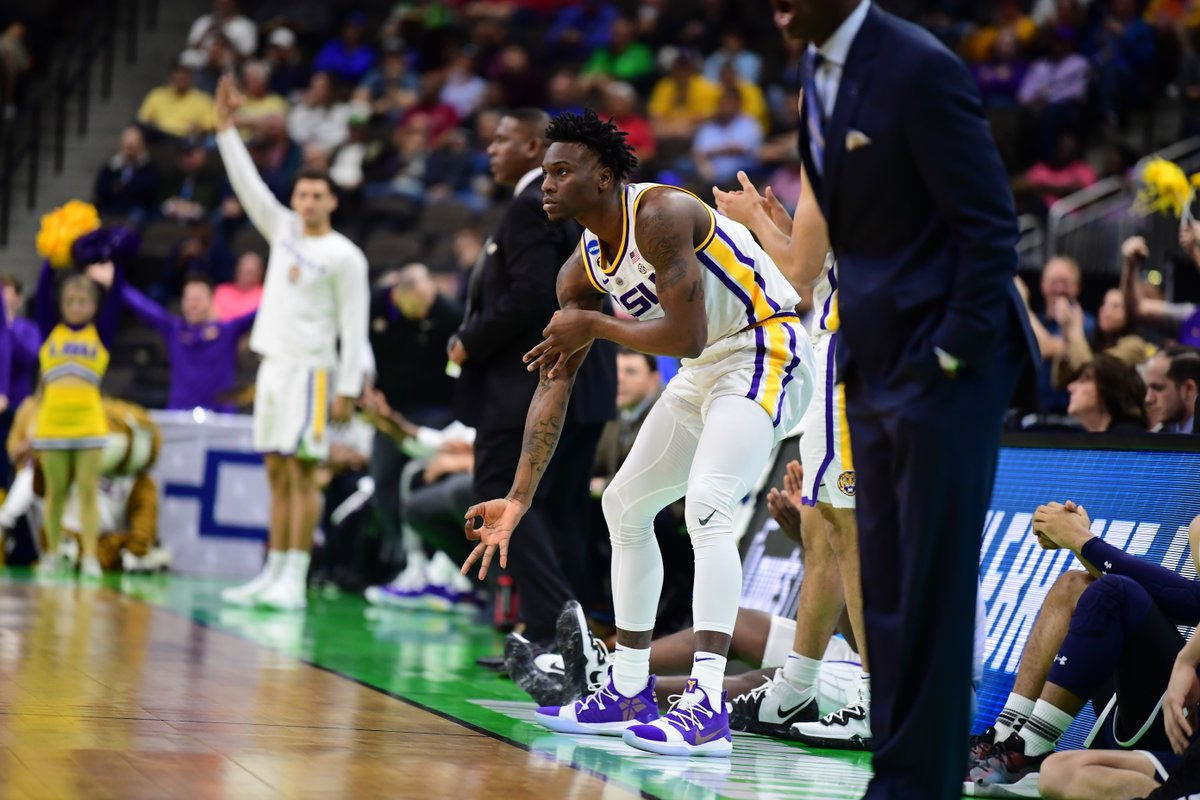 Editor's Note: The following is a story featured in Tiger Rag's upcoming Basketball Preview, set to hit stands this week. Be sure to pick one up for comprehensive coverage of the LSU basketball team entering the 2019-20 season.

The big men of LSU are going to have a much different challenge than they had last year.
Last season, Naz Reid and Kavell Bigby-Williams provided an enormous presence — both literally and metaphorically — in the paint where they cleaned up boards and swatted shots at a rate among the top in the Southeastern Conference and the nation.
This year, the Tigers' largest player is 6-foot-9, and he just got on campus a couple months ago.
The largest returning LSU forward is Emmitt Williams, who, on paper, looks like an undersized power forward, coming in at 6-foot-6, 230 pounds according to the official roster.
But there's nothing small about Williams' personality or the way he plays.
"Emmitt's been very consistent, very dependable," said LSU head coach Will Wade. "He's worked extremely hard and I think his game has taken off because of that. He's been very aggressive and done a great job rebounding the ball and does a tremendous job on the offensive glass, along with Darius Days. Both of those guys have really improved."
Despite his lack of height and a lack of virtually any shooting presence from anywhere other than around the rim, the former five-star prospect served as an efficient option off the bench for the Tigers, averaging 7 points and 5.4 rebounds per game with an average of about 20 minutes on the court.
He really found himself toward the end of the year and finished the season with four double-doubles.
But this year, with Reid and Bigby-Williams out of the picture, Williams' game will have to adapt, otherwise the offense LSU is looking to implement this season simply won't work.
"We are going to change up what we do," Wade said on the new-look offense. "I like the way our motions looked. Our spacing is the main thing. We have given our guys driving lanes. Last year we played with those two bigs quite a bit. Our guards were driving in and we were kind of defending ourselves with bigs sitting on the blocks and sitting at the basket. This year we have much more space for our guards to drive in. You just have to lay it in. I think it will be a good adjustment for us. We put a lot of time into it. I am hopeful it will work well."
That means Williams will have to be more reliable with the ball in his hands, and he's going to have to get more comfortable shooting from outside.
There is little question he will be able to defend and rebound with his usually-unmatched tenacity on the boards, but in order for him to be effective in this new motion offense aimed at spreading larger defenses out, he's going to have to be able to drive and even shoot from outside.
Luckily for the Tigers, the team's designated comedian last season got a wake-up call while going through the NBA pre-draft process last season in which he worked out for multiple NBA teams, including the Oklahoma City Thunder.
What he came back to Baton Rouge with was a brand new fire under him and an understanding of what it takes to play at the next level.
Wade has said on numerous occasions that he's found Williams spending extra time in the film room and on the practice court working on the weaknesses in his game.
"Emmitt's put in the work," Wade said. "His jump shot has gotten a lot better, he's putting time into it. He's taking it seriously. He understands what's ahead of him now and what we have coming. I think it's been very beneficial for him to have that point of reference last year and understand that there's things he wants to do at a higher level. I'm very excited about what he's done and what he'll bring to the team this year."
While Emmitt Williams thrived in LSU's pick-and-roll offense last season and will have to adjust to this year's motion offense, it will have the opposite effect on fellow forward Darius Days
Days was at his best when stretching out opposing defenses, but he struggled when trying to play a role as a true post. He was prone to foul trouble and exited most games too early because of it to make the impact he's truly capable of.
This year, however, the tables have turned in his favor, and Wade is expecting a big year from the sophomore forward. He even scoffed when asked about Days' role in the new offense.
"I think (Darrius) Days is going have a breakout year," Wade said. "He's playing so well for us right now. He's playing with confidence, he's shooting with confidence. Statistically, he was our best three-point shooter last year. He was also the top 10 in the country in offensive rebounding if he'd have had more minutes and more attempts but that's my fault.
"You know I love offensive rebounding and I love shooting and he does two things very well that contribute to us winning. But the offense doesn't work if you don't have Darrius Days to make threes, if you don't have Trendon Watford who can make threes, if you don't have Emmitt Williams who can make threes because then we'll have to guard you."
The Tigers will look a lot different this year, but if the duo of projected starters in Emmitt Williams and Darius Days can step up into new, more prolific roles, they just might be something special in complimenting the versatile play of freshman Trendon Watford.
Photo Courtesy of LSU Sports Information