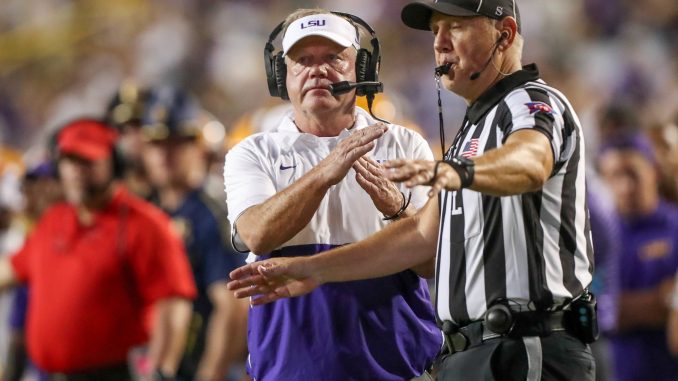 No. 13 LSU (3-1, 2-0 SEC) and No. 20 Ole Miss (3-1, 0-1 SEC) face off Saturday in Oxford in a vitally important game for both teams. It's a game that has all the makings of an offensive shootout.
It's only the teams' second September matchup since 1941.. … Ole Miss and LSU are both ranked entering the game for the first time since 2016. The Tigers are 7-3 against Ole Miss when both teams are ranked. … The Tigers have won six of the last seven meetings. … Daniels leads the SEC and is third nationally in total offense, producing 372.3 yards a game. Daniels is the first LSU quarterback to account for at least four touchdowns in three straight games since Joe Burrow did it in his final three college games in 2019.
WHAT TO WATCH FOR
• This is the 112th meeting all-time between Ole Miss and LSU dating back to 1894 … LSU is Ole Miss' second-most played opponent behind Mississippi State, who the Rebels will play for the 119th time this November.
• LSU holds a 65-41-4 advantage in the series, including an 11-8-1 mark in Oxford … The original series record is 65-42-4 in favor of LSU, with Ole Miss' 2013 victory in Oxford vacated due to NCAA ruling.
• Since the rivals started played for the Magnolia Bowl trophy in 2008, LSU holds a 10-4 edge.
• This is the 11th meeting all-time with both teams ranked at the same time … LSU leads such games, 7-3.
• Ole Miss is 69-171-2 all-time versus ranked opponents … Ole Miss won at No. 22 Tulane on Sept. 9.
• LB Suntarine Perkins leads all SEC freshmen and is tied for the FBS national lead among freshmen with 3.0 sacks.
• WR Zakhari Franklin made his Ole Miss debut at No. 12 Alabama … Franklin is the FBS active career leader in receptions (263) and ranks second in receiving yards (3,364).
• QB Jaxson Dart leads the SEC in yards per attempt (16.9, No. 8 FBS) and QB rushing (54.8 ypg, No. 14 FBS).
• RB Quinshon Judkins is tied for No. 8 all-time at Ole Miss with 20 career rushing touchdowns.
• Ole Miss has two non-offensive TDs this season: a 70-yard punt return vs. Mercer (WR Jordan Watkins) and a 26-yard fumble return on a sack fumble at Tulane (DE Jared Ivey).
• Ole Miss is averaging 22.4 seconds per play this season, good for No. 5 in the FBS.
• The Rebel defense has at least 6.0 TFL in each game this season … Ole Miss ranks 11th FBS in both sacks and TFL.
• Of the 126 total players on the roster, 58 (46%) are brand-new for 2023 … 31 (24.6%) are transfers.
• DE Cedric Johnson was awarded the Chucky Mullins Courage Award and will wear a No. 38 patch this season.
 
OLE MISS HEAD COACH LANE KIFFIN
Lane Kiffin is in his fourth season at Ole Miss, where he has led the Rebels to three consecutive bowl berths to start off his time in Oxford. In 11 years at the NCAA level, Kiffin has posted an all-time record of 87-48, including a 26-14 mark at Ole Miss. The Rebels ranked No. 3 nationally in rushing offense (256.6) and No. 8 in total offense (496.4) last season. Kiffin helped mentor and recruit talented true freshman running back Quinshon Judkins, who set the Ole Miss single-season records in both rushing yards (1,567) and rushing touchdowns (16). Kiffin guided the Rebels to a 10-3 record in 2021, the first 10-win regular season in school history. The Rebels finished the season ranked No. 11 in both the AP and AFCA Coaches Poll, its highest final ranking since 2016. Ole Miss ranked top-20 in the FBS in nine different offensive categories in his first season in 2020. In December 2016, Kiffin took over an FAU program that had won a total of nine combined games over the previous three seasons. Kiffin proceeded to take the Owls to new heights over the last three years, including two conference titles and two 10-win seasons. In his head coaching stops at USC, Tennessee and FAU, Kiffin has shown a propensity in helping turn programs around. Kiffin graduated from Fresno State in 1998 after playing quarterback for three seasons (1994-96) for the Bulldogs. He began his coaching career as a student assistant at Fresno State under Pat Hill in 1997 and 1998. 
 
LSU HEAD COACH BRIAN KELLY
Brian Kelly enters his second year with the Tigers in 2023, inheriting a roster with only 39 scholarship players, and quickly turning LSU into a 10-win team in his first year in 2022. Kelly is the most accomplished hire in LSU football history, taking over the program after 12 years and 113 wins at Notre Dame. He owns a 297-102-2 career mark (32 years) after posting a 10-4 record in 2022. Kelly's coaching resume includes a total of 11 seasons with 10 wins at the FBS level (seven at Notre Dame, three at Cincinnati, one at LSU), along with 14 bowl/CFP playoff appearances and three National Coach of the Year honors (2009 at Cincinnati, 2012 and 2018 at Notre Dame). Kelly's record includes a 113-40 mark at Notre Dame, where he's the winningest coach in school history; 34-6 at Cincinnati (4 years), 19-16 at Central Michigan (3 years) and 118-35-2 at Grand Valley State (13 years). He won two Division II National Championships at Grand Valley State and is the winningest active coach in college football.
 
TIGERS SCOUTING REPORT
LSU enters the week 3-1 overall and 2-0 in SEC play, and is coming off an exciting 34-31 back-and-forth victory against Arkansas on Sept. 23. The Tigers are ranked No. 12 in the AFCA Coaches Poll and No. 13 in the AP rankings. Their lone loss of the year came in their season-opener against No. 8 Florida State, a 45-24 loss at the Camping World Kickoff game. LSU is led by dual-threat quarterback Jayden Daniels, who leads the SEC in passing yards, passing touchdowns, passing efficiency, yards per completion and total offense, highlighting the SEC's top-ranked offense in scoring (42.8 ppg) and total offense (530.0 ypg). Daniels has two dynamic options in the passing game in national top-15 receivers Malik Nabers and Brian Thomas Jr., who both average more than 100 yards per game receiving. Helping supplement that offense is extreme discipline on both sides of the ball, as LSU is the SEC's least-penalized team with just 15 flags this season.
 
OLE MISS-LSU SERIES HISTORY
• This game marks the 112th all-time meeting between the Ole Miss Rebels and LSU Tigers dating back to 1894.
• LSU holds a 65-41-4 advantage in the series, including an 11-8-1 mark in Oxford.
• The original record is 65-42-4 in favor of LSU, with Ole Miss' 2013 victory in Oxford vacated due to NCAA ruling.
• LSU is Ole Miss' second-most played opponent behind Mississippi State, whom the Rebels will play for the 119th time
on Nov. 23.
• Since the rivals started playing for the Magnolia Bowl trophy in 2008, LSU holds a 10-4 edge … Ole Miss' win in 2013
was vacated due to NCAA ruling.
• The home team has won nine of the last 11 meetings on the field.
• This will be the 11th all-time meeting with both the Rebels and Tigers simultaneously ranked, and the first since 2016 … LSU leads 7-3 in such games.
 
MAGNOLIA BOWL HISTORY
In 2008, student governments from Ole Miss and LSU worked to enhance the spirit of the football rivalry and introduced the Magnolia Bowl. After first garnering the support of the universities' athletics departments and alumni associations, student leaders set forth in April 2008 with a "Name that Rivalry" campaign for students to provide input on the name via text messaging. The student governments then voted in their respective Student Senates. LSU holds a 10-4 edge in Magnolia Bowl meetings, with Ole Miss' win in 2013 being vacated due to NCAA ruling. The Rebels prevailed 31-13 in the initial playing of the Magnolia Bowl.