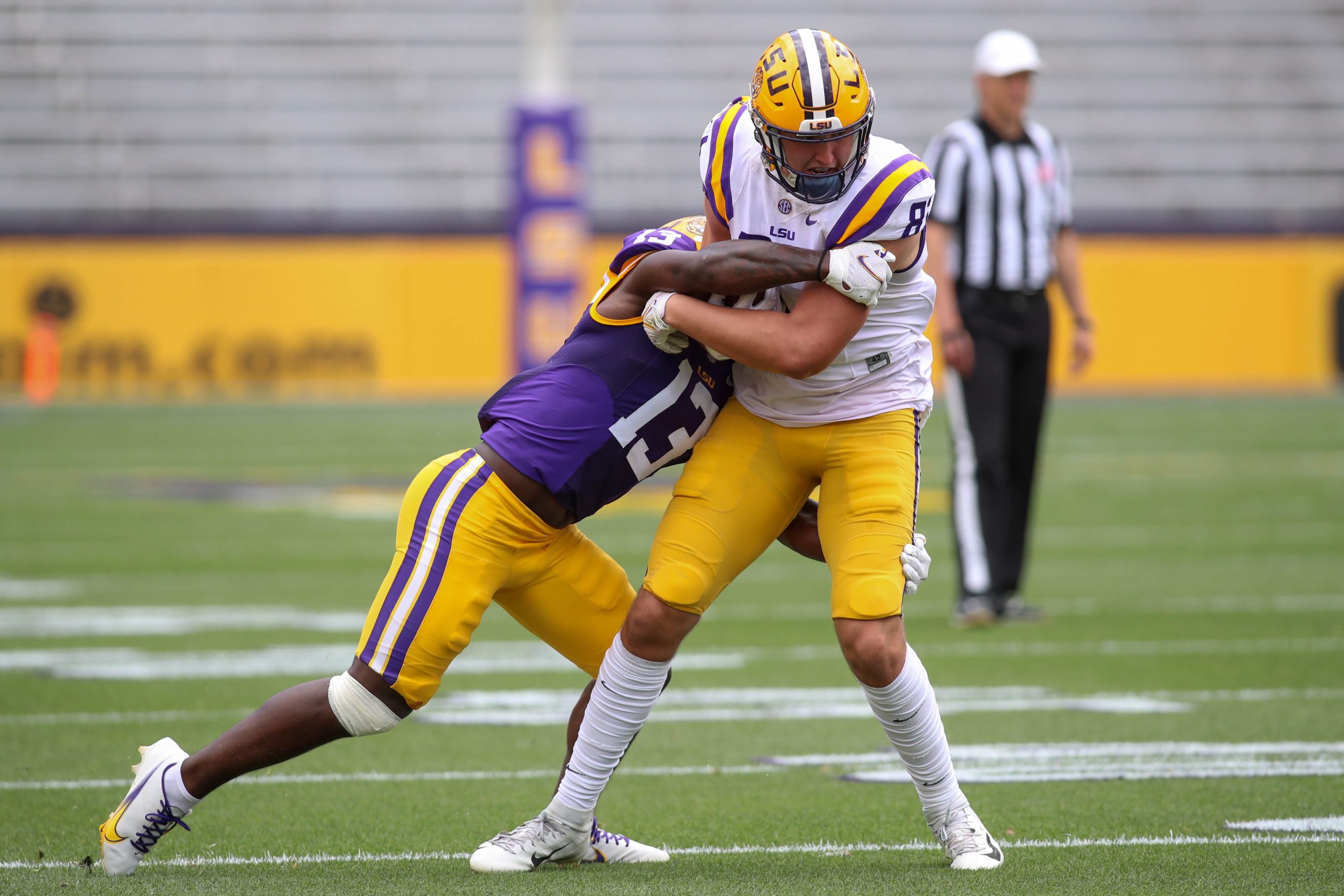 It's a position that sometimes goes unnoticed, filled by talent whose play all too often is unheralded.
But LSU coach Brian Kelly really liked what he saw from tight end Kole Taylor during the Tigers' spring game Saturday at Tiger Stadium, and he wasn't shy about sharing that.
The 6-foot-7, 247-pound target from Grand Junction, Colorado, was thrown to four times and had four receptions for 22 yards.
"I thought he showed himself more than just, you know, a pedestrian player," Kelly said. "He's long. He showed some yardage after the catch (with 12)."
Taylor had six catches for 68 yards and a touchdown in 12 games including three starts as a sophomore last season. He also had six grabs in 2020, when he appeared in seven games as a true freshman and started twice.
Taylor and Jack Mashburn, LSU's only two scholarships tight ends who took part in spring drills, could have big roles this year.
"He (Taylor) needs to live, if possible, in the weight room with us," Kelly said. "And if he does that, with Mashburn maybe we have something there. So, that's an upgrade for us."
But the Tigers could also be looking to add some depth to that room through the NCAA transfer portal, especially since the position has been a vital role in Kelly's offense – and that of new offensive coordinator Mike Denbrock – at prior stops including Notre Dame and Grand Valley State.
Denbrock came to LSU from Cincinnati, where he was offensive coordinator since 2017 and tight ends coach as well from 2018-21.
He's coaching Tiger tight ends too and suggested in mid-April that his group was a work-in-progress.
"I've been happy with their effort," he said then, "We've got a lot of technique issues and small details of the game to not only learn but perfect. We're not nearly where I'd like us to be but what I do like is that in the meeting room and on the practice field, their ears are open and (they) are trying to do things the right way."
LSU already has taken other steps to beef up its options at the position, also because Jack Bech, who played as a hybrid tight end/receiver last season, worked exclusively with the first-team receivers group this spring.
Nick Storz, a former pitcher on the LSU baseball team, came out of so-called "medical retirement" to take part in spring practice. The one-time Detroit Tigers draft choice (31st round in 2017) last played football in 2020, appearing in 10 LSU games that season including one start.
   LSU addressed the need for a tight end in its most recent signing class and was able to attract Mason Taylor, the son of NFL Hall of Famer Jason Taylor, of Florida powerhouse St. Thomas Aquinas High School. The Tigers tried to sign Class of 2022 recruit Danny Lewis Jr., a highly regarded tight end from Westgate High in New Iberia. But Lewis, a longtime commit to Cincinnati when Denbrock was there, signed with Alabama instead in February.
The Tigers, do, however, have a current commitment from Mac Markway, a Class of 2023 tight end from De Smet Jesuit High in St. Louis, where new LSU cornerbacks coach Robert Steeples was his coach in 2020.