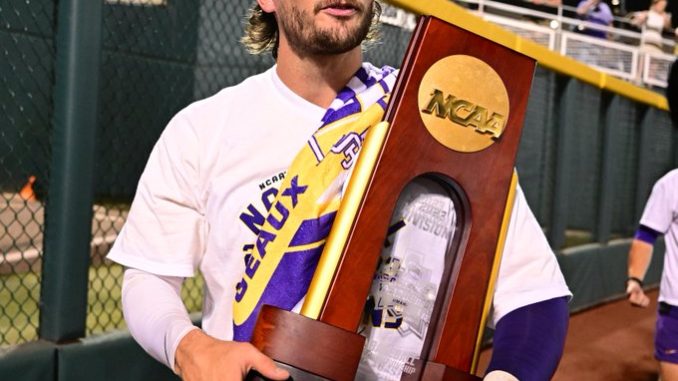 LSU junior center fielder Dylan Crews has been named one of three outfielders on the 2023 American Baseball Coaches Association Gold Glove team.
Crews is the fifth player LSU history to receive such distinction on the Gold Glove team. Center fielder Zach Watson (2018, '19); shortstop Alex Bregman and centerfielder Andrew Stevenson ('15) and catcher Micah Gibbs ('09) .
Crews is joined in the 2023 Gold Glove outfield by Enrique Bradfield Jr. of Vanderbilt and Ethan O'Donnell of Virginia.
Crews finished the season with a perfect 1.000 fielding percentage, committing no errors in 171 chances. He led LSU to the 2023 College World Series title and captured the Golden Spikes Award, batting .426 with 16 doubles, two triples, 18 homers, 70 RBI and 100 runs.
He is projected to be one of the first overall selections in Sunday's Major League Baseball Draft.
The ABCA Gold Glove Awards are selected by ABCA coaches committees at each level:  NCAA Divisions I, II and III, NAIA, NJCAA Divisions I, II and III, Pacific Association Division, and High School.