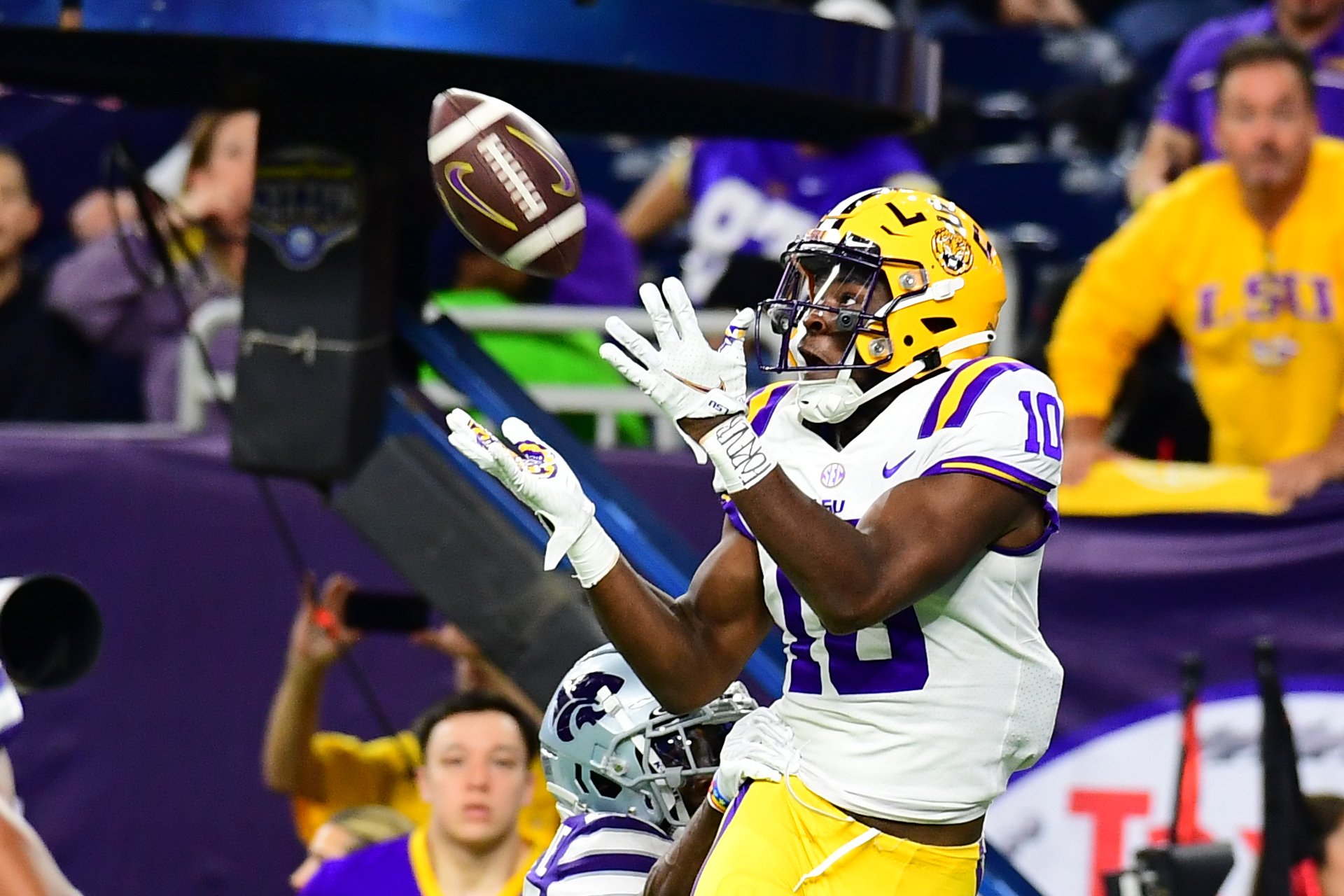 New LSU football coach Brian Kelly received some good news as the deadline for players to declare for the NFL Draft expired.
Kelly will have three key contributors back for his first season in wide receiver Jaray Jenkins, linebacker Micah Baskerville, safety Jay Ward and defensive end Ali Gaye. The deadline to declare for the draft expired on Monday.
LSU had nine players declare for the NFL Draft, including underclassmen in cornerback Derek Stingley Jr., running back Tyrion Davis-Price, cornerback Cordale Flott and kicker Cade York.
Kelly has gone about plugging holes through the transfer portal, adding 11 new players. The Tigers have lost 12 players to the portal since last summer.
LSU has the top-ranked class in the 247Sports.com transfer rankings, ahead Florida State, Ole Miss, Florida, South Carolina, Oklahoma, Arkansas, Arizona and Georgia Tech.
Jaray Jenkins
Jenkins became a starter in 2021 after making 28 receptions for 464 yards and two touchdowns over the past two years. He finished his junior year with 34 catches for 502 yards and six touchdowns. Jenkins was at his best against two of LSU's biggest rivals, catching the game-winning touchdown against Texas A&M and scoring three touchdowns in the win over Florida. Jenkins boosts a wide receiver group hit hard with portal exits. LSU returns Jenkins, Kayshon Boutte, Malik Nabers, Chris Holton Jr. and Brian Thomas Jr. Devonta Lee, Deion Smith, Trey Palmer, Koy Moore and Alex Adams all placed their names in the portal.
Micah Baskerville
Baskerville, a senior, announced on Wednesday he was returning for one more season. He received an extra year of eligibility with the COVID-19 waiver. Baskerville started 20 straight games before missing the Texas Bowl. The Shreveport-native has 171 career tackles. LSU needs Baskerville to play a big role with Damone Clark out of eligibility. Mike Jones, a Clemson transfer, was productive last season and LSU likes the potential of rising sophomore Greg Penn III. LSU added West Weeks, a Virginia transfer, through the portal.
Jay Ward
Ward gives LSU a veteran presence in the secondary to offset so many losses at cornerback. With Stingley, Flott, Eli Ricks and Dwight McGlothern exiting the program, Ward and Major Burns both have starting experience from last season. Ward was the lone defensive starter from the season opener to play in the Texas Bowl. He finished his junior year with 71 tackles, two interceptions and six pass breakups.  Ward has been a contributor since the 2019 national championship season. LSU has a mix of veterans and young talent at safety with Ward, Burns Jordan Toles and 2021 signees Sage Ryan, Derrick Davis Jr. and Mathew Langlois. The Tigers added Joe Foucha, previously of Arkansas, via the portal.
Ali Gaye
Gay announced on Wednesday that he would return for one more season at LSU. He had season-ending surgery in October, limiting him to four games in 2021. Gaye finished the year with 19 tackles, 2.5 sacks and a pass breakup. In two seasons with the Tigers, Gaye 51 tackles and 4.5 sacks. LSU led the nation in sacks early in the 2021 season. Gaye signed with the Tigers in 2020 out of Garden City (Kan.) Community College. He could play defensive end or outside linebacker in new defensive coordinator Matt House's scheme. House, the linebackers coach for the Kansas City Chiefs, has run both 4-3 (Pittsburgh, Florida International) and 3-4 schemes (Kentucky) as a coordinator. He will join LSU once the Chiefs finish their season.
NFL Draft Exits
CB Derek Stingley Jr. (Jr.)
CB Cordale Flott (Jr.)
RB Tyrion Davis-Price (Jr.)
K Cade York (Jr.)
LB Damone Clark (Sr.)
DT Neil Farrell Jr. (Sr.)
OL Ed Ingram (Sr.)
OL Chasen Hines (Sr.)
P/KOS Avery Adkins (Grad. Sr.)