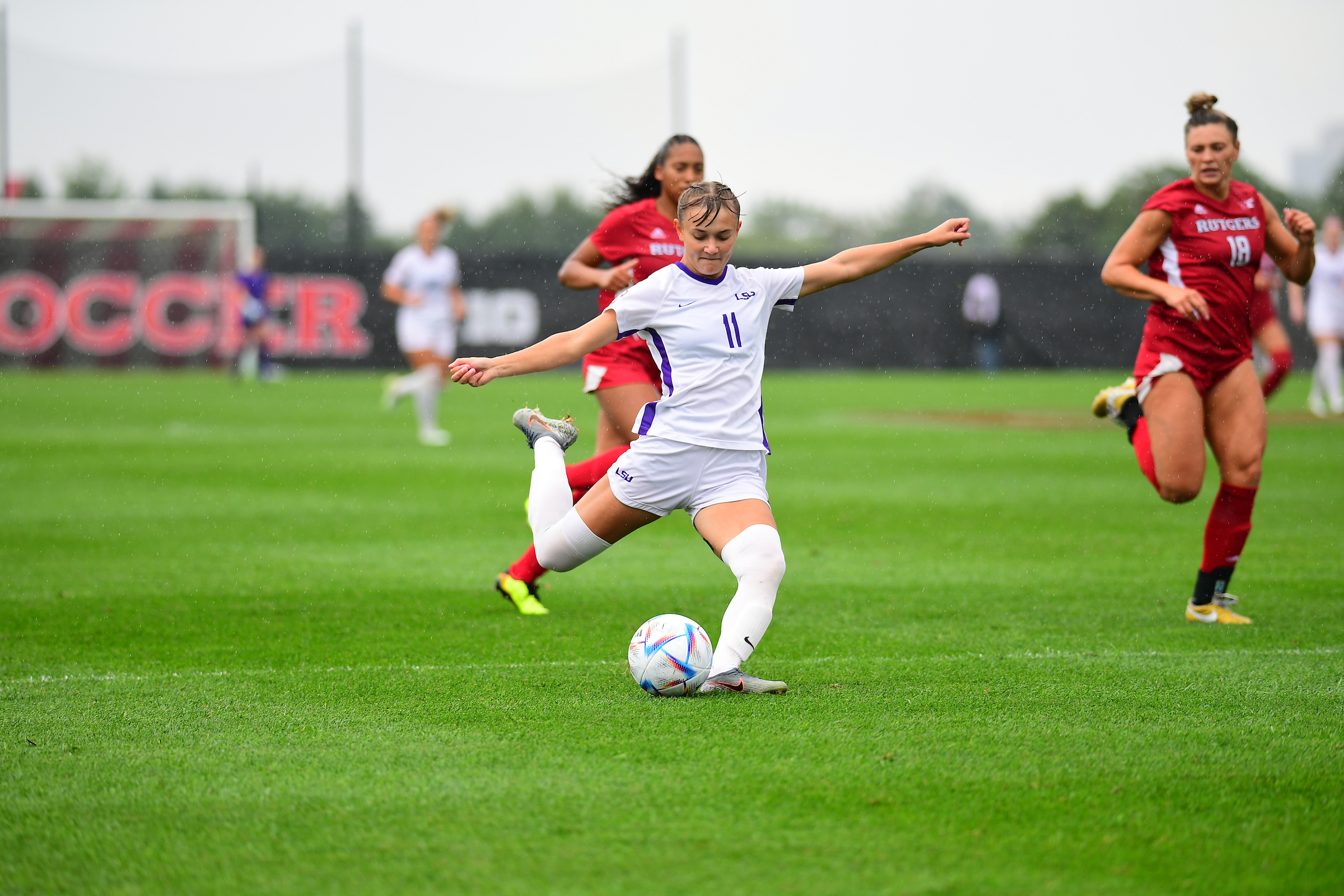 A little over two weeks ago against a ranked opponent on the road LSU's soccer team couldn't hold a two-goal lead and settled for a tie.
This time, the Tigers were in a similar situation with a two-goal lead in the second half and couldn't make it stand up.
Sixth-ranked Rutgers overcome a two-goal halftime deficit with three goals in the second half, the game-winner coming in the 85th minute to hand LSU its first defeat of the season, 3-2, on a rainy Sunday afternoon in Piscataway, New Jersey.
"Disappointed to lose after going two goals up," LSU soccer coach Sian Hudson said in a university release. "Their second half performance just showed they're worthy of where they are as a program and in the rankings.
"I'm proud of the team and their efforts for coming on the road and playing a team that's unbeaten and was in the Final Four last year. It shows our team just how close they are (to that level) and can help build the belief to take that next step and bury teams of this quality after going up."
The Tigers (5-1-2) completely dominated first-half play, outshooting the Scarlet Knights 10-4 overall and 4-2 in shots on goal.
Rutgers (8-0-0) turned the tables and were more aggressive in the final 45 minutes with an advantage in shots 10-6 and 6-0 in shots on goal with Sam Kroeger posting a brace for the Knights, who extended their program-best win streak to eight games.
LSU took an early 2-0 lead on goals from Alesia Garcia and Isa Hermannsdottir in the first 12 minutes of the match which the was the final nonconference contest for the Tigers.
Angelina Thoreson took a pass from Wasila Diwura-Soale and sent a shot from just inside the 18 toward the goal which goalkeeper Megan McClelland didn't secure. Alecia Garcia collected the loose ball and scored with her left foot into the right corner.
Hermannsdottir followed and took the ball inside the 18 with a couple of dribbles on the right side, firing a ground shot toward the far, right post that found the back of the net to make it 2-0.
Kroeger scored the first of her two goals on a ball that deflected off LSU center back Shannon Cooke and was deposited from just outside the 6-yard box in the 50th minute. The Knights tied the match at 2-all with a goal in the 74th minute on Kylie Daigle's shot from 20 yards out that caromed off the bottom of the crossbar and out of reach of LSU's Mollee Swift, who finished with five saves.
"We'll learn from today," Hudson said. "We'll grow as a team and we'll look forward to opening conference play next week."