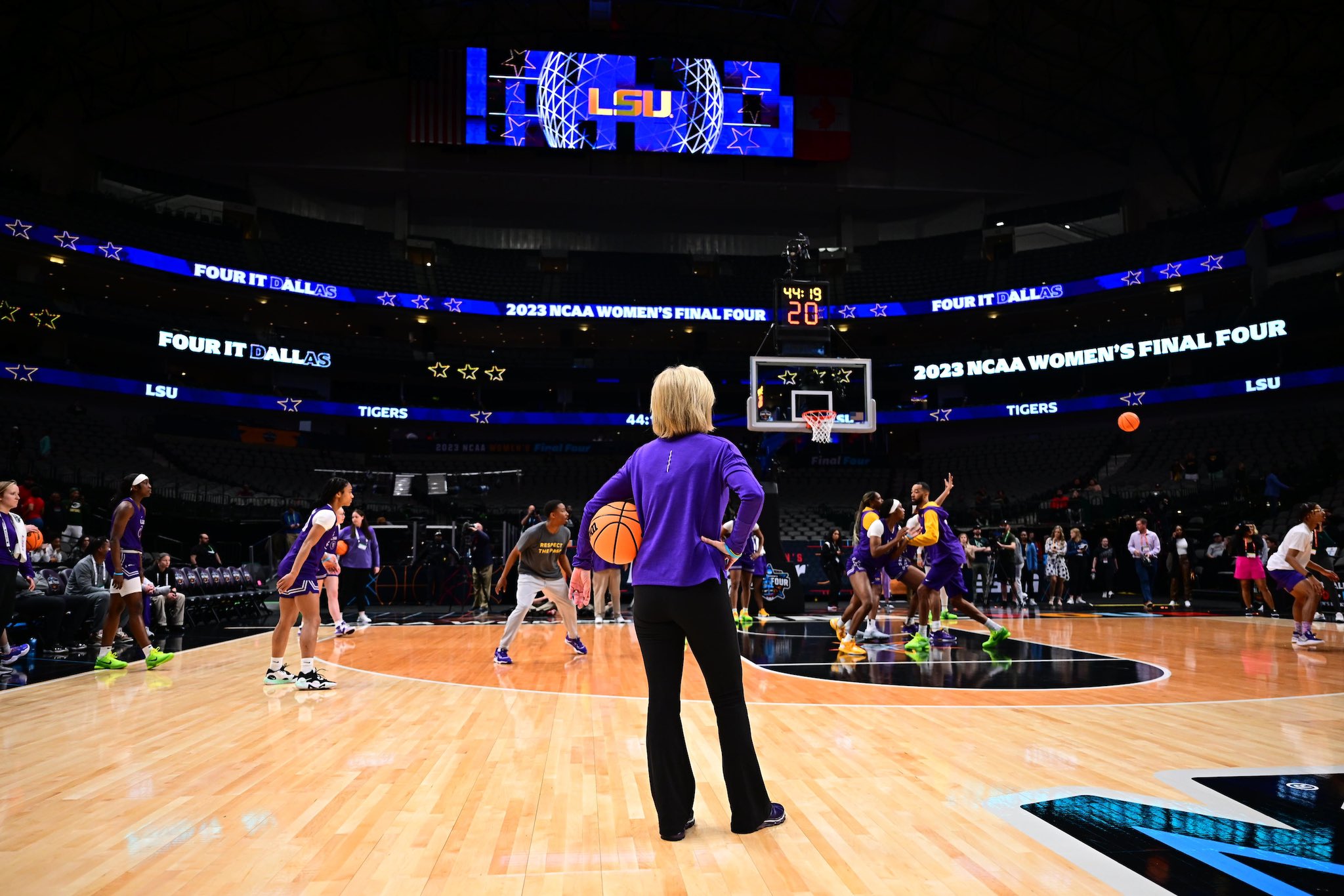 LSU All-America forward Angel Reese felt the prodding of her coach Kim Mulkey the last several steps of the NCAA Tournament.
Mulkey, a three-time national championship coach at Baylor, felt she could be an 'X' factor in leading the Tigers to their first Women's Final Four since 2008. Mulkey just needed them to have faith and in turn, she could try and do the rest.
"She's been to championship games, and she has won championship games," Reese said during Thursday's Final Four news conference. "She even told us in the Sweet 16 game, she said, 'Ya'll get us to the Elite Eight, and we can get you to the Final Four'. Now it's, "You win this game, I'll get you to the championship and win that championship'. So just trusting in the coaches. Of course, they've been here before. And just trying to believe as much as we can."
LSU has a collection of players that have never ventured this far in an NCAA tournament with a coach in Mulkey, that's going back for to the Final Four for a fifth time with three national title rings to her credit.
The third-seeded Tigers (32-2) will look to break through for their first national semifinal victory in six attempts, facing top-seeded Virginia Tech (31-4), a newcomer to the Final Four, at 6 p.m. Friday at American Airlines Center in Dallas.
The game will be televised by ESPN and broadcast locally by 107.3-FM.
"I'm the only one in our locker room that has done this, but I'm not going to shoot, dribble, pass, guard any of them," Mulkey said. "So, it's not a matter of what I have done. I look at it this way. It may be their (Virginia Tech) first time to be in this situation, but they're all seniors.
"It's the first time for my group to be in this situation as well, and we're not all seniors," Mulkey added. "So, I think they have the edge on experience. All I'm going to do is tweak a thing here or there throughout the course of the game, but it has nothing at all to do with coaching and how long a coach has been somewhere or how many times a coach has been somewhere."
Mulkey, a former All-American at Louisiana Tech and Olympian, spent the first 21 years of her career molding Baylor – located 90 minutes away from this year's Final Four site – into a women's basketball powerhouse. She won three national titles in four opportunities and helped the Bears win 86% of their games.
The native of Tickfaw, though, heeded the call of LSU athletic director Scott Woodward to return to her native Louisiana and take over a moribund basketball program that had fallen on hard times and won just nine games the previous season.
Mulkey has completely transformed the program's culture, going 58-8 the past two seasons and reached the NCAA Tournament both years. She readily credits the NCAA's transfer portal, which resulted in the arrival of Reese from Maryland among others, for accelerating her rebuilding process.  
"When I came to LSU, I told coach Mulkey, I wanted to bring this program back to where it was," said Reese, the team's leading scorer (23.2) and rebounder (15.7). "And (assistant) coach (Bob) Starkey was already here with them on the Final Four run (2004-08). Just being able to do it for the fans, they waited a long time to see this program get back to where they want it to be. So just being able to do it for them and making history again. I'm excited."
Virginia Tech brings in a 15-game winning streak and two of the nation's top players into the contest.
The Hokies, who defeated Ohio State 84-74 on Monday in the Seattle Regional final, are led by ACC Player of the Year Elizabeth Kitley. The 6-foot-6 senior averages a double-double with 18.2 points, including 55.7% shooting, 10.7 rebounds and 77 blocked shots. Fellow first team All-ACC selection, junior guard Georgia Amoore, has averaged 24 points during the NCAA Tournament and scores 16.3 points a game and has a team-best 114 3-pointers.
"We didn't just happen to get lucky to get a No. 1 seed," Va. Tech coach Kenny Brooks, now in his seventh season. "We beat a lot of really good basketball teams convincingly, and we expect to have that. So as a result, being here is not a surprise. We're very fortunate, we understand that it takes a lot of hard work and some luck, but we expect to be here."
Graduate forward Taylor Soule, a second team All-ACC choice, and senior guard Kayana Traylor are also double-figure scorers for the Hokies at 11.1 and 10.8 points, respectively.
"They're experienced. They're on a roll. They're confident," Mulkey said. "They've been together a while now. He's a great coach, love him to death. Sure, they'll be nervous, but my team will be nervous too because they'll all be doing it – both teams will be doing it for the first time."
The 6-3 Reese, Most Outstanding Player in the Greenville Regional 2 where the Tigers ousted Miami, 54-42, has been on a tear during the NCAA Tournament. She's averaged 22.3 points, including a share of the school's postseason record of 34 against Hawaii, but she's increased her rebound average to 17.3 a game and blocked shots to 3.5 per game.
Morris, who had a team-high 21 against Miami, averages 14.9 points, 4.0 assists and nearly two steals a game. Freshman guard Flau'jae Johnson averages 11.1 points for the season but has managed half of that during the tournament, and graduate forward LaDazhia Williams averages 9.4 points and 6.0 rebounds.
"It's going to be based off who can fight through adversity, who can fight through bad calls, who can fight through physicality," Morris said. "It's going to come down to the little things. We've been preparing for this, for these moments."