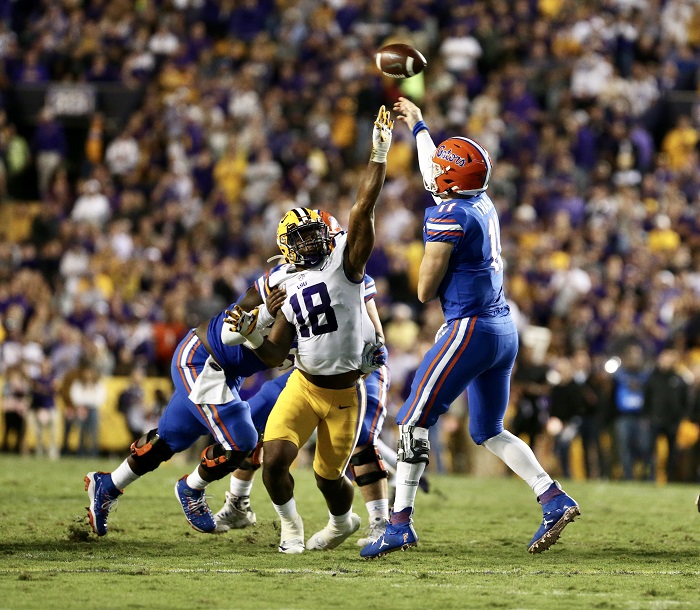 It wasn't without its fair amount of frustration and scares, but No. 5 LSU survived a scare from a formidable No. 7 Florida in Tiger Stadium on Saturday night.
After a shaky first half, the Tigers' (6-0, 2-0 Southeastern Conference) defense made a statement stop near the goal line to put the Gators (6-1, 3-1) away.
LSU gave up four touchdowns on five drives between the first quarter and the first drive of the third quarter, giving those watching a sense that the game would turn into a shootout.
But the Tigers pitched a shutout from that point forward, allowing the offense to take control and run away with a landmark victory against a Top 10 team.
"What a night," said LSU head coach Ed Orgeron. "What a great night for Louisiana State University."
LSU quarterback continued his Heisman campaign by completing 21 of 24 passes for 293 yards and three touchdowns with no interceptions against a defense that entered the game considered as one of the top defenses in the SEC, if not the country.
As has come to be expected, he had most of his success with receivers Ja'Marr Chase and Justin Jefferson, who caught a combined 17 passes for 250 yards.
"Their progression has been unreal to see," Burrow said of Chase and Jefferson. "I think they both had over 100 yards tonight. Nobody could really stop them all night. I'm really excited about where we're going. We have a chance to be really special."
The running game also had a big night. Starting running back Clyde Edwards-Helaire had a career night, rushing for 134 yards and two touchdowns on 13 carries, including a 57-yard rush that set up a two-play touchdown drive in the first quarter and a 39-yard touchdown rush in the second quarter.
Freshman running back Tyrion Davis-Price also had a big night with 3 carries for 40 yarsd, including a 33-yard touchdown run in the third quarter that gave LSU a 35-28 lead it would never relinquish.
"I felt comfortable with everything," Edwards-Helaire said. "I always felt pretty comfortable. I'd say as far as overall, including pass protection, route running and running the ball, I fell like it was probably my most complete (performance)."
The first half was a back-and-forth affair that looked like a 180-degree turn from LSU's game last weekend against Utah State.
Every time the Tigers scored, the Gators bit right back with a long, lumbering 75-yard touchdown drive to even the score.
The two teams' touchdown drives couldn't have looked any more different
For LSU:
2 plays, 66 yards, 0:32
5 plays, 82 yards, 2:09
4 plays, 75 yards, 1:29
And for Florida:
12 plays, 75 yards, 6:21
13 plays, 75 yards, 6:56
11 plays, 75 yards, 3:51
With Florida controlling the ball for more than 20 minutes in the first half, the game remained tied at 21 going into the halftime break.
Florida's offense began the second half where it left off, embarking on an 8-play, 75-yard touchdown drive to take its first lead of the game, 28-21.
LSU's offense predictably responded with an 8-play touchdown drive of its own, and that's when things started to shift for the LSU defense.
Aided by a 10-yard handicap deriving a first-down holding penalty on Florida, LSU forced a three-and-out capped off by a sack by freshman safety Marcel Brooks.
"We put (Brooks) in a dime 'Cheetah' package," Orgeron said. "We wanted to put more speed on the field around, and we ran a little stunt inside. He had a great sack. Marcel is a very talented young man. He has a good spirit about him."
LSU's offense responded with a quick touchdown drive capped by a 36-yard rush by freshman running back Davis-Price.
It looked as though the Tigers might put the game away when the defense forced yet another three-and-out, but the defense stalled at the Florida 35, and a false start penalty ended the Tigers' chance to try to convert on fourth down.
Instead, it was the defense that put the game away with two red zone stops that kept the Gators from crawling back into the game.
Despite starting the drive from their own 8-yard line and LSU's defense forcing two third-and-long situations, the Gators continued to keep the ensuing drive alive and wear down the Tigers' defense until they faced yet another third down, this one in the red zone.
Trask dropped back and throw a pass off his back foot directly to LSU freshman cornerback Derek Stingley who reeled in the interception for the first turnover of the game.
The interception came toward the end of what had up to that point been a frustrating night for Stingley. Florida quarterback Kyle Trask seemed content to attack the freshman corner with moderate success, and Stingley got especially frustrated after he got beat on back-to-back comeback routes.
"At the end of the day, he knows everybody is not perfect," said LSU linebacker K'Lavon Chaisson. "He knew what was going to come. He knew how to handle it, and I talked to him when he started getting frustrated.
"I said 'Man, be patient. Be calm. Plenty of great players have gone through the same thing.' I remember Greedy (Williams) going through the same thing last year against Alabama. Everybody has those times. It's all about keeping composure and just playing the rest of the game, and he did that."
Four plays later, Burrow hit a wide-open Ja'Marr Chase in stride down the sideline for a 54-yard touchdown pass that seemingly put the game out of the Gators reach with 5:43 remaining in the game.
"I told Joe 'Man, this is what great quarterbacks are made of,'" Orgeron said. "We go down there and score with a throw down the sideline."
Down by two touchdowns with roughly five minutes remaining, the Gators once again drove down the field in hopes of cutting the Tigers' lead in half.
It looked like LSU had clinched it with a Kristian Fulton interception in the red zone, but a two personal foul calls — one for roughing the passer and another for excessive celebration — put the ball back in Florida's hands inside the LSU five with less than two minutes remaining.
The defense stood tall, however, not letting the Gators gain another yard and forcing a turnover on downs to seal the game.
"We knew what they were running on that (last play)," said LSU linebacker Patrick Queen of the Gators' last-gasp speed option play. "They kept setting us up and bringing everybody over. I was already thinking on it, and they ran speed option. Communication on that last play was perfect."
The Tigers will now celebrate for 24 hours before undergoing another "Tell the Truth Monday," as they embark on the second half of their 2019 season.
LSU will take on a Mississippi State team fresh off a loss to a middling Tennessee squad, but the Tigers don't plan on taking the Bulldogs too lightly.
"(Burrow) talked to the team right after the game," Orgeron said. "He said, 'Good is not enough. We gotta get great.' So he was not satisfied with the play tonight, and we want to get to a great, LSU-standard of performance."
Photo Credit: Jonathan Mailhes