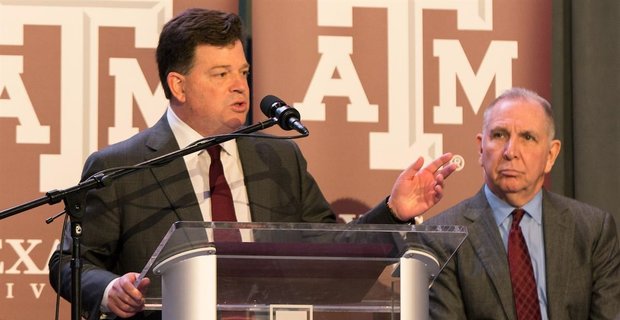 Joe Alleva's tenure as LSU's athletics director spanned more than a decade.
His run as interim AD didn't even last 24 hours.
LSU officially announced Scott Woodward, formerly of Texas A&M, as Alleva's replacement less than 24 hours after news began to seep out that Alleva was stepping down. He'll be formally introduced at a press conference on Tuesday.
It was the kind of shrewd, efficient maneuver that Alleva routinely proved incapable of making when it came to coaching searches. LSU clandestinely contacted its dream candidate, and once an agreement was reached, it moved quickly to brush Alleva aside and bring Woodward to Baton Rouge.
We'll know more about Woodward's plans for the Will Wade situation, possible facility upgrades and other pressing issues once he takes the podium, but in the interim, here's what you need to know about Woodward and a hire that made waves around the Southeastern Conference.
1. Homecoming
If you know anything about Woodward, you're probably well aware that he's a Baton Rouge native and an alum of both Catholic High and LSU.
He first returned to LSU from 2000-2004, working under then chancellor Mark Emmert — more on that later — as LSU's Director of External Affairs.
Woodward's career took him to the Pacific Northwest and then the heart of Texas, but his heart never left Louisiana. His parents still live in Baton Rouge and Woodward owns a camp on the bayou.
2. Big Game Hunter
Woodward spoke of embracing high expectations and winning championships in an official statement released by LSU, and he's got the track record to back it up.
Whether at Washington or Texas A&M, Woodward has earned his reputation for being one of the best closers of deals in college sports.
Back in 2008, during his tenure as Washington AD, Woodward pulled off the seemingly impossible by hiring Chris Peterson away from Boise State. That splash hire was a sign of what was to come once Woodward got to Texas A&M and had access to almost limitless financial resources.
He garnered national attention in late 2017 when he hired national championship-winning Florida State coach Jimbo Fisher as the Aggies' head football coach with a staggering 10-year, $75 million contract.
Woodward once again made headlines earlier this month when he hired Buzz Williams away from Virginia Tech just weeks after Williams took the Hokies to the Sweet 16.
3. NCAA Ties
Woodward worked under Emmert, now the head of the NCAA, during his time at LSU. Emmert took Woodward under his wing once the former political lobbyist switched fields and began his career in administration.
In 2004, Woodward followed Emmert across the country to Washington and eventually took over as the Huskies' athletics director.
Do you think the two have stayed close since their time working together? Woodward's step-son and Emmert's daughter are married, for what that's worth.
4. Louisiana Leadership
LSU has had football coaches from Louisiana and athletics directors from Louisiana, but it's been quite a long time since the Pelican State's flagship institution had both at the same time.
It hasn't happened since 1955, in fact. Woodward and Ed Orgeron and the first all-Louisiana AD-football coach tandem since the days of T.P. "Skipper" Heard was the athletics director (1933-55) and Gaynell "Gus" Tinsley was the football coach (1948-54).
Having a Louisianan in charge of the department will be a welcome change to many LSU fans who always viewed Alleva as an outsider. The native New Yorker came from Duke, a small, private university, and his icy nature didn't do him any favors from a public relations standpoint.
5. Fuel on the Fire
Until last fall, the LSU-Texas A&M series often felt like more of rivalry away from the field than on it. A seven-overtime thriller that ended in a postgame brawl went a long way toward changing that, and LSU hiring away Texas A&M's highly-popular athletics director should only enhance the vitriol.
This of course isn't the first time the two schools have done battle over the hiring of high-profile personnel. If anything, Woodward bolting Texas A&M to return home seems relatively tame compared to the intrigue of the recent past.
A quick refresher:
– Hours before the 2014 Music City Bowl, word leaked that LSU defensive coordinator John Chavis was bolting to make a lateral move to Texas A&M. The move led to a bitter court battle between LSU and its former assistant coach that was ultimately dismissed in 2017.
– LSU infamously targeted Fisher to replace Les Miles in 2015 only to have the entire deal devolve into a public spectacle, perhaps the worst embarrassment of Alleva's tenure in Baton Rouge. Fisher is of course now Texas A&M's well-compensated coach who beat his former employer on his first try.
– Upon hiring Fisher, Texas A&M broke out its checkbook and tried to hire away LSU defensive coordinator Dave Aranda. LSU responded by making Aranda the highest-paid coordinator in the nation with a contract worth $10 million.
– Though he couldn't land Aranda, Fisher did hire two former LSU assistants in Dameyune Craig and Bradley Dale Peveto, both of whom were fired by Orgeron. Craig was in the middle of the postgame festivities following the seven-overtime game last November.
Photo courtesy of 247Sports