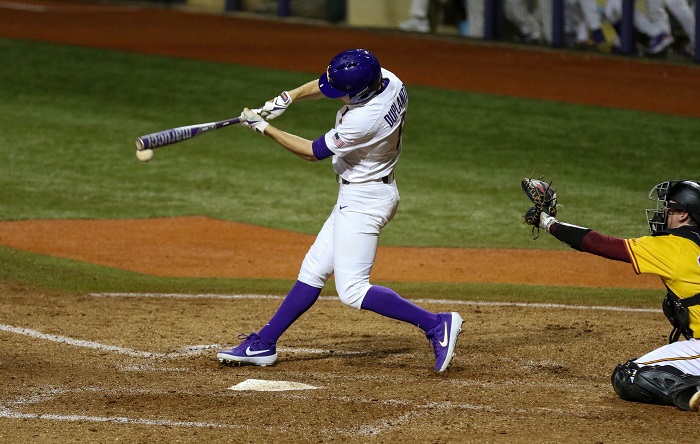 All the people who frequently clamor for LSU to start someone who isn't Zack Hess in series openers got a taste of what that might look like.
Spoiler alert: it was not pretty.
Florida batted around against spot starter Ma'Khail Hilliard in a six-run second inning and homered four times to eviscerate LSU 16-9 in an ugly series opener at Alex Box Stadium on Thursday night.
"In 13 years I can't remember that happening to us a handful of times, especially at home," LSU coach Paul Mainieri said. "That's not a typical game one of an SEC series for us with what we typically have going for us.
"If Zack Hess started tonight and was healthy, I'm pretty confident we wouldn't have seen that kind of a baseball game."
The blowout could arguably be a low point for the season to date for LSU (24-15, 9-7 SEC). And it came at the hands of a Florida (26-14, 7-9 SEC) team that's been dealing with plenty of its own problems coming into the series.
First pitch got pushed back two hours due to severe thunderstorms hammering the Baton Rouge area. LSU probably would've been better served to get the game rained out altogether as the Tigers suffered their fifth loss in six games.
Hess could've pitched in relief if the game were competitive, but only for an inning or two max, Mainieri said. Having him start posed too great a risk of Hess re-aggravating his groin injury.
That left the chore to Hilliard, who found on Wednesday afternoon that he'd be getting the ball. He got through the first inning but things quickly went south after that.
Like so many of LSU's disastrous innings, the unraveling began with a leadoff walk. Two singles loaded the bases and a sacrifice fly to the warning track in left field got Florida on the board. Four of the next five Gators got hits off Hilliard and LSU found itself in a cavernous 6-0 hole.
It was the second rough outing in as many tries Hilliard, who appeared to be rounding into form before taking over for Hess last Friday night. Since that moment he's been tagged for 12 earned runs in 6.1 innings of work.
"Once in a while a team just comes out hitting," Hilliard said. "They saw my fastball a lot. Took a lot of curveballs and were just looking to hit the fastball."
LSU had chances to get back into the game, but the Tigers stranded multiple runners in the second and third innings. Florida proceeded to break the game wide open when third baseman Cory Acton took Chase Costello deep for a three-run homer in the fourth inning.
Florida had run the score up to 13-0 on a home run off Clay Moffitt before LSU finally dented the scoreboard. Cade Beloso broke up the shutout with a two-run single in the fifth inning, and then Florida went right back to scoring.
LSU didn't lose the game due to any lack of offense. Beloso drove in three runs and Antoine Duplantis had four hits, including an RBI single. LSU pounded out 16 hits but it wasn't nearly enough to dig them out of the hole the pitching staff so deftly dug.
Scoring seven runs in the final three innings might've helped the score cosmetically, but it didn't change the outcome. All a dejected LSU club can do is try to move on from it.
"Every game counts the same, and in this league everybody beats each other up," Mainieri said. "You've just got to keep your chins up and come out the next day and play great. Starting pitching is everything."
The series will resume Friday night with LSU looking to even the series behind Cole Henry. First pitch is set for 7 p.m.