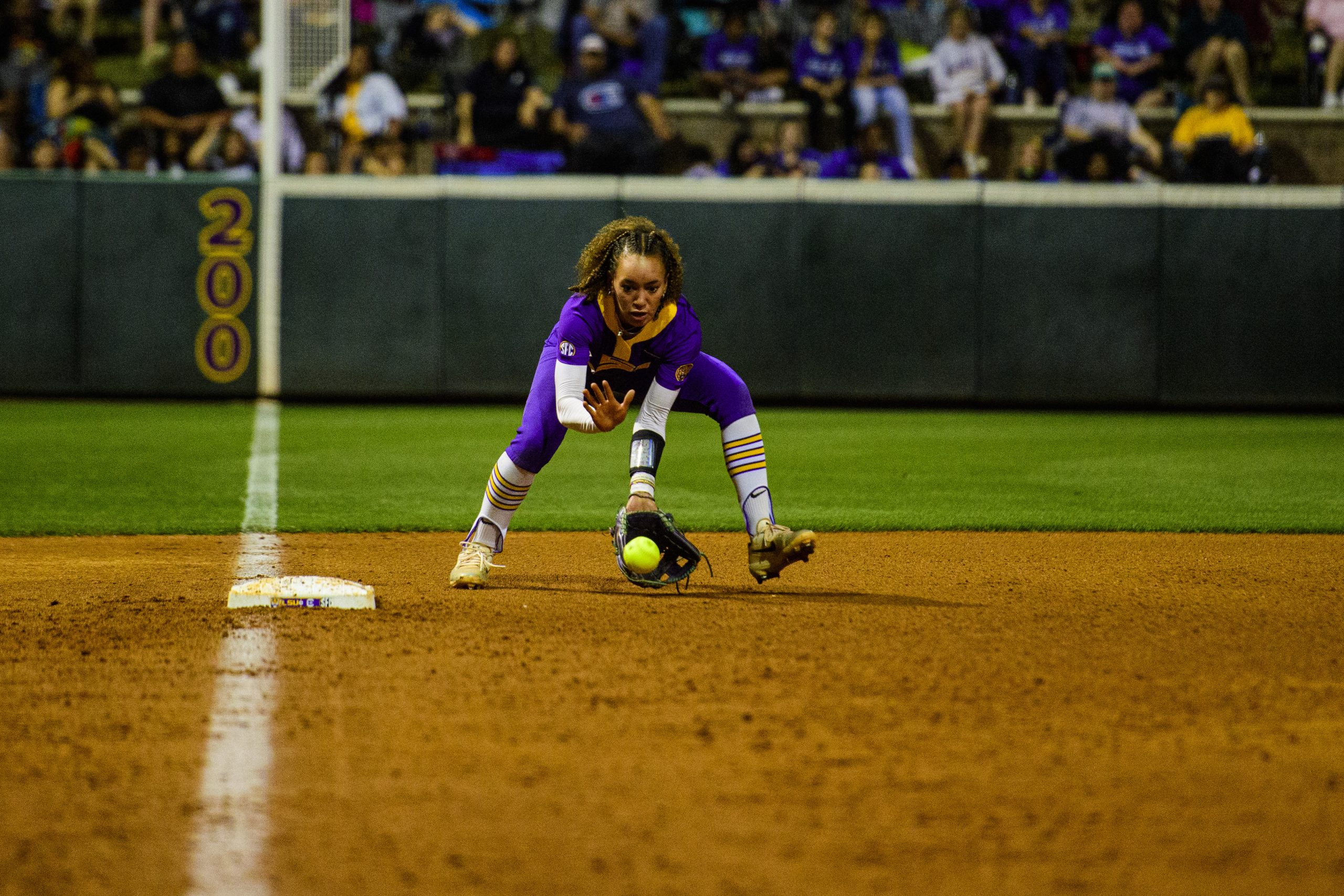 There's so little precious time together during the holidays that Kameca Coffey expected to see more of her daughter Danieca, who had spent the past five months at LSU prepping for her junior season with the Tigers softball team.
The term "off" is more if a misnomer in the life of a college student-athlete in the offseason, a time where the constant grind of weight training and conditioning precede anything done on an actual playing field. That comes in October and November followed by final exams and a respite of sorts for athletes to get reacquainted with their family.
Danieca Coffey didn't receive such a message. She returned to her home in Richwood, Texas in the Houston suburbs where her mother, a teacher's assistant in the local school district, anxiously awaited spending time and catching up with her daughter who was LSU's full-time third baseman and leading hitter during the 2022 season.
The pursuit of refining her skills in the field and at the plate for the 2023 season, which opens Friday at 6 p.m. against New Mexico, didn't leave Danieca during her time away from Tiger Park, something her mother came to realize in her daughter's evolution since she began playing at 9-years-old. Kameca was accustomed to taking a back seat to hitting lessons, fielding drills, camps and summer travel ball, the very reason the very driven Danieca had received various scholarship offers and signed with LSU.
"She was gone 90% of the time when she came home for the Christmas break," Kameca Coffey said of Danieca. "I'd call and she was in Spring (Texas) at a batting facility or at HBU (Houston Baptist University's) batting cages. I'd tell her, 'You're supposed to be home for Christmas break'. She used to get her brother to hit her some balls. We've never had to force her."
Emerging in her second season
LSU found itself with a gaping hole in its infield and batting order for the '22 season.
The Tigers were looking to replace four-year starter Amanda Doyle at third base, a position that's not for the timid of heart and requires experience to master.
LSU also found itself in the market for a leadoff hitter, someone to light a fuse on the offense, with the departure of All-American center fielder Aliyah Andrews.
"She had filled in for us a little over there and we realized she had some ability there," LSU coach Beth Torina said. "She's so fast. She comes forward so well with the short game. She reacts so well; her feet move so fast. It's tough to lay a bunt down on her because she's going to beat you if you're in a foot race with her.
"She has so many weapons," Torina added. "She's so fast, but can also hit for power. She and (Ciara) Briggs both have an upside on the entire team because of all of their different weapons. They're able to kind of steal a hit without having to hit a ball over the fence or in the gap and try and beat it out. She's always been fast, but she is fast right now. She's worked on that and she's really fast right now."
Danieca Coffey's past experience at third base didn't necessarily lends itself to a slam dunk choice for the position.
She played there as a freshman in high school before settling in at shortstop where she thrived for Angleton High School. But her travel ball coach, knowing that shortstop Taylor Pleasants was already a rising star at LSU, shifted Coffey back to third base for the summer.
Coffey worked out at third base during her freshman season at LSU in the fall but when the season began, she played second base and handled designated player duties. She appeared in 41 games, starting in 31 of those at either second or designated player and batted .226 with six RBIs.
"It was a lot going on but now I really enjoy defense," Danieca Coffey said. "My exit meeting at the end of my freshman year she was like, 'You can go to third. I know you're going to be so happy'. I was really happy. I really enjoyed defense a lot. I got to spend a lot of quality time with coach and that made me enjoy defense more because she really took pride in it, so I wanted to take pride in it also. I wanted to get everything executed the way she wanted it."
Applying the same principles to defense
Coffey's the prototypical slapper, a left-handed hitter that can touch and run where she puts her wheels into motion. She's also capable of hitting away, but she's aware of the clues batters can give away to the defense from their hand placement on the bat to their alignment in the batter's box.
No one knows this better than Coffey who can benefit defensively from the same characteristics she applies offensively. Being positioned correctly is only part of the game in an often chaotic world for a third baseman, where one false step can mean the difference in an out and infield single.
Bunt coverage defense is also vital for corner infielders, especially hard-charging third basemen who can snuff out an offensive team's uprising and help their team maintain momentum.
"It's a little bit easier for me though because I'm a slapper," she said. "It's an easier transition because there are key things I know I do from slapping, when I'm high chopping versus power slapping and bunting. You have to hone in on what key things each person does so you know what is happening. It makes it easier in the game and there's less thinking and not knowing a person and you're guessing what they're doing."
Coffey started in all of her team's 57 games at third base where she finished with a .892 fielding percentage with 15 errors in 199 chances and helped LSU to a .963 team fielding percentage.
"She's worked hard to learn the position," Torina said. "We realized that sometimes Danieca's brain is what gets in the way. She likes to overthink and overanalyze things. At third base you don't have a ton of time to think about it. You just kind of have to react and once she trusts herself and reacts to things, she's an incredible softball player."
Blossoming at the plate
Coffey filled the void left behind by Andrews with aplomb, finding her home atop LSU's offense where she hit a team-high .379 which was good enough for 11th in the Southeastern Conference. She also topped the Tigers in on-base percentage .457 and 72 hits with nine doubles, 44 runs, 26 RBIs, drew 27 walks and stole a team-best 10 bases in 12 attempts.
Her 72 hits ranked sixth in the SEC and No. 30 nationally.
Coffey registered 21 multi-hit games, second best on the team, and drove in more than one run on six occasions.
"I really enjoy hitting," she said. "My motto's is that there's no one that's going to get me out twice. Softball's a mental game for most people at the level where anyone can play softball. It's more mental than physical. That's an area that I feel I can lead the team in a really good way. I'm confident in my hitting. I feel I can share my confidence with other people. I know if I do it, then everyone takes a deep breath and relaxes."

Coffey was rewarded for her well-rounded credentials with spots on the All-SEC, NFCA All-South Region and All-Louisiana seconds team.
Coffey provided a mark of consistency for the Tigers with a season's long 14-game hitting streak as well reaching base in 25 straight games. She ended the season on a seven-game hit streak and successfully reached base in her last 16 games.
"This year, I don't want to go home early," said Coffey, referencing LSU's early exit from the NCAA Regional in Tempe, Arizona. "It was like the worst feeling ever. If it means I have to invite everyone out to come to defense (practice) every single day, then that's going to be my job. Me being successful is great, but if we're all super successful then we'll get to where we need to go.
"My goal is to get coach to the World Series and win a natty by the time I leave here," Coffey added. "It's cool to be on the (All-American) wall (at Tiger Park), but winning the World Series means way more than being an All-American. If I can get coach back there, and do whatever I need to do to get her there, then I feel like I've accomplished my job."