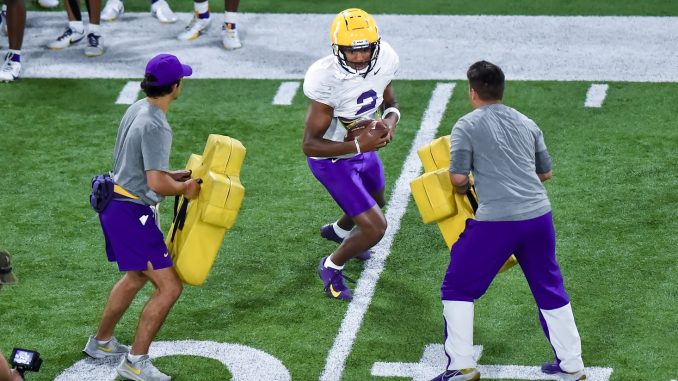 LSU sophomore tight end Mason Taylor said it was unusual for teammates to become embroiled in fisticuffs as was the case during Monday's fall camp.
Perhaps the rising 100-degee temperatures were to blame when punches were thrown, players taken to the ground and multiple players involved at the end of a play during an 11 on 11 – offense versus defense – drill.
"It's hot out there, humid, people not in their right mind," LSU junior defensive end Sai'vion Jones said after practice Monday. "We need to use that as a pushing tool to help us get to where we need to."
Heralded sophomore linebacker Harold Perkins Jr. and senior wide receiver Kyren Lacy were at the center of the skirmish, exchanging verbal barbs away from the play. That hastened both units coming together on the field with punches eventually being thrown.
Junior wide receiver Malik Nabers and Lacy were sent to the locker room and Perkins, following a lengthy discussion with head coach Brian Kelly, remained outside but didn't take another snap.
"You just see that, we always have to remember to respect the brotherhood," Jones said. "I was trying to help get people out. I don't like to see the fighting and all of that. I'm not the fighting type person. If I can, I try to pull people out."
Kelly was overheard telling members of his coaching staff they should have tried to defuse the altercation sooner. After the period ended, Kelly gathered the team and impressed upon them the value of leadership.
"High emotions," Taylor said. "Everyone's excited to get out there. It's the fourth day of fall camp. We've got new guys coming from being hurt, so they're just excited to be out there. At the end we're just going scuffle around and talk some crap. It's not a big deal. We'll be fine."
"With coach Kelly we had maybe one scuffle last year and we've had two this year," Taylor added. "Coach Kelly said to the team to start respecting our brotherhood. At the end of the day, we're going to compete and emotionally you do get high. We've just got to control it."