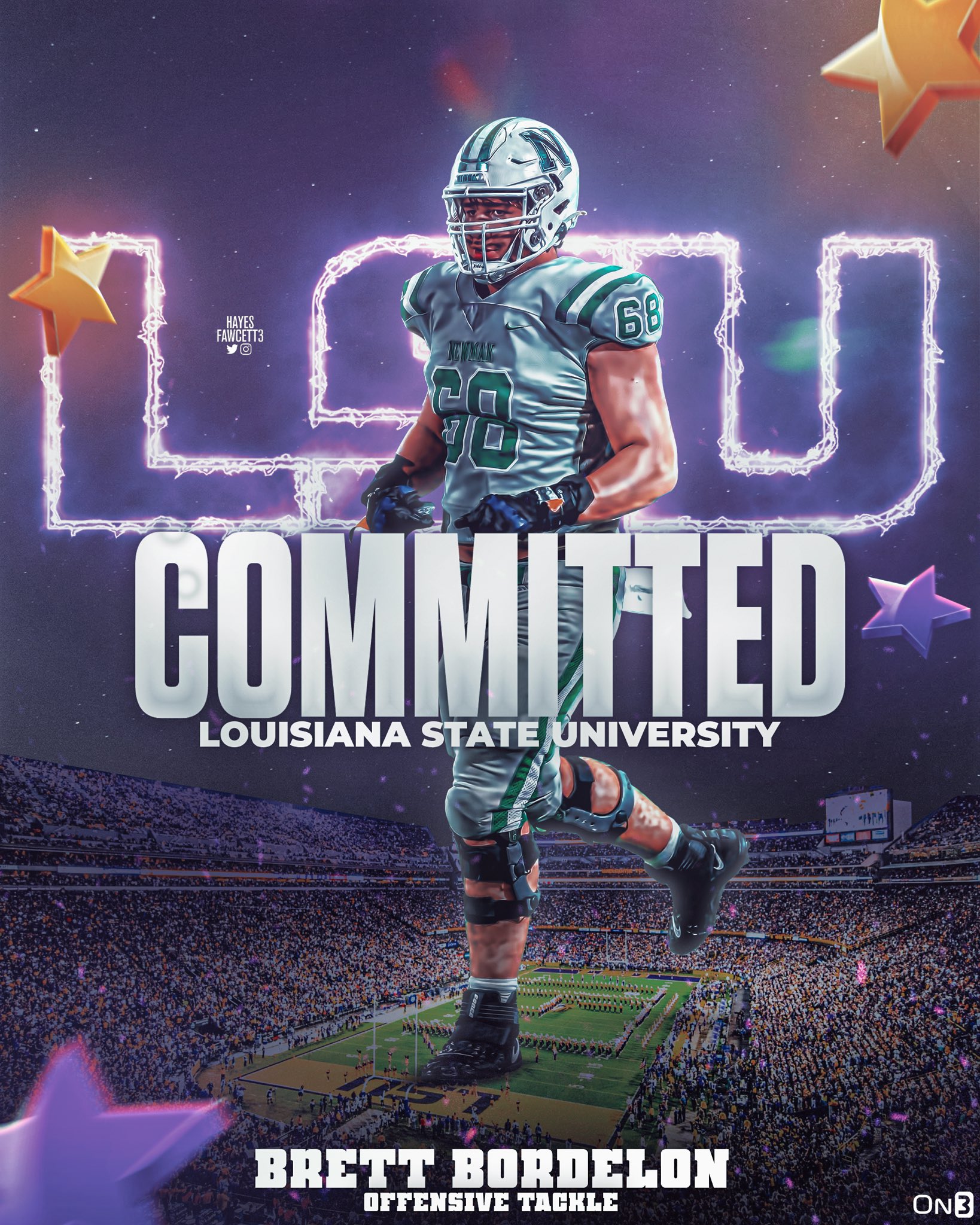 With the majority of the focus being placed on LSU's finishing touches on its nationally ranked football Class of 2023, the Tigers were also getting better for the not-so-distant future.
The Tigers gained a commitment for their Class of 2025 from a familiar family name when Newman sophomore offensive tackle Brett Bordelon offered a pledge to coach Brian Kelly and offensive line coach Brad Davis.
"What really stood out was how Coach Kelly came in and proved he can win the SEC west in his first year," Bordelon told On3Sports. "LSU started off rough with a loss to FSU and in previous years their season would have begun to tank. I was able to talk to my brother about this and he told me they never went down but were brought up by the loss.
"I have also grown up a Tiger fan my entire life," Bordelon added. "My dad (Ben) played here in the 90's and my brother is here now. My entire family has attended LSU as well. I remember coming to games from a young age with (current LSU freshman quarterback) Walker Howard and my brother who are both here playing now. I have also always wanted to win a national championship and I think after seeing how great LSU will be, there is no better place to do it than here."
The 6-foot-5, 285-pound Bordelon spent his second varsity season playing left tackle and protecting the blind side of the nation's top-ranked recruit, quarterback Arch Manning, who signed with Texas. The Greenies advanced to the quarterfinals of the Division III select state playoffs.
Bordelon selected LSU over scholarship offers from Alabama, Georgia and Texas, citing his affinity for the school and deep bloodlines. He's the son of former LSU All-SEC offensive lineman Ben Bordelon, who played from 1993-96, and current redshirt offensive tackle Bo Bordelon.
He's also the second prospect in LSU's Class of '25, joining cornerback Jaylen Bell of Grayson High in Loganville, Georgia who is On3Sports' No 39 overall prospect.