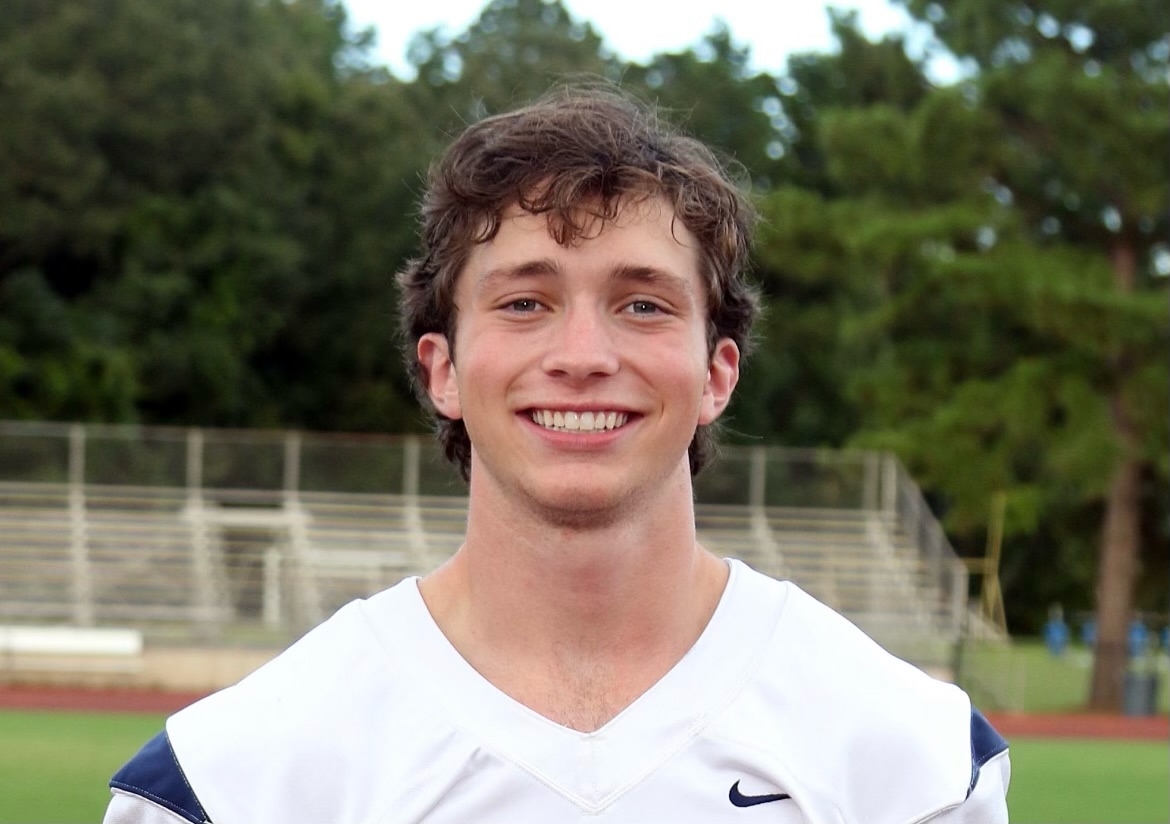 Episcopal quarterback Lewis Ward displayed plenty of potential in his first season as a starter in 2021, leading the Knights to an undefeated regular season and quarterfinal round of the Division III state playoffs.
In his final year, Ward found himself surrounded by a cast of personnel starting in their first seasons, but the senior has shown the ability to not only lead but elevate his own play as was the case in Friday's 49-20 home victory over Country Day.
Ward completed 18 of 27 passes for a school-record 368 yards passing and added 26 yards on the ground, combining four touchdowns, to win this week's Tiger Rag Magazine Shining Star of the Week.
"It's great to see a kid's progression," Episcopal football coach Travis Bourgeois said. "His senior year, when he lost all of his weapons from last year, he's doing this with a completely new group of receivers and running backs. That's the most special thing about it. He's a senior that's taken all of these juniors and sophomores under his belt and is just playing with a great rhythm right now."
Ward distributed the ball to six different receivers, completing five of his first six passes and 14 of 18 for 247 yards by halftime. It was his last pass, though, that helped break the game open, connecting with running back Braeden George on an 80-yard screen pass with 16 seconds left before halftime for a 28-3 advantage.
Ward also scored on a 4-yard run for a 14-3 lead at the 6:47 mark of the second quarter. He added a 1-yard scamper around end with 10:07 showing in the third quarter that extended the Knights lead to 35-13.
Ward's last pass was a 5-yard TD to Reid Chauvin with 3:05 left in the third quarter to make it 42-20. He didn't throw a pass in the fourth quarter.
"We had a great flow, especially getting the pass right before half for our momentum," Bourgeois said. "That's one of those games where you don't want to go to halftime. Offensively we did a lot of good things, and you don't want halftime to come. He was a great rhythm."
OFFENSE
D'WANYE WINFIELD, Lutcher (Accounted for 359 yards, 6 TDs; Rushed 21 times for 250 yards, 4 TDs, Completed 8 of 14 passes for 109 yards 2 TDs), DANIEL BEALE, Catholic-BR (Completed 22 of 30 passes for 335 yards, 4 TDs), RICKIE COLLINS, Woodlawn (Accounted for 252 yards, 4 TDs; Passed for 186, 3 TDs and rushed for 66 yards, TD), SAWYER PRUITT, Live Oak (Completed 23 of 37 passes for 239 yards), BRAEDEN GEORGE, Episcopal (Accounted for 222 yards, 2 TDs; Caught 2 passes for 128 yards, TD, Rushed 14 times for 94 yards, TD), MIKE MITCHELL, Plaquemine (Accounted for 215 yards, 4 TDs; Completed 4 of 6 passes for 119 yards, 3 TDs, Rushed 9 times, 96 yards, TD), SHELTON SAMPSON JR, Catholic-BR (Caught 9 passes for 159 yards, 2 TDs), RAY MCKNEELY, Denham Springs (Rushed 23 times for 136 yards, TD), REID CHAUVIN, Episcopal (Accounted for 137 yards, 2 TDs; Rushed 9 times for 87 yards, TD, Caught 4 passes, 50 yards, TD), CONNOR ACHEE, Catholic-PC (Rushed 8 times for 133 yards, 3 TDs), TYREK BROWN, Lutcher (Accounted for 129 yards, TD; Rushed 16 times for 85 yards, TD, Caught 3 passes for 44 yards), CAM KELLY, Denham Springs (Rushed 16 times for 97 yards), CONNOR KIMBALL, Catholic-PC (Rushed 5 times, 91 yards, 2 TDs)
DEFENSE
WESLEY MARIAN, Parkview Baptist (11 tackles, 3 TFLs, sack), CAMERON KENNEDY, Catholic-PC (10 tackles, sack), DIEGO DAVIS, Plaquemine (8 tackles, 3 TFLs), TYRIS PIERRE, Plaquemine (8 tackles, 5 TFLs), AIDEN CAIN, Plaquemine (8 tackles, 6 TFLs), ELI BROWN, Parkview Baptist (8 tackles, sack, TFL), HAROLD LAWSON, Catholic-BR (7 tackles), BRADEN CAZES, Catholic-BR (6 tackles, 2 TFLs), BRODY WELCH, Live Oak (7 tackles), JOSIAH HARROUCH, Live Oak (6 tackles, TFL), ROBERT LOCKETT, Plaquemine (6 tackles), CALEB SMITH, Live Oak (5 tackles, 2 sacks, 3 TFLs), SHERMAN CARTER, Plaquemine (3 tackles, 2 TFLs, 2 interceptions, fumble recovery for TD)
SPECIAL TEAMS
BREK SCHULTZ, Live Oak (Kicked 2 extra points, 2 field goals)