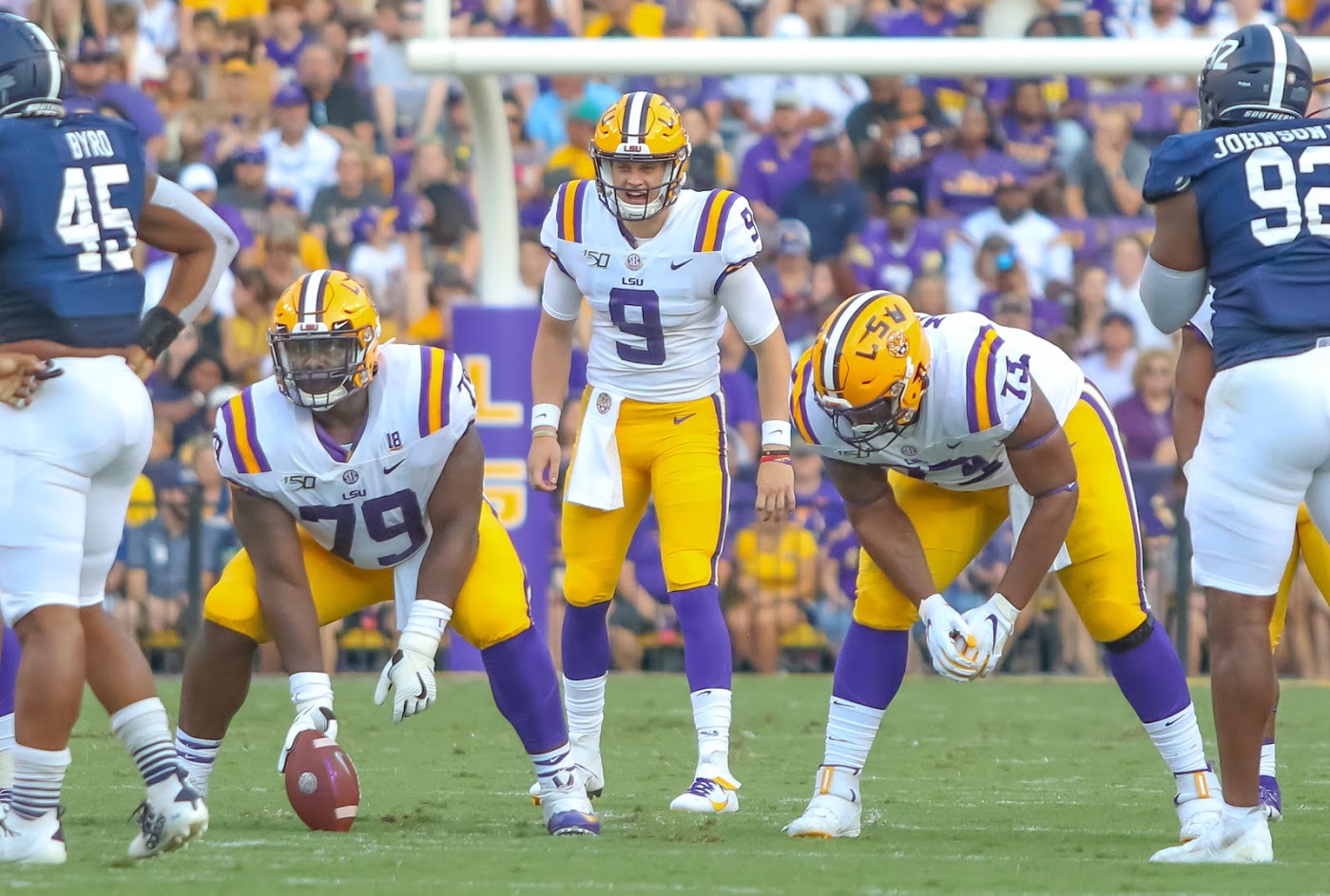 On a night when LSU's last first-team All-American quarterback turned 68, 22-year-old Joe Burrow zipped his way into LSU lore with one of the best performances by a Tiger passer on enemy turf. Burrow riddled the Texas defense with 471 yards in the air as the Tigers outpaced the Longhorns 45-38 at Darrell K Royal Stadium.
Bert Jones must be proud of Burrow, who is about the same size as the Ruston Rifle, who was the nation's top quarterback 47 years ago. The game has changed dramatically since Jones set a school record with 237 yards against Alabama in 1972. Burrow had almost twice that amount of yards Saturday with his UT counterpart, Sam Ehlinger, also eclipsing the 400-yard barrier in an air-friendly frenzy in Austin.
Through two games this season, Burrow has completed 54-of-66 tosses for 749 yards and nine touchdowns. If the Tigers play 14 games, which is possible, and Burrow continues at his current pace, he will close the season with 5,243 yards and 63 touchdowns.
Only Rohan Davey has thrown for more yards in a single game for LSU. Davey fired for 528 yards in a 35-21 victory by Nick Saban's Tigers over Alabama in 2001 at Tuscaloosa. Look for Davey's single-game mark to be surpassed by Burrow at some point this season.

With his nine touchdown strikes, Burrow is within 19 TD passes of reaching JaMarcus Russell and Matt Mauck, who each threw for a school record 28 scores in their final seasons with the Bengals in 2006 and in 2003 as both years culminated with post-season triumphs in New Orleans, the site of the 2020 national championship meeting.
Burrow became the first LSU quarterback to beat Texas since Jimmy Field, who guided LSU to a 13-0 victory over Darrell Royal's crew in the 1963 Cotton Bowl. Field was 9-of-13 for 94 yards and scampered 22 yards for the game's only touchdown in Dallas while also playing the whole game at safety.
LSU closed the first year of the Charles McClendon Era with a 9-1-1 record and was crowned national champion by Berryman, a reputable rating service that lasted 90 years. The Tigers of 1962 pitched six shutouts and allowed just 34 points. There should be recognition of this team outside Tiger Stadium along with the championship units of 1958, 2003 and 2007.
Field posted a record of 20-6-2 as a starting quarterback for the Tigers from 1960-62. Fifty-seven years later, his grandson, John Gordon McKernan, is a freshman signal caller wearing the same No. 14 that his grandfather donned.
If LSU beats Alabama, Burrow can make his case that he is the best quarterback in the SEC. In Bert Jones' senior season, the Bengals lost 35-21 to Alabama in Birmingham to thwart Bert's march to the Heisman Trophy. He finished fourth in the 1972 balloting, but was named All American and was the second player taken in the NFL Draft at age 21. Four years later, Jones was the NFL MVP with Baltimore.
Burrow has some miles to travel to get into the same conversation with Jones, but the transfer from Ohio State has been spectacular in two outings and gives promise that more heroics are in the offing.
College players getting beefier
Before making the trip to Austin, 79-year-old Jimmy Field noted that the biggest player on the LSU roster in 1962 was 240 pounds. The 2019 team has 24 players above 285 pounds and 18 members at more than 300 pounds.
Field mused that today's squad has few members who could play on both sides of the ball as required in 1962. Obesity is the next big scandal to hit football. Teenagers who are 350 pounds are unlikely to be healthy in their 40s provided they are alive.
It would be a great idea to require athletes to play the full game again. This would end the spectacle of young men who are top flight performers having rolls of fat protruding from their waistlines.
It is questionable if some obese lineman at top-10 programs can bench press their weight, an accomplishment that U.S. Supreme Court Justice Ruth Bader Ginsburg was achieving past the age of 75.
Nobody better than Charles Alexander in 1977
Earl Campbell won the Heisman Trophy in his senior year at Texas in 1977. Counting the Cotton Bowl loss to Notre Dame, Campbell rushed for 1,860 yards and 18 touchdowns in 12 games. Charles Alexander, his counterpart at LSU who finished ninth in the Heisman voting that year, capped the '77 season with 1,883 yards and 18 touchdowns. Alexander was arguably a bit better than Campbell and would have won the national rushing championship if bowl game statistics were officially counted as they are now.
When will LSU play Southern in football?
LSU takes on Northwestern State Saturday at Tiger Stadium in another Bayou State battle that is a woeful mismatch. Scheduling teams of this kind is commonplace in today's environment. Alabama is playing an array of weak teams in its non-SEC encounters, but the Tide stays away from foes inside its state other than the mandated annual battle with Auburn.
LSU has impressively taken on a wide group of opponents from Louisiana in recent years with every state school on the Tiger schedule during the last few decades other than Southern and Grambling. This is an insult to the SWAC and to Southern University in particular.
Baton Rouge is the only city in America with two federal land grant institutions in its borders. The time is way overdue for LSU and Southern to play in football with Memorial Stadium the ideal place for a neutral site matchup.
The stadium can seat 25,000 and at $500 per ticket, the gate for LSU-Southern would reach $12.5 million, more than LSU will receive by filling its 102,000 seats for its home games.