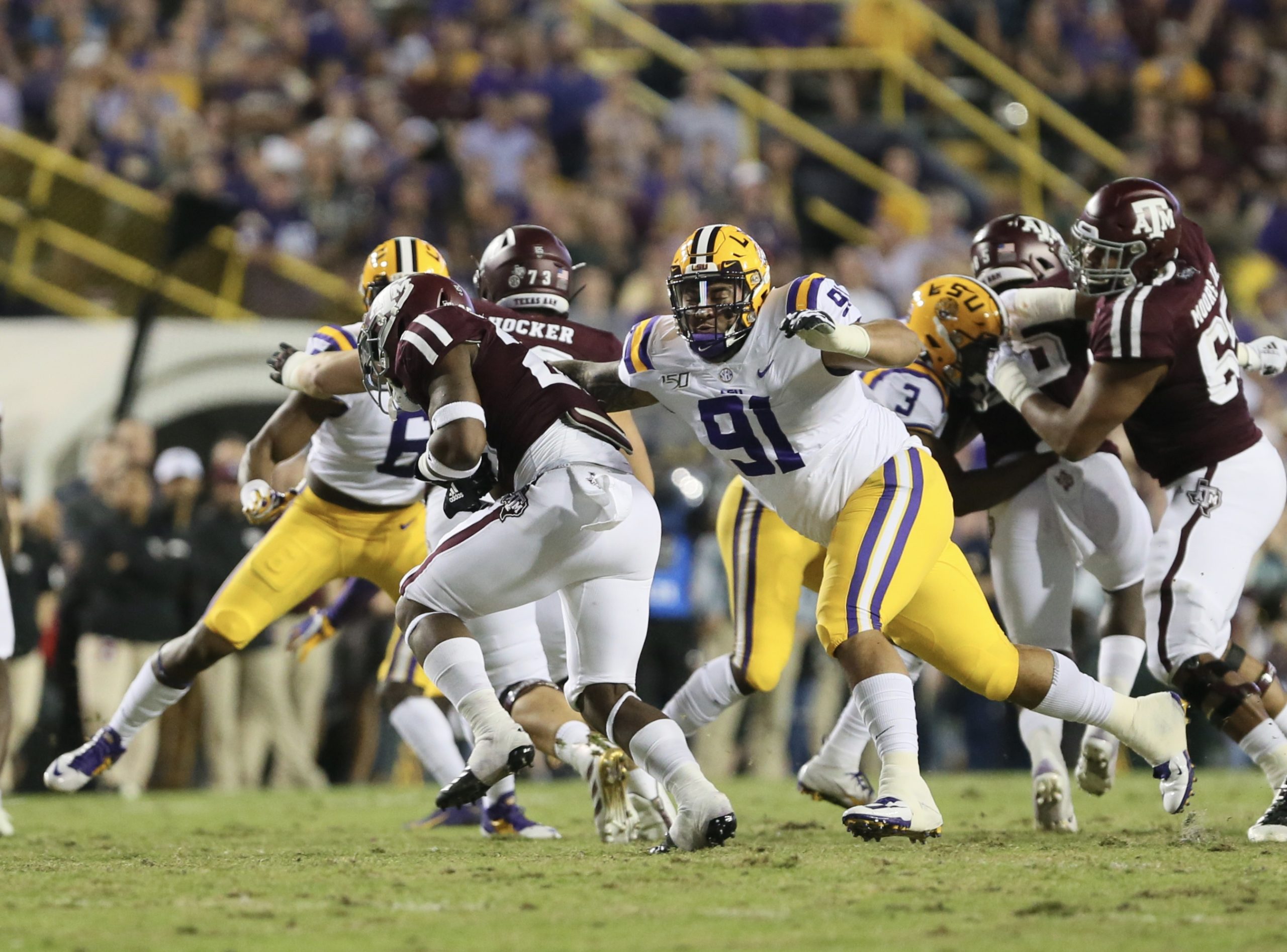 A few days after a dominant win against an admittedly poor opponent in Arkansas, LSU fans tuned into the latest College Football Playoff Rankings show on ESPN to discover what they believed to be shocking news:
The Tigers were no longer considered the No. 1 team in the country, at least as far as the College Football Playoff committee was concerned.
Fans became incensed as they listened to the committee's chair Rob Mullens describe Ohio State as "a complete team all year," before adding "Obviously, LSU ahs a very strong offense. But to date, their defense isn't quite as strong as Ohio State's."
LSU fans weren't the only ones who took those words personally.
Had coach Ed Orgeron would like you to think the Tigers' blocked out the noise. But some noise always finds a way to eke past a closed door, and LSU's defense made sure they never heard that noise again.
The LSU defense — which has endured a barrage of negative comments throughout the season as the sole weakness on a national championship-caliber squad — channeled that frustration into its most complete performance of the season and made the Aggies' offense look futile in a 50-7 victory lap a year after giving up 74 points in a 7-overtime heartbreaker a year ago.
"I feel like we made a statement today," said LSU safety JaCoby Stevens. "It's not a secret that that's the reason why Ohio State jumped us. As a defense and as LSU, we take that as a challenge. I took that as a challenge, and I'm not going to back down from it. When I see someone doubt me, I'm going to try to prove them wrong."
Texas A&M entered the game averaging 419.7 yards per game, 6.1 yards per play and 32.1 points per game.
The Aggies left Tiger Stadium having tallied a mere 169 yards of total offense, 2.8 yards per play and a sole touchdown to their name. Quarterback Kellen Mond — who earned the ire of LSU's defense during SEC Media Days when he said he saw players cramping up in last year's bout — completed just 10 of 30 pass attempts for 92 yards and three interceptions. He was sacked five times.
"I guess we were well-hydrated and not cramping tonight," said LSU defensive lineman Breiden Fehoko, referring to Mond's remarks.
One of the most remarkable parts of LSU's defensive performance has been the play of its young, freshman talent.
It's no secret that Derek Stingley Jr. is already one of the top cornerbacks in the country, but nobody saw this kind of production coming from fellow true freshman cornerback Cordale Flott, who seemed like an afterthought during the early signing period last season in a class loaded with secondary talent.
Despite entering fall camp with an arm injury and spending the first 10 games of the season relegated to the special teams unit, two-sport athlete Mo Hampton has burst onto the scene as a solid option at safety, picking up 8 tackles and a pass break-up in two starts at the position.
In a season that could have seen DBU take a significant step back with a season-ending injury to safety Todd Harris and a hobbled Grant Delpit playing with a bum ankle, these three true freshmen have taken the next-man-up mentality to heart and continued a standard generally upheld by upperclassmen and prospective NFL talent.
Meanwhile, on the other side of the country, Ohio State's defense struggled for seemingly the first time this season, giving up 396 yards of total offense and 27 points, 20 of which came in the first half.
The Buckeyes' first-half stats on defense were concerning, as Shea Patterson rattled off 14 completions on 19 pass attempts for 250 yards and a touchdown. The unit shored up its performance in the second half, but not after raising some eyebrows by giving up such production to an underperforming offense.
Perhaps the most shocking development in that game was the disappearance of rare defensive Heisman contender Chase Young. The junior pass rusher who has amassed a ridiculous 16.5 sacks and 19.5 tackles for loss despite missing two games with a suspension was nowhere to be seen on Saturday night, as he failed to tackle a single Wolverine.
Whether or not the CFP committee will flip flop on its No. 1 pick without a loss taking place for the third time this season this week, I don't know.
LSU certainly made a compelling case for that top stop, but Ohio State handled a Top-10 Michigan squad while the Tigers embarrassed a team that will finish the season 7-5 without a Top 25 win despite five chances.
And while part of me thinks it would behoove the Tigers to earn that No. 1 spot come Selection Sunday (No defense in the country is limiting likely No. 3 Clemson's offense to under 300 yards of total offense), the other part of me says it simply doesn't matter.
If LSU wants to ensure a national championship, it's going to have to win three games over the course of the next month, and the opponents they play in those three games are irrelevant.
Which team the CFB Committee thinks is the best team or "most complete" team in the country is also irrelevant.
Barring an unmitigated disaster in the upcoming Southeastern Conference Championship game in Atlanta, Ga., this weekend, the Tigers have likely already punched a ticket into the College Football Playoffs.
Once there, pundits, chairmen, voters and statistics don't matter. The most complete team will win back-to-back games and etch their name forever in college football history.