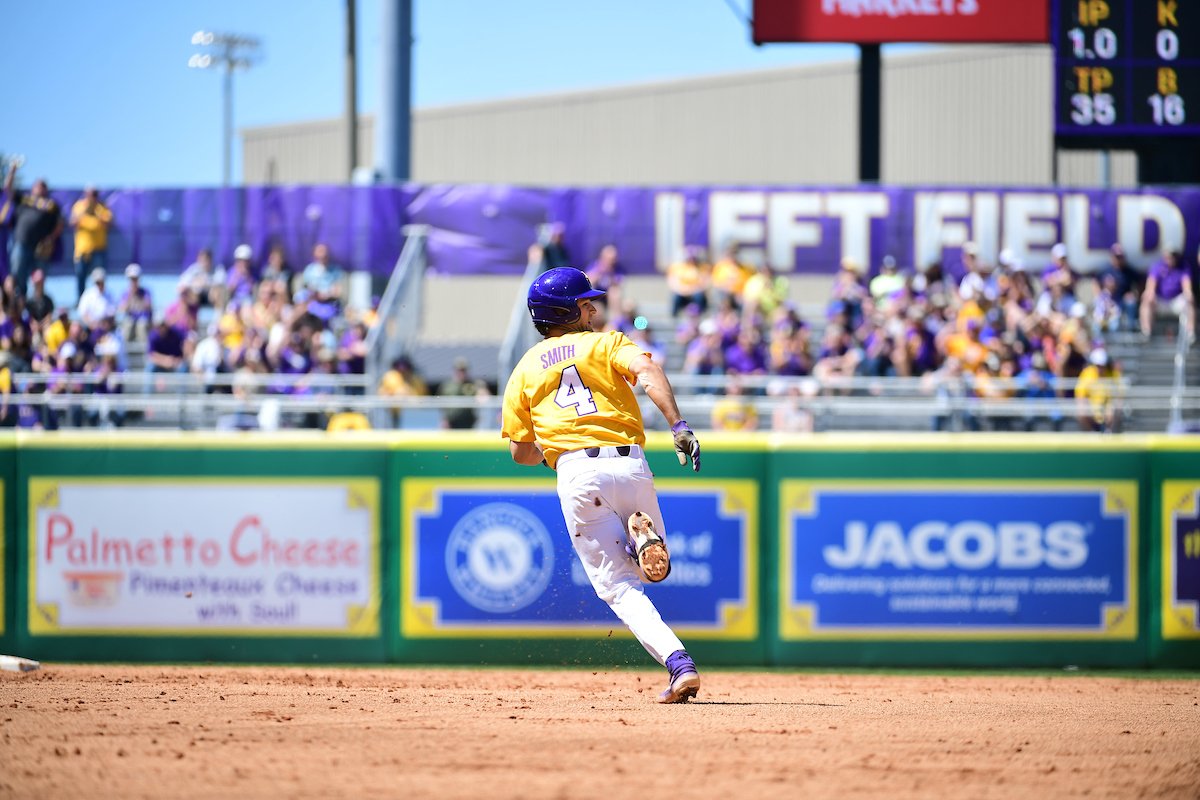 LSU staged one of the greatest ninth-inning comebacks in the history of organized baseball, but it wasn't enough to outlast Ole Miss in an insane 10-inning thriller.
Trailing 15-9 with two outs in the bottom of the ninth inning, LSU scored six times against All-America closer Parker Caracci to tie the game. After three singles, Antoine Duplantis, Cade Beloso and Josh Smith hit back-to-back-to-back home runs.
That pushed the game to extra innings, but Ole Miss bounced back to score four runs off Devin Fontenot in the 10th inning and escape with a 19-15 victory at Alex Box Stadium on Sunday evening.
"That was obviously one of the craziest games we've ever had," Mainieri said. "When you score 15 runs and lose a game, it's a shame. But I've been around baseball a long time. I've seen a lot of craziness, and today was one of the most crazy."
Baseball is a game of emotional swings, and this was one for the history books. LSU overcame deficits of 10-1 and 13-6 by scoring six runs in the ninth inning only to fall with its closer on the mound one frame later.
"It's not fun," Duplantis summarized. "But it's a weird game, and somebody has to lose it."
Fontenot has been flirting with disaster in recent weeks, but the sophomore had repeatedly found a way to escape. He couldn't pull off another Houdini act against an Ole Miss team that mashed all afternoon to the tune of 23 hits.
His cardinal sin was a leadoff walk that allowed Ole Miss to recapture the momentum after what had to be a shell-shocking turn of events in the ninth inning.
"I haven't had my competitive edge in my last few games, and I've got to dig deep to find that again," a clearly dejected Fontenot said. "I know I have it, but I haven't been showing it my last couple games."
The reliever continued: "My job is to come in and throw strikes. If I'm going to come in and walk the leadoff hitter, it doesn't give us a chance to be successful … You've got to go in there and put your cleat on their throat, and I didn't do that today."
A bloop double and a two-run single put LSU right back in the hole again as the Rebels rallied for four runs. LSU had the tying run on deck in the form of Duplantis, but Zach Watson struck out to end the game.
LSU hadn't lost a series to Ole Miss in Baton Rouge since 1982, but the Tigers played flat-out sloppy baseball in the early going to make such an improbable comeback necessary.
Historical significance aside, LSU (30-18, 14-10 SEC) now leaves itself with serious work to do over the next two weeks if it wants to host an NCAA Regional or secure a bye in the SEC Tournament. Things won't get any easier when the Tigers travel to first-place Arkansas next week.
LSU will enter that series three games back of the Hogs. It now trails Ole Miss and Mississippi State by a game for the fourth seed in the SEC Tournament, which carries the benefit of avoiding the single elimination first round.
"We've got to win this week," Smith said. "In my opinion, it's a must-win. We've got an off day tomorrow, and we've got to come back ready to work."
It started with the sloppy defense behind Landon Marceaux, who Ole Miss tagged for eight hits in 2.1 innings. Still, the damage would've been minimal were it not for a double play ball that Smith botched and a Duplantis misplay in right field, two uncharacteristic errors to say the least.
Todd Peterson injected some life into LSU out of the bullpen, but he ran out of steam in the fifth inning. Ole Miss sluggers Cole Zabowski and Kevin Graham both took him deep as the Rebels extended their lead to 10-1.
Beloso, who homered to get LSU on the board, singled home a run in the fifth. LSU caught a break when an Ole Miss outfielder dropped a routine fly ball, but Daniel Cabrera flew out with runners on second and third to end the rally with LSU having scored three times.
A two-run single from Duplantis the next inning got LSU within 11-6, but the Tigers could neither hang a crooked number on the board nor keep Ole Miss from re-padding its lead. Ole Miss wasted no time getting those runs right back against Aaron George in the seventh.
LSU drew even closer after Ole Miss botched what should've been an inning-ending double play in the bottom of the inning. Saul Garza capitalized with a three-run blast to dead center field.
That blast set the stage for the epic ninth-inning comeback and the utter deflation that followed.
LSU can take some solace in the fact that it never stopped fighting, but there's no morale victories at this point in the season.
"The only thing I take away from it is we lost the game," Mainieri said. When you fight like crazy and do what we did, you want to finish the job and win the game."