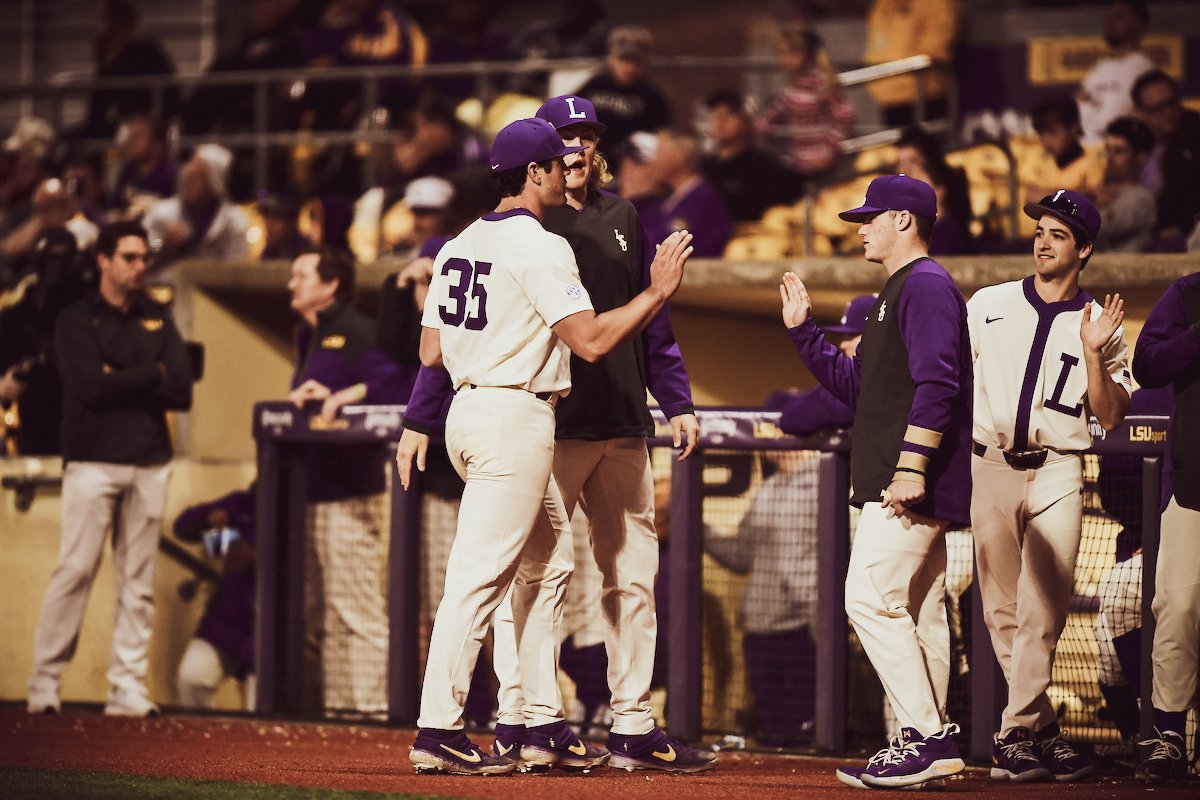 Paul Mainieri and LSU trainer Cory Couture jogged out of the dugout to check on Josh Smith, who'd just fouled a ball off his ankle.
Not only did Smith stay in the game, but two pitches later he skied a towering three-run homer into the right field bleachers. It looked like a routine fly ball off the bat and just kept carrying.
It was that kind of night for LSU.
Smith's third home run of the season capped a seven-run third inning as LSU crushed an overmatched Grambling squad 9-0 on Tuesday night at Alex Box Stadium. LSU (20-9) has won three in a row since snapping a four-game losing streak.
"Happy to get a win," Mainieri said. "Happy to get a shutout. We didn't play with the kind of energy I would like to have seen us have, but the game got in control with the big inning early in the game."
LSU got through its first of two midweek games without taxing its shorthanded pitching staff thanks to five shutout innings from Clay Moffitt.
Mainieri needed length from his veteran right-hander, and Moffitt delivered the longest outing of his LSU career.  
"It makes me want to do better," Moffitt said. "High-pressure situations don't really bother me, so I kind of like it. That's what makes the game fun. If we didn't get butterflies, we wouldn't play."
"Clay has given us everything," Smith added. "He's a leader for the team. For him to come out and throw five shutout innings, that was awesome for us. He stepped up big, especially with five games this week."
The senior has now logged 13.1 scoreless innings to begin his season, and he allowed just two hits while striking out five against no walks.
Moffitt's pristine ERA appeared to be no more after allowing a solo homer in the fourth inning, but instant replay concluded the ball actually hit the wall.
"I couldn't tell," Moffitt said. "I heard it hit the pad, so I thought it stayed in. I was already on to the next pitch honestly. That's how it's gotta be. (The ERA) wasn't on my mind, but when I came in the dugout Coach said 'You've still got it!' I wasn't sweating it though."
Freshmen Rye Gunter and Will Ripoll picked up where Moffitt left off and worked two shutout innings apiece. The trio combined for a five-hitter.
"I assumed we'd need four pitchers to get through tonight, minimum," Mainieri said. "It allowed us to rest all the main guys we'll use tomorrow and Aaron George, so I think we'll have enough arms to get through tomorrow because those guys did such a magnificent job tonight."
LSU will be back in action against South Alabama on Wednesday at 6 p.m. Ma'Khail Hilliard will start with a cavalcade of relievers to follow.
Photo courtesy of LSU Sports Information