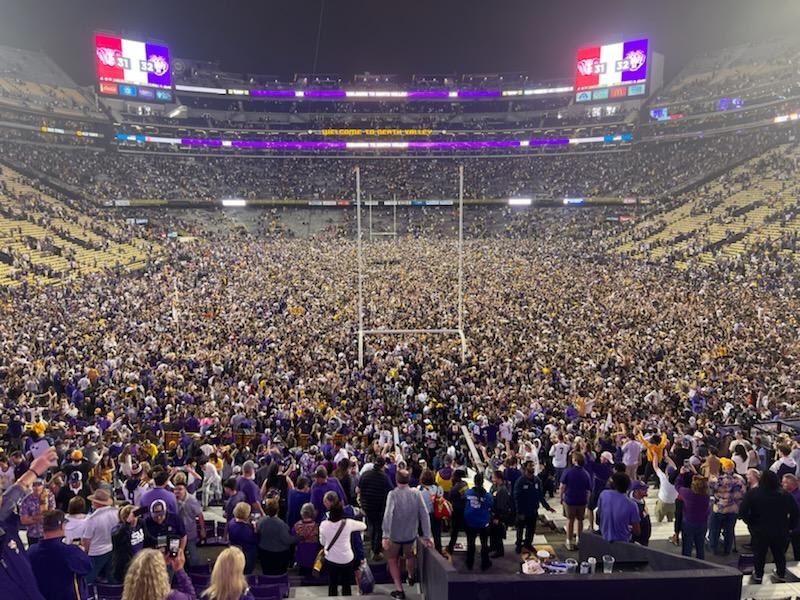 LSU's first-year football coach Brian Kelly pushed all of his chips into the center of table.
Moments after quarterback Jayden Daniels scored on a 25-yard touchdown run on the team's first play in overtime to bring the Tigers to within a point of Alabama, Kelly opted to go for two points and end the game.
Kelly's gamble paid off when, following a timeout, Daniels rolled to his right and hit freshman tight end Mason Taylor who crossed the corner of the end zone for a pulsating 32-31 victory Saturday in a SEC West Division clash at Tiger Stadium.
"I didn't want to keep going in overtime," Kelly said. "I knew if you put the ball in Jayden's hands, good things are going to happen."
No. 15 LSU (7-2, 5-1 in SEC) took a significant step forward in the race for the championship in the SEC's Western Division, defeating No. 6 Alabama (7-2, 3-2) at home for the first time since 2010.
The Tigers knocked off their second straight Top 10 team to control their destiny to reach Atlanta and the SEC Championship game after surviving a four-hour-plus epic in a game they were 13 1/2-point underdogs.
Alabama, which scored 15 points in the fourth quarter, sent the game to overtime on the fourth field goal from Will Reichard – a 46 yarder that barely had enough room – with 21 seconds left in regulation.
LSU won the toss and elected to send Alabama's offense on the field first. The Tide needed seven plays to get into the end zone when Roydell Williams scored from a yard out on third-and-goal and Reichard added the extra point for a 31-24 lead.
Daniels, who accounted for 277 yards and three touchdowns, kept on first down and picked up three key blocks downfield to get into the end zone from 25 yards away.
"I knew I had to make a play," Daniels said. "The team blocked, and I give all the credit to God. I'm thankful to coach for having faith in me and I'm appreciative to coach for that."
The combination of Daniels-to-Taylor worked for a 7-yard touchdown with 1:47 remaining in the fourth quarter for a 24-21 lead before Alabama drove 47 yards in 10 plays for Reichard's 46-yard field goal.
They managed to top that in overtime when Daniels hit Taylor from three yards out for the two-point conversion.
"It's a play we run in practice every week," Taylor said. "I saw the person guarding me was coming from the inside, so all I had to do was catch the ball and lean (into the end zone).
"I just wanted to make sure the ball was in my hands. I couldn't hear anything. My legs just went numb."
There were four of six lead changes alone in the fourth quarter when LSU took leads of 17-15 on Damien Ramos' 32-yard field goal and 24-21 on Taylor's TD reception.
Daniels completed 22 of 32 passes for 182 yards with two touchdowns and no interceptions. He was also the team's leading rusher with 18 carries for 95 yards and a score, part of the Tigers' 342 total yards. Junior Kayshon Boutte led the Tigers with seven catches for 51 yards.
"We had another play called before the timeout," Daniels said. "Coach Kelly came in the huddle and said to me, `You want to be on the move?' I said, `Yeah.'
"I was going to try to do it with my legs, but it was there. He (Taylor) made the catch and the rest is history."
Alabama registered 444 total yards quarterback Bryce Young throwing for 328 on 25-of-51 passing with a touchdown and interception. Running bac Jahmyr Gibbs topped the Tide with 15 carries for 99 yards and caught eight passes for 64 yards.
The teams traded lengthy drives and the lead when LSU regained a 14-9 margin with 3:30 to play in the third quarter.
Daniels ignited the 75-yard drive with a 21-yard scramble into Alabama territory and Josh Williams added a 16-yard gain to the Tide's 21. Daniels and Boutte connected for a nine-yard completion on third-and-seven, the Tigers were awarded the ball at the 2 when former Tiger Eli Ricks was called for a pass interference.
Williams (7-54) followed on first down with a second effort run that made it 14-9.
Alabama took a 9-7 lead at the 8:11 mark after a 15-play drive that covered 55 yards and took nearly 6 ½ minutes off the clock when Reichard made a 38-yard field goal.
An official review that reversed a call and gave Alabama the ball back resulted in a field goal at the buzzer, reducing LSU's lead to 7-6 at the break.
LSU defensive back Sage Ryan tackled Alabama tight end Cameron Latu at the end of a catch and run and dislodged the ball near the sideline. Tigers' teammate Greg Brooks Jr. was initially given credit for recovering the ball at LSU's 26, but the Crimson Tide were awarded possession following a lengthy review.
Bama reached LSU's 20 and following two timeouts by the Tigers, Reichard kicked his second field goal of quarter – a 36-yard effort – on the final play of the half.
LSU punter Jay Bramblett, a native of Tuscaloosa, Alabama, helped impact field position in the first half with three punts inside the Tide's 20-yard line.
The Tigers offense took advantage of favorable field position, taking over at the Tide's 49 and going four plays to take a 7-0 lead at the 9:46 mark of the second quarter.
Daniels caught Alabama in a blitz, connecting with John Emery Jr. wide open out of the backfield. Emery negotiated the sideline, cut back inside the field at 5-yard line to complete the 30-yard scoring play and Ramos added the extra point.
LSU, which thwarted Bama's first scoring threat on Jarrick Bernard-Converse's interception in the end zone, turned back another serious threat after the Tide had reached the Tigers' 5-yard line.
"Before the game started," Kelly said "if you asked me `Hey. I'm going to give you one play and if you're successful on that one play you beat Alabama,' I would have taken that 100 times out of a 100 times." I knew we had a real good play we hadn't used and they hadn't seen."